Announcements
for the Week of November 14

We look forward to seeing you as we celebrate the Lord's Supper this Sunday morning at 9:30.
The Old Testament public reading of scripture is Ezra 3:1-13 and the responsive reading is Psalm 49:1-9. The passage for the sermon this week is Luke 2:22-40.
If you are not able to join us in person you can view the webcast of our service. You can find it on our website, YouTube Channel, and Facebook Page.

Middle School RYM Parent Meeting: Next Sunday, November 21, we will be having a short informational meeting for parents of all current 5th through 8th grade students regarding Middle School RYM for this coming summer. We will meet immediately following worship for roughly 10 minutes.

The Jr. RCYF is selling their famous Ham and Cheese Sliders. It is only $10 for a pan of 9 full size glazed ham and cheese glazed buns. They will be available to pick up on Saturday November 20 after they are assembled or the next day after worship. All proceeds raised go towards helping to pay for transportation to RYM Middle School Texas this coming summer.

Giveaways: Congratulations to Melissa Voge who received the Gospel Transformation Study Bible and Rose Bleyenburg who received the ESV Psalms in the October Drawing. The drawing for November will be for a copy of the Reader's Gospels and the ESV Concise Study Bible. You can drop your name in the baskets at the Welcome Desk if you are interested in winning one of these two great ESV Bible resources.
Don't forget that this coming week is when the Operation Christmas child boxes need to be returned to the church.

Helping Hands Pregnancy Center:
You are invited to our annual Fundraising Banquet on Tuesday, November 16. 5:45 p.m. Silent Auction, Punch, & Snacks. 6:25 p.m. Delicious Thanksgiving Dinner, Ministry Update, Client Testimonies, Music by the Klassen Family. It will be held at the Worthington Event Center, 1447 Prairie Drive, Worthington. RSVP appreciated as soon as possible or by November 2 to svoehl@frontier.com or 372-2111.
This Week
Nursery: Shanna Snyder and Tyler Van't Hof
Fellowship: Pat & Dave Rieck and Lesli & Harlan Dragstra
Calling Elders: Jason Heard and Dave Rieck
Children's Message: Brenda Kleinjan
Monday:
9:00 a.m. Ladies will be making Pigs-in-the-Blanket
Tuesday:
1:00 a.m. Ladies will finish making the Pigs.
Wednesday:
Midweek
6:15-7:00 p.m. Food & Fellowship
6:45-7:15 p.m. Kids Choir
7:00 p.m. Sr. & Jr. RCYF
7:15-8:00 p.m. K-5th Grade Catechism
7:15 p.m. Chapel Choir
Saturday:
9:00 a.m. Jr. RCYF students will be assembling the Ham and Cheese Sliders in the basement kitchen.
Next Week Sunday
Nursery: Kinsie Nelson and Tucker Arp
Children's Message: Kristin Groen
Fellowship: Beva & Larry Snyder and Sarah & Rick VanderStoep
Considering the Confession will be meeting in the sanctuary at 10:55 next Sunday as we look at Belgic Confession Article 1.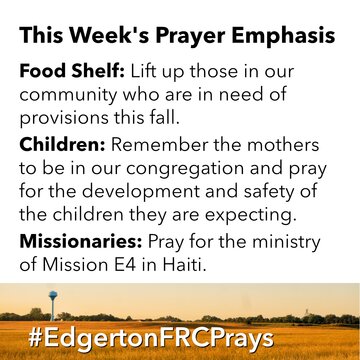 Our address is: 230 Maple St, Edgerton, MN 56128, USA