Announcements
for the Week of November 21

We look forward to seeing you for worship this Sunday morning at 9:30 for worship.
Our public reading of scripture from the Old Testament is Ezra 4:1-16 and the responsive reading is Psalm 49:10-15. The sermon passage is Luke 2:41-52.
If you are unable to join us in person you can watch the webcast of our service on our website, YouTube Channel, or Facebook Page.


The Thanksgiving Day service is this coming Thursday and the Deacons have several options for you to consider for your Thanksgiving offering. Donations will be made to the School Backpack Program, the two ladies going to En-Gedi in Africa, Cornerstone Prison Church, and Mission E4. In addition, offerings will be set aside for the building fund in anticipation of future renovations. There will also be money designated for the upcoming church mission trip to our missionaries, Grace Covenant Ministries. This money will be used to help pay for building materials for the work that our team will be doing in the Annville, KY community.

We would like to welcome into our church family via membership transfer, Lyle & Marlys Buddenhagen and Virg & Ronnie Van Hulzen.

Note:
The bulletin will be printed on Wednesday. Please have all bulletin announcements in by 9:00 a.m. on Wednesday.
Note:
Pastor Mark will be leaving after the Thanksgiving service. He will return on Sunday evening, November 28. If you have any prayer concerns, please contact one of the calling elders.
Middle School RYM Parent Meeting:
On November 21 we will be having a short informational meeting for parents of all current 5th through 8th grade students regarding Middle School RYM for this coming summer. We will meet immediately following worship for roughly 10 minutes.
This Week
Sunday
Nursery: Kinsie Nelson and Tucker Arp
Children's Message: Kristin Groen
Fellowship: Beva & Larry Snyder and Sarah & Rick VanderStoep
Calling Elders: Ron Menning and Keith Van Hulzen
10:45 a.m. Sunday School
10:55 a.m. Considering the Confession
Wednesday:
6:30 p.m. Cantata Practice for all who can make it.
Thursday:
9:30 a.m. Thanksgiving Service
Nursery: Kelly Heard and Tyler Van't Hof
Children's Sermon: Amy Van Hulzen
Next Week Sunday
Next week Pastor Lee Christoffels will lead our worship service.
Next Sunday we will be decorating for Christmas directly after the service. Any extra help is appreciated.
Nursery: Kristen Bloemendaal and Adalyn Hulstein
Children's Message: Nancy Wassink
Fellowship: Cheryl & Cal Brouwer and Tara & Johnny Menning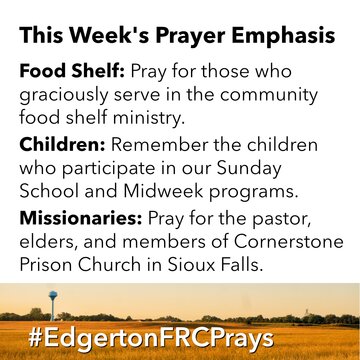 Our address is: 230 Maple St, Edgerton, MN 56128, USA