Announcements
for the Week of November 28

We hope you are able to join us for worship this Sunday morning at 9:30. Lee Christoffels will be delivering the message.
The passage for the sermon will be Psalm 19 and the message is entitled "The Glory of God's Speech".
If you are unable to join us in person you can watch the webcast of our service on our website, YouTube Channel, or Facebook Page.

The ladies will be making pigs this coming week at 9:00 on Monday morning and on Tuesday afternoon at 1:00.


Those that have been nominated for the office of Elder are: Loren Bleyenburg, Curt Wassink, Randy Bolt, Mike Drooger, Scott Wassink, and Jason Snyder. Those that have been nominated for the office of
Deacon are: Jake Post, Randy Scholten, Mark Brockberg, Kyle Wassink, Justin Van Grootheest, and AJ Pronk.

Several people have inquired about English Standard Bibles to purchase. To help with that process we have purchased an assortment of Bibles and Study Bibles to choose from. They are on display on a table in the entry next to the welcome desk. There are envelopes on the table for you to place payment in. You can drop the envelope in the offering plate.
The prices for the Bibles are as follows:
ESV Large Print: $32
Personal Size ESV Study Bible: $29
Large Print ESV Study Bible: $45
ESV Concise Study Bible: $18
ESV Condensed Reformation Study Bible: $43
There are only a few available of each. If the one you would like is not available let Pastor Mark know and he will order more.
This Week
There is no Sunday School this week.
Nursery: Kristen Bloemendaal and Adalyn Hulstein
Fellowship: Cheryl & Cal Brouwer and Tara & Johnny Menning
Children's Message: Nancy Wassink
Calling Elders: Jason Menning and Cal Brouwer
Monday
9:00 a.m. The ladies will be making Pigs-in-the-Blanket
Tuesday
1:00 p.m. The ladies will finish the pigs.
Wednesday:
Midweek
6:15-7:00 p.m. Food & Fellowship
6:45-7:15 p.m. Kids Choir
7:00 p.m. Sr. & Jr. RCYF
7:15-8:00 p.m. K-5th Grade Catechism
7:15 p.m. Chapel Choir
Next Week Sunday
Nursery: Kayla Buys and Brayden Dirksen
Children's Message: Jason Snyder
Fellowship: Ronna & Curt Wassink and Tricia & Mike Jouwstra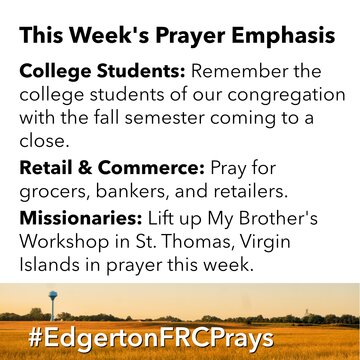 Our address is: 230 Maple St, Edgerton, MN 56128, USA