Announcements
for the Week of December 5


Those that have been nominated for the office of Elder are: Loren Bleyenburg, Curt Wassink, Randy Bolt, Mike Drooger, Scott Wassink, and Jason Snyder. Those that have been nominated for the office of
Deacon are: Jake Post, Randy Scholten, Mark Brockberg, Kyle Wassink, Justin Van Grootheest, and AJ Pronk.
Join us for the congregation meeting this coming Monday as the new officers of the church are selected and the annual business of the church is conducted. The agenda for the meeting and the proposed budget for 2022 have been placed in the boxes at church.

The ladies will be making pigs this coming week at 9:00 on Monday morning and on Tuesday afternoon at 1:00.


Several people have inquired about English Standard Bibles to purchase. To help with that process we have purchased an assortment of Bibles and Study Bibles to choose from. They are on display on a table in the entry next to the welcome desk. There are envelopes on the table for you to place payment in. You can drop the envelope in the offering plate.
The prices for the Bibles are as follows:
ESV Large Print: $32
Personal Size ESV Study Bible: $29
Large Print ESV Study Bible: $40
ESV Concise Study Bible: $18
ESV Condensed Reformation Study Bible: $43
There are only a few available of each. If the one you would like is not available let Pastor Mark know and he will order more.

I want to thank everyone for their participation in the
Operation Christmas Child mission this year. Some contributed by filling a shoe box, some contributed by making special items to add to the boxes, and to the church for supporting this mission by picking up the cost of shipping and handling. The numbers overall were up from last year. We made a difference in the lives of children and their families.
Thanks for your generosity and caring attitudes.

Christmas Concert
Pianist Dr. Thomas Van Soelen and Cellist Meghan McGuire will perform together at 7:00 p.m. on December 18 at First Christian Reformed Church in Edgerton. The Concert will feature music from a variety of traditions, including special arrangements of Christmas carols. McGuire and Van Soelen have been partnering in concerts since 2013. The concert is free, but will feature a freewill offering supporting domestic violence efforts at The Southwest Crisis Center.
Thank You
A big thank you to everyone who helped decorate the church for Christmas! It was greatly appreciated!
The Decorating Committee
Mission Trip Organizational Meeting
There will be a meeting following church next Sunday, December 12 in the fellowship hall. We will be going to Grace Covenant in Anneville, KY, June 19-25. This is a church wide trip, anyone who is currently in 7th grade this year and older is invited to come along on this trip. If you are interested, please attend this meeting.
This Week
Sunday
Nursery: Kayla Buys and Brayden Dirksen
Children's Message: Jason Snyder
Fellowship: Ronna & Curt Wassink and Tricia & Mike Jouwstra
Calling Elders: Dave Rieck and Gene Westenberg
Monday
9:00 a.m. The ladies will be making Pigs-in-the-Blanket
7:00 p.m. Congregational Meeting
Consistory Meeting will follow the Congregational Meeting
Tuesday
1:00 p.m. The ladies will finish the pigs.
Wednesday:
Midweek
6:15-7:00 p.m. Food & Fellowship
6:45-7:15 p.m. Kids Choir
7:00 p.m. Sr. & Jr. RCYF
7:15-8:00 p.m. K-5th Grade Catechism
7:15 p.m. Chapel Choir
Next Week Sunday
Next week Sunday the Chapel Choir will present their Cantata.
Nursery: Tyra Snyder and Carly Groen
Children's Message: Nancy Wassink
Fellowship: Marianne Westenberg and Kim & Ron Menning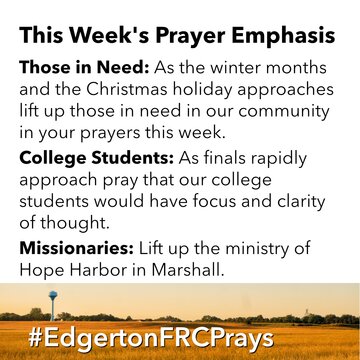 Our address is: 230 Maple St, Edgerton, MN 56128, USA