Announcements
for the Week of December 12

We look forward to seeing you for worship this Sunday morning at 9:30 for worship and the Christmas Cantata: The Thrill of Hope.
Our public reading of scripture from the Old Testament is Zephaniah 3:14-20 and the responsive reading is Psalm 85:7-13. The sermon passage is Philippian 4:4-7.
If you are unable to join us in person you can watch the webcast of our service on our website, YouTube Channel, or Facebook Page.

Those that have been selected for the office of Elder are: Loren Bleyenburg, Randy Bolt, and Mike Drooger. Those that have been selected for the office of Deacon are: Randy Scholten, Kyle Wassink, and Justin Van Grootheest. If there is any scriptural reason why these men should not be ordained and installed to their office, please see Cal Brouwer or Pastor Mark.

There will be a meeting following church on December 12 in the upstairs youth room. We will be going to Grace Covenant in Anneville, KY, June 19-25. This is a church wide trip, anyone who is currently in 7th grade this year and older is invited to come along on this trip. If you are interested, please attend this meeting.

The ladies will be making pigs this coming week at 9:00 on Monday morning and on Tuesday afternoon at 1:00.


Several people have inquired about English Standard Bibles to purchase. To help with that process we have purchased an assortment of Bibles and Study Bibles to choose from. They are on display on a table in the entry next to the welcome desk. There are envelopes on the table for you to place payment in. You can drop the envelope in the offering plate.
The prices for the Bibles are as follows:
ESV Large Print: $32
Personal Size ESV Study Bible: $29
Large Print ESV Study Bible: $40
ESV Concise Study Bible: $18
ESV Condensed Reformation Study Bible: $43
There are only a few available of each. If the one you would like is not available let Pastor Mark know and he will order more.

At the November meeting Pastor Mark presented the Elders with an
updated information sheet on Reformed denominations. This included information regarding view of Scripture, Confessions, worship, assessments, missions, and other important areas of interest. They were also given a sheet to assess the level of importance for these issues in looking for a place that is the best fit for our congregation. In January discussions regarding this information will take place.

Urgent Need at Center of Hope
Any sized gloves & mittens, children's snow pants, and coveralls are in HIGH demand, as they often run out of them in the colder months. If you have any they can be put in the box at church. They will be taken to Center of Hope on December 17.
Hope Harbor
Hope Harbor is hosting a Christmas Cheer Open House on Tuesday,
December 14 from 2:00 p.m.—7:00 p.m. at Hope Harbor, 219 N Hight St. in Marshall. Join us for a come and go open house with yummy treats, warm drinks, Christmas carols, scavenger hunt, door prizes, and holiday fellowship to kick off the most wonderful time of the year. There is no cost or tickets to attend. All ages are welcome.
Christmas Concert
Pianist Dr. Thomas Van Soelen and Cellist Meghan McGuire will perform together at 7:00 p.m. on December 18 at First Christian Reformed Church in Edgerton. The Concert will feature music from a variety of traditions, including special arrangements of Christmas carols. McGuire and Van Soelen have been partnering in concerts since 2013. The concert is free, but will feature a freewill offering supporting domestic violence efforts at The Southwest Crisis Center.
Justice For All
Justice For All is planning a UTAH BUS TOUR, focusing on our ministry partners Great Commission Utah and Grace Reigns. The dates are April 5-11, 2022. Join us, learn, and see how God is using these amazing ministries to share His love and grace to those within the FDLS communities in Utah. We will be spending time in Salt Lake City and Hildale, UT/Colorado City, AZ. We will also enjoy some of the amazing beauty of God's creation in UT. If you are interested or want more information, please contact Pat Vander Pol at JFA (patvp@jfa-nwiowa.org – 712-476-2804).
This Week
This Week
Sunday
Nursery: Tyra Snyder and Carly Groen
Children's Message: Nancy Wassink
Fellowship: Marianne Westenberg and Kim & Ron Menning
Calling Elders: Kevin Kleinjan and Jason Heard
Monday
9:00 a.m. The ladies will be making Pigs-in-the-Blanket
7:00 p.m. Congregational Meeting
Consistory Meeting will follow the Congregational Meeting
Tuesday
1:00 p.m. The ladies will finish the pigs.
Wednesday:
Midweek
6:15-7:00 p.m. Food & Fellowship
6:45-7:15 p.m. Kids Choir
7:00 p.m. Sr. & Jr. RCYF
7:15-8:00 p.m. K-5th Grade Catechism
7:15 p.m. Chapel Choir
Next Week Sunday
The Kid's will present their Christmas Program next Sunday.
Nursery: Linda Bleyenburg and Carson Van't Hof
Fellowship: Brenda & Kevin Kleinjan and Orla & Dale Schuld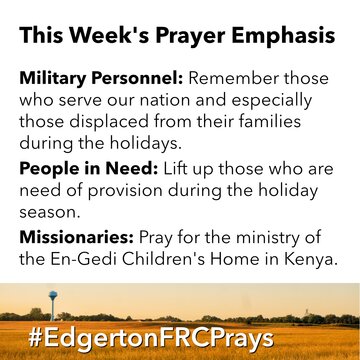 Our address is: 230 Maple St, Edgerton, MN 56128, USA