Announcements
for the Week of December 19
This Lord's Day we are blessed to hear the praises of our covenant children in their Christmas Program. The scripture passages for this week are Micah 5:2-4, Psalm 80:1-7, and John 1:19-28.
If you are unable to join us this Sunday you can also watch the webcast of our service at our website, Facebook Page, or YouTube Channel.

Thank you to the Sunshine Circle for the fruit and goodie basket.
Ray Hulstein, Bernice Brouwer, and Marilyn Schoolmeester

Installation and Ordination of new Elders and Deacons will be on January 2.
Those that have been selected for the office of Elder are: Loren Bleyenburg, Randy Bolt, and Mike Drooger. Those that have been selected for the office of Deacon are: Randy Scholten, Kyle Wassink, and Justin Van Grootheest. If there is any scriptural reason why these men should not be ordained and installed to their office, please see Cal Brouwer or Pastor Mark.

At the November meeting Pastor Mark presented the Elders with an
updated information sheet on Reformed denominations. This included information regarding view of Scripture, Confessions, worship, assessments, missions, and other important areas of interest. They were also given a sheet to assess the level of importance for these issues in looking for a place that is the best fit for our congregation. In January discussions regarding this information will take place.
This Week
NO Sunday School
Nursery: Linda Bleyenburg and Carson Van't Hof
Fellowship: Brenda & Kevin Kleinjan and Orla & Dale Schuld
Calling Elders: Ron Menning and Jason Menning
Saturday:
9:30 a.m. Christmas Service
Children's Message: Amy Van Hulzen
Nursery: Jessica Roskamp and Colin Scholten
Next Week Sunday
Nursery: Brenalyn Smit and Hope Snyder
Children's Message: Nancy Wassink
Fellowship: Jill & Loren Bleyenburg and Hennie & Jay Scholten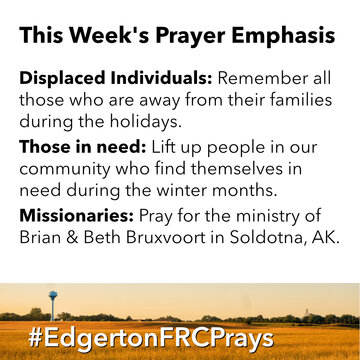 Our address is: 230 Maple St, Edgerton, MN 56128, USA