Announcements
for the Week of January 2

Join us for worship this Sunday morning at 9:30 as we install new Deacons and Elders, have a Profession of Faith, and two baptisms.
Our Old Testament passage is Ezra 5:6-17 and the responsive reading is Psalm 50:1-6. The text for the message this week is Luke 3:23-38.
You can also view the webcast of our service at our YouTube Channel, Facebook Page, or website.

With the New Year upon us you have likely considered a Bible reading plan and aren't sure where to start. Maybe you have tried to read the Bible in a year and get frustrated a few weeks in and end up getting behind and giving up. Perhaps you have been successful, but you looked back and remembered very little of what you read. In the coming year we want to encourage you to Abide in God's Word. Each month we will have a featured short book from the New Testament that you are encouraged to read multiple times and really know the book. There will be resources available to help you on your journey. On the first and third Sunday at 6:30 pm Pastor Mark will stream a live study on the book. Every Tuesday there will be a short devotional available on YouTube, Facebook, and audio podcast from a passage in the book of the month to encourage you to keep reading. Watch YouTube and Facebook this week for more information on resources and tips on being successful in digging into one book a month. The first book of the month will be Titus and is just 3 short chapters long. Check out the website http://abide.info for resources and information.

2022 Directory:
A rough draft of the 2022 Directory is on the
welcome counter. Please check your address, phone #, email, etc and make any changes.
Intergenerational mission trip!
Join us for a week together in Kentucky. We will be stopping at the Creation Museum on the way there, working with Grace Covenant Ministries for a few days, and on the way home stopping at the Ark! Sign up on the sheet by the information desk. Cost is $200. Hope you consider coming along!

Sympathy is expressed to Jerold & Sophie Schoolmeester on the death of their son, Don this past week.

Thank you to the Sunshine Circle for the basket of goodies.
Marianne Westenberg & Helen Schuld
This Week
Today
We will be ordaining and installing Loren Bleyenburg to the office of Elder and installing Mike Drooger to the office of Elder. We will be
ordaining and installing Justin Van Grootheest and Kyle Wassink to the office of Deacon and, installing Randy Scholten to the office of Deacon. We will witness the Profession of Faith of Kaitlynn Van Grootheest and the baptisms of Logan and Madilynn children of Justin and Kaitlynn Van Grootheest. Following the morning service, there will be a time of fellowship. All visitors are invited.
There is no Sunday School today.
Nursery: Taylor Van Dyke and Liana Bloemendaal
Fellowship: Kelly & Jason Heard and Cheryl & Scott DeJong
Calling Elders: Jason Heard and Kevin Kleinjan
6:30 p.m. Abide in the Word on Facebook and YouTube
Monday:
9:00 a.m. The ladies will be making pigs-in-the-blanket.
1:00 p.m. Joy Circle
7:00 p.m. Elders Meeting
7:30 p.m. Deacons Meeting
8:00 p.m. Consistory Meeting
Tuesday:
1:00 p.m. The ladies will finish the pigs.
7:00 p.m. Sunshine Circle
Wednesday:
9:30 a.m. Priscilla Circle
Midweek
6:15-7:00 p.m. Food & Fellowship
6:45-7:15 p.m. Kids Choir
7:00 p.m. Sr. & Jr. RCYF
7:15-8:00 p.m. K-5th Grade Catechism
7:15 p.m. Chapel Choir
Next Week Sunday
Nursery: Caty and Bergen Arp
Children's Message: Brenda Kleinjan
Fellowship: Gloria & Larry Stevens and Brenda Hamm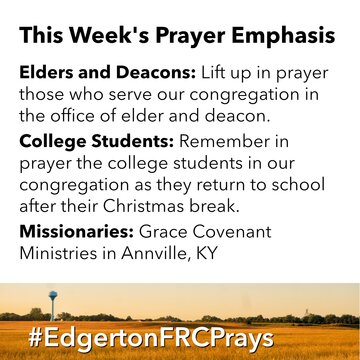 Our address is: 230 Maple St, Edgerton, MN 56128, USA