Announcements
for the Week of January 9

Join us as we taste and see that the Lord is good as we celebrate the Lord's Supper this Sunday morning at 9:30.
Our Old Testament public reading of scripture is Ezra 6:1-12 and the responsive reading is Psalm 50:7-15. The sermon passage is from Luke 4:1-15.
If you are not able to join us in person you can view our webcast on our website, YouTube Channel, or Facebook Page.

Intergenerational mission trip!
Join us for a week together in Kentucky. We will be stopping at the Creation Museum on the way there, working with Grace Covenant Ministries for a few days, and on the way home stopping at the Ark! Sign up on the sheet by the information desk. Cost is $200. Hope you consider coming along!
2022 Directory:
A rough draft of the 2022 Directory is on the
welcome counter. Please check your address, phone #, email, etc and make any changes.
Coffee Break:
Coffee Break has resumed in Edgerton. We meet at First CRC in the
Fellowship Room at 9:30 a.m. each Wednesday.
Profession of Faith:
Pastor Mark we will be starting a class for students wishing to make Profession of Faith. Classes will be following worship on February 6, 20, and 27 and March 6 and 20. The class will also meet at the parsonage on March 27 to watch the film "Spirit and Truth". If you are interested in making Profession of Faith talk with Pastor Mark.
RYM Registration Reminder:
The deadline for reserving your spot for RYM Texas is rapidly approaching. RYM takes place from August 1-6 this summer and is a great opportunity for students currently in 5th-8th grade to learn and grow in faith while experiencing other great opportunities and activities. If you need commitment forms or have questions you can talk to Nancy Wassink or Pastor Mark.
Hope Harbor:
Hope Harbor is hiring for a full time awake overnight position for the ministry (3-4 shifts one week and 4 shifts the next, 7-8 shifts in a 2 week pay period). Competitive starting wage. Benefits for full time employees. Encouraging, uplifting work environment. Small
non-profit organization under 35 employees. Company encourages promotion and advancement within. Must be 21 years of age. Most overnight shifts include 4+ hours of quiet down time when work tasks are complete while residents sleep, ideal for studying and personal time. Apply online at https://hopeharbormn.org/careers/
This Week
10:45 a.m. Sunday School
Nursery: Caty Arp & Bergen Arp
Children's Message: Nancy Wassink
Fellowship: Gloria & Larry Stevens and Brenda Hamm
Calling Elders: Jason Menning and Mike Drooger
Wednesday:
Midweek
6:15-7:00 p.m. Food & Fellowship
6:45-7:15 p.m. Kids Choir
7:00 p.m. Sr. & Jr. RCYF
7:15-8:00 p.m. K-5th Grade Catechism
7:15 p.m. Chapel Choir
Next Week Sunday
Nursery: Alyssa Bleyenburg and Brynlee Lustfield
Children's Message: Kristin Groen
Fellowship: Bev & Lloyd Van't Hof and Hermina & Frank Jouwstra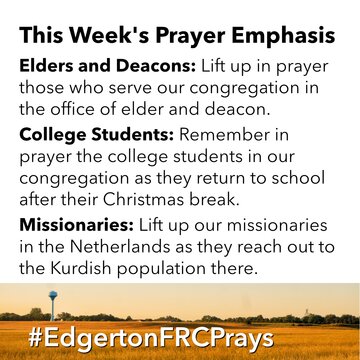 Our address is: 230 Maple St, Edgerton, MN 56128, USA