Announcements
for the Week of March 6

Join us as we worship the Lord this Sunday morning at 9:30!
Our Old Testament public reading of scripture will be Ezra 8:24-36 and the responsive Psalm has us in Psalm 55:1-7. The passage for the message is from Luke 6:17-26.
If you are unable to join us in person you can also view the webcast of our service on our website, YouTube Channel, or Facebook Page.

Thank You: We would like to thank everyone who prayed for Kala before, during and after her surgery. The prayers were heard as she is doing well and on the road to recovery.
Ron & Kim Menning
Thank You: Our Sincere gratitude to Pastor Mark for his visits, prayers, and ministering to us and Marianne in our time of need. We thank you, our church family for your thoughts, prayers, cards, kind gestures, and support during Marianne's illness and after she entered her eternal home. Special thanks to those who served at her funeral. You are a bless to us!
The Family of Marianne Westenberg

ULTIMATE BURGER BAR AND DONATION AUCTION:
Wednesday, March 9th. Top your burger with your favorite traditional toppings, or go wild and try something new, the possibilities are endless! There will be toppings galore, along with sides and a dessert! Hot dogs will also be available. Come enjoy a meal between 5:00-7:00 p.m., then stay for the Live Donation Auction (starts at 7:00 p.m.). The funds raised from this fundraiser go towards the church-wide Mission Trip in June. If you are able, we need and appreciate your financial help. As a trip like this does take a lot to make it work, and we have a long way to go. Thank you in advance for your prayers and support.
Church Photo Directory:
We are looking to produce a congregational photo directory this August and September to be ready by the end of 2022. We are looking for a few people to serve on a committee to help us reach this goal. If you are interested, you can talk with Diane Westenberg or Pastor Mark.
Music Festival:
Palm Sunday, April 10, 2:30 pm: Please join us for our 25th Annual Easter Music Festival at First CRC of Edgerton.
Southwest's Choirs, area churches, and choral groups will present
individual numbers during this afternoon of praise. Members of the audience will be invited to join the mass choir the Hallelujah Chorus. An offering will be taken for Southwest Christian High School (sponsored as a fundraiser by Circle #12).
CHURCH WIDE MISSION TRIP:
There's still room! Jump on this great opportunity to spend time with your church family while doing mission work! If you've been thinking, and praying about going, here is your nudge to go! The trip is June 19-25th to Anneville, KY. We will be working a few days with a long time supported Missionary, Grace Covenant Ministries. While there we also are taking the opportunity to see the Ark, and the Creation Museum. We are excited to see what God has in store for you on this trip! The deadline to sign up is March 13th! If you have any questions, talk to Bev Van't Hof, Shelli Menning, Ashley Hulstein, Justin Van Grootheest, Pastor Mark Groen, Kirk Dirksen, or Mark & Diane Brockberg.
This Week
Today, following the morning service, there will be a time of Fellowship. All visitors are invited.
10:45 a.m. Sunday School
Nursery: Rihanna Hulstein and Mari Snyder
Children's Message: Nancy Wassink
Fellowship: Alyssa & Brandon Huisken and Londa & Kirk Dirksen
Calling Elders: Kevin Kleinjan and Mike Drooger
Those Who Need Our Prayers: Please keep all of our elderly members in your prayers. This week we focus on Lorraine Berghuis.
Monday:
11:45 a.m.-3:00 p.m. MCA testing in the Fellowship Hall.
1:00 p.m. Joy Circle
6:15 p.m. Elders Meeting
7:30 p.m. Deacons Meeting
8:00 p.m. Consistory Meeting
Tuesday:
8:30 a.m.—12:00 p.m. ACT Testing in the Fellowship Hall.
7:00 p.m. Sunshine Circle
Wednesday:
11:45 a.m.– 3:00 p.m. MCA testing in the Fellowship Hall.
5:00-7:00 p.m. Ultimate Burger Feed and Donation Auction
Midweek
6:45-7:15 p.m. Kids Choir
7:00 p.m. Jr. RCYF
7:15-8:00 p.m. K-5th Grade Catechism
7:15 p.m. Chapel Choir
Next Week Sunday
Next week Sunday we will be celebrating the Lord's Supper.
Nursery: Kinsie Nelson and Hope Snyder
Children's Message: Jason Snyder
Fellowship: Caitlyn & Greg Arp and Deb Corbin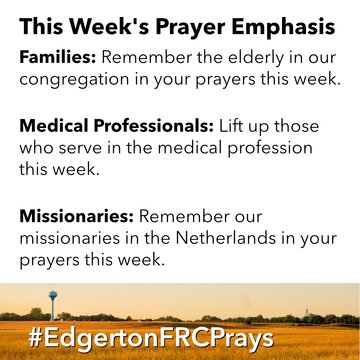 Our address is: 230 Maple St, Edgerton, MN 56128, USA