Announcements
for the Week of March 13

Join us as we worship the Lord this Sunday morning at 9:30 and partake in the Lord's Supper.
Our Old Testament public reading of scripture will be Ezra 9:1-15 and the responsive Psalm has us in Psalm 55:8-16. The passage for the message is from Luke 6:27-36.
If you are unable to join us in person you can also view the webcast of our service on our website, YouTube Channel, or Facebook Page.

Thank You: A sincere THANK YOU for your generosity and support of the Reformed Church Women's Soupless Soup Supper and RCW Missions! A total of $1,875 was received.
THANK YOU! THANK YOU! To anyone/everyone that helped make the Mission Trip Fundraiser Supper/Donation Auction Wednesday night a success!! We saw God do amazing things through each and every one of you through attending the supper, donation to the auction, buying and bidding, helping, serving, and praying for this special opportunity.
Everyone's support is greatly appreciated!
Thank You very much for all the cards that were sent in the sudden loss of our brother Bryan. Your acts of kindness and sympathy were a great comfort to us. Dean & Ardeth Fransen
The Kids' Choir will be singing this Sunday. Please have your children to the fellowship hall by 9:15 on Sunday morning.

Don't forget we are moving the clocks forward this weekend.

There will be a Red Cross blood drive at our church on Monday, March 28, 12:30-6:30 p.m. Please call Betty at 507-227-8416 or fbhuisken@gmail.com to make or confirm an appointment. There is a constant need for blood. Every 2 seconds someone/somewhere in the US needs blood. Anyone 17 years or older and in good health is able to donate.
This Week
Nursery: Kinsie Nelson and Hope Snyder
Children's Message: Jason Snyder
Fellowship: Caitlin & Greg Arp and Deb Corbin
Calling Elders: Jason Heard and Gene Westenberg
Monday:
9:00 a.m. The ladies will be making Pigs-in-the-blanket.
Tuesday:
1:00 p.m. The ladies will finish the pigs.
7:00 p.m. Community Prayer Service at First CRC
Wednesday:
Midweek
6:15-7:00 p.m. Food & Fellowship
6:45-7:15 p.m. Kids Choir
7:00 p.m. Sr. & Jr. RCYF
7:15-8:00 p.m. K-5th Grade Catechism
7:15 p.m. Chapel Choir
Next Week Sunday
Nursery: Jessica Roskamp and Tyler Van't Hof
Children's Message: Brenda Kleinjan
Fellowship: Diane & Gene Westenberg and Maryann Zylstra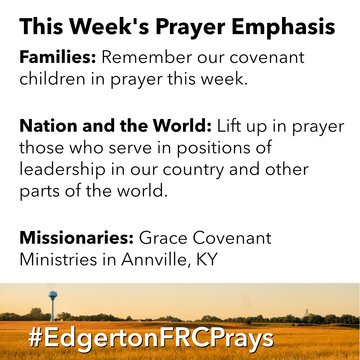 Our address is: 230 Maple St, Edgerton, MN 56128, USA