Announcements
for the Week of March 20

Join us as we worship the Lord this Sunday morning at 9:30.
Our Old Testament public reading of scripture will be Ezra 10:1-17 and the responsive Psalm has us in Psalm 55:17-23. The passage for the message is from Luke 6:37-42.
If you are unable to join us in person you can also view the webcast of our service on our website, YouTube Channel, or Facebook Page.

There are Pigs-in-the-blanket for sale. They are $12.00 a dozen. Call Linda Bleyenburg 507-227-0093 or Mary Ann Zylstra 507-227-9788 if you would like to purchase them.

Bloodmobile:
There will be a Red Cross blood drive at our church on Monday, March 28, 12:30-6:30 p.m. Please call Betty at 507-227-8416 or fbhuisken@gmail.com to make or confirm an appointment. There is a constant need for blood. Every 2 seconds someone/somewhere in the US needs blood. Anyone 17 years or older and in good health is able to donate.
Music Festival:
Palm Sunday, April 10, 2:30 pm: Please join us for our 25th Annual Easter Music Festival at First CRC of Edgerton. Southwest's Choirs, area churches, and choral groups will present individual numbers during this afternoon of praise. Members of the audience will be invited to join the mass choir the Hallelujah Chorus. An offering will be taken for Southwest Christian High School (sponsored as a fundraiser by Circle #12).
Save the Date!
This summer take a MONUMENTAL look at God's
greatness, June 6-10 at Vacation Bible School. We will explore the
vastness of God's love while trekking through the story of Joseph.
VBS needs socks! Used for staining nativity pieces (so no holes). We'll take your pairs or singles or that lonely one left in the dryer. A collection box is by the mailboxes.

Thank You: We would like to say thank you to all that have been praying for us, the phone calls, cards, and food. Please continue to pray for Orv as the pain is still intense. All was deeply appreciated.
Orv & Brenda Hamm
Thank you for your donation of clothing. We are appreciative of your generosity. We will share with our guests. God Bless You.
Center of Hope Staff
This Week
Nursery: Jessica Roskamp and Tyler Van't Hof
Children's Message: Brenda Kleinjan
Fellowship: Diane & Gene Westenberg and Maryann Zylstra
Calling Elders: Randy Bolt and Loren Bleyenburg
Wednesday:
Midweek
6:15-7:00 p.m. Food & Fellowship
NO Kids Choir
7:00 p.m. Sr. & Jr. RCYF
7:00-8:00 p.m. K-5th Grade Catechism
7:15 p.m. Chapel Choir
Next Week
Nursery: Danette Smit and Reagan Van't Hof
Children's Message: Nancy Wassink
Fellowship: Sandy Brouwer and Jessica & Lucas Roskamp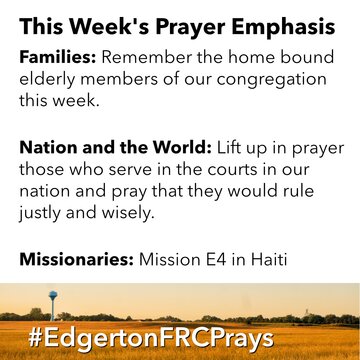 Our address is: 230 Maple St, Edgerton, MN 56128, USA