Announcements
for the Week of March 27


There will be a Red Cross blood drive at our church on
Monday, March 28, 12:30-6:30 p.m. Please call Betty at 507-227-8416 or fbhuisken@gmail.com to make or confirm an appointment. There is a constant need for blood. Every 2 seconds someone/somewhere in the US needs blood. Anyone 17 years or older and in good health is able to donate.

Save the Date!
This summer take a MONUMENTAL look at God's greatness, June 6-10 at Vacation Bible School. We will explore the vastness of God's love while trekking through the story of Joseph.
Socks
Vacation Bible School needs socks! Used for staining nativity pieces (so no holes). We'll take your pairs or singles or that lonely one left in the dryer. A collection box is by the mailboxes.

It is with deep gratitude that I thank Pastor Mark for his visits and prayers during the last few weeks. Also, to everyone for their prayers and ways of reaching out to me in my diagnosis and surgery. We serve a Mighty God who hears and answers prayers and calms our every fear.
Becky & Dave Meiners
A huge "THANK YOU" to everyone who joined the prayer service on March 15 and gave money to help with feeding and sheltering Ukrainians who have fled their homes due to the Russian Invasion. $8,737 was raised and sent directly to Vasya and Maranda Heytsi for their continuing work there. Please continue to pray for them! If you would still like to give to this cause, please send a check to First CRC or Bethel CRC of Edgerton and put "Ukraine" in the memo.
First CRC Deacons

There are Pigs-in-the-blanket for sale. They are $12.00 a dozen. Call Linda Bleyenburg 507-227-0093 or Mary Ann Zylstra 507-227-9788 if you would like to purchase them.

Music Festival:
Palm Sunday, April 10, 2:30 pm: Please join us for our 25th Annual Easter Music Festival at First CRC of Edgerton.
Southwest's Choirs, area churches, and choral groups will present
individual numbers during this afternoon of praise. Members of the audience will be invited to join the mass choir the Hallelujah Chorus. An offering will be taken for Southwest Christian High School (sponsored as a fundraiser by Circle #12).
Hope Haven Auction
Hope Haven will host their Annual Benefit Auction on Friday, April 1st at Te Slaa Trucking in Hulls, IA (corner of Hwys 75 & 18). Help support individuals with disabilities through this exciting evening of fun and fellowship. The schedule is: doors open at 4:30 p.m.; food booth opens at 5:00 p.m.; the live auction begins at 5:30 p.m. Visit hopehaven.org/events to see a preview catalog of items. The whole family is invited to this community fundraiser.
S.W. MN. Chapter of MCCL
Minnesota Citizens Concerned for Life will be hosting their annual Pro-Life Rally on Monday, April 4, at 7:00 p.m. This will be held at the S.W. Christian High School gymnasium in Edgerton, Mn. Guest speaker will be Laurie Westerbur from Ihlen, MN. MCCL's main purpose is to educate and inform citizens of S.W. MN. about pro-life causes.
This Week
Nursery: Danette Smit and Reagan Van't Hof
Children's Message: Nancy Wassink
Fellowship: Sandy Brouwer and Jessica & Lucas Roskamp
Calling Elders: Mike Drooger and Jason Menning
Wednesday:
Final Midweek
5:30 –7:00 p.m. Jr. RCYF Taco Supper
6:45-7:15 p.m. Kids Choir
7:00 p.m. Sr. & Jr. RCYF
7:15-8:00 p.m. K-5th Grade Catechism
7:15 p.m. Chapel Choir
Next Week Sunday
Nursery: Brenalyn Smit and Jozilyn Van't Hof
Children's Message: Amy Van Hulzen
Fellowship: Ardeth & Dean Fransen and Sandy & Art Menning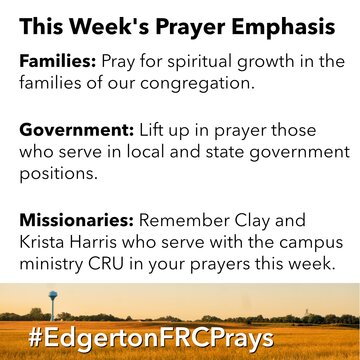 Our address is: 230 Maple St, Edgerton, MN 56128, USA