Announcements
for the Week of April 10

Join us this Palm Sunday as we worship the Lord Sunday morning at 9:30.
We return to Genesis for our sermon texts this week as we start the story of Joseph and look at Matthew 21:1-17. Our responsive reading is Psalm 57:1-6 and our Old Testament reading has us in Zechariah 9:9-12.
If you unable to join us in person, the webcast of our service is available on our website, YouTube Channel, or Facebook Page.

On April 24 at 4:00 PM our congregation will be hosting an
informational meeting for area churches with the Evangelical Presbyterian Church. The EPC is a Reformed denomination with roughly 600 churches. A pastor and ruling elder from the EPC church in Sartell, MN will be with us to offer information and answer questions. While this meeting is for congregations seeking a new home, our congregation members are welcome to join us and participate in the discussion. If you have any questions about the meeting, you can inquire with one of the Elders or Pastor Mark.

Join us this coming Thursday morning, April 14, for coffee and rolls at 9:00. The program will begin at 9:30. The speakers will be Tana Zwart and Mindy (Mulder) Hill. The offering will be divided between the Muscular Dystrophy Association and the Children's Miracle Network.

There are Pigs-in-the-blanket for sale. They are $12.00 a dozen. Call Linda Bleyenburg or Mary Ann Zylstra if you would like to purchase them.

Music Festival:
Palm Sunday, April 10, 2:30 pm: Please join us for our 25th Annual Easter Music Festival at First CRC of Edgerton. Southwest's Choirs, area churches, and choral groups will present individual numbers during this afternoon of praise. Members of the audience will be invited to join the mass choir the Hallelujah Chorus. An offering will be taken for Southwest Christian High School (sponsored as a fundraiser by Circle #12).
Easter Sunrise Service:
First Christian Reformed Church in Edgerton is hosting an Easter Sunrise service (April 17) beginning at 7:00 a.m. We welcome our area church congregations along with visiting family and friends to join us as we remember the finished work Christ completed on the cross and with his resurrection on that glorious Easter morning! As we greet this morning reflecting on God's word and with songs from the congregation and special numbers, please join us for this joyous celebration. Following the service a breakfast will be served in the church's fellowship hall. We hope many of you will be able to join us.
ATLAS for Life Pizza Ranch Fundraiser:
Wednesday, April 13, 5-8 pm at the Pipestone Pizza Ranch. Come and enjoy a great meal while supporting ATLAS for Life!! We so appreciate your support of the ministry and thank you for your tips, as It's your tips that help make a great fundraiser!
Save the Date!
This summer take a MONUMENTAL look at God's greatness, June 6-10 at Vacation Bible School. We will explore the vastness of God's love while trekking through the story of Joseph.
VBS
We need socks! Used for staining nativity pieces (so no holes). We'll take your pairs or singles or that lonely one left in the dryer. A collection box is by the mailboxes.
SAVE THE DATE:
We're having a Tea Party! All women (0-99+) are invited for tea and fellowship on Saturday, April 23 at 10:00 a.m. at First Christian Reformed Church in Edgerton. Sister's Tea will be celebrating our sisterhood in Christ as we encourage and build each other up. Tea, refreshments, and light lunch are provided. Floppy hats optional! There will also be a free will donation box and silent action to benefit Royal Family Kids Camp. So gather your sisters in Christ and join us for a fun morning of fellowship and encouragement! If you have any question or would like to reserve seat(s) or a table, please contact Ashley Stoel (507-227-6446), Courtney Vis (507-920-2831), or Kelsey Schmidt (507-227-8570).
Hope Harbor Woman Day:
Hope Harbor is having a Woman Day on June 22 at the Heritage Event Center in Marshall. Flowers, sweets, makeup, massages, shopping, speaker, and more! Early bird registration is now open. $85 until April 30, $100 after May 1, and $115 after May 20. To register or for more information click here.

Condolences are expressed to the family of Jerry Kreun who passed away on Thursday.
This Week
Nursery: Shanna Snyder and Tucker Arp
Children's Message: Jason Snyder
Fellowship: Bernice & Ross Van Hulzen and Pat & Dave Rieck
Calling Elders: Gene Westenberg and Randy Bolt
Thursday:
Maundy Thursday Women's Brunch
9:00 a.m. Coffee and rolss. Program begins at 9:30 a.m. The speakers are Tana Zwart and Mindy (Mulder) Hill. The offering will be divided between the Muscular Dystrophy Association and the Children's Miracle Network.
7:00 p.m. Maundy Thursday Service
Nursery: Dixi Snyder and Colin Scholten
Next Week Sunday
Nursery: Amy Van Hulzen and Jacob Wassink
Children's Message: Nancy Wassink
Fellowship: Shelli & Jason Menning and Beva & Larry Snyder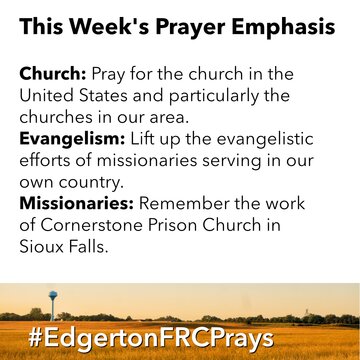 Our address is: 230 Maple St, Edgerton, MN 56128, USA