Announcements
for the Week of June 5

Join us this Sunday morning at 9:30 as we worship the Lord.
The sermon text this week has us in Genesis 42:1-38 as we continue through the story of Joseph. The responsive reading is Psalm 62:1-8 and our public reading of scripture is from 2 Timothy 4:9-22.
If you unable to join us in person, the webcast of our service is available on our website, YouTube Channel, or Facebook Page.

Mission Trip Attendees, there is a required meeting June 5, following church in the sanctuary. This is for all attendees and the parents of any youth attending.

Prayer Partners Needed:
Today is the deadline to sign-up to be a Prayer Partner for a Mission Trip Team member. Sign up to be a Prayer Partner for a mission trip team member today! Our process will be different this year. You will receive a participant's name along with a Prayer Partner Guide on Send-off Sunday, June 19. Sign-up sheet is on the welcome desk.
New Life Treatment Center Event:
There will be the Horses 2 Horsepower Annual Horse Ride on Saturday, June 11 at 9:00a.m., horse registration begins at 8:15 a.m. Starting at Pipestone County Fairgrounds. Ride Casey Jones Trail to NLTC in Woodstock. Afternoon activities at New Life Treatment Center. Our featured guests will be Kelly Ryan and Karen Burd. Their inspiring story is told in their book "Warrior Sisters". Childhood abuse sent two sisters spiraling into addictions. Classic Car Cruise-In 12:00-3:00 p.m., inflatables/Kids Games, Door prizes. Concessions will be available. Sober event/No Alcohol or Coolers. For more info, call 507-777-4321.
Gospel Music:
Hope Haven will be hosting Gospel Music in the Park on June 17 & 18, at Central Park in Sioux Center. This event will feature multiple groups and soloists performing gospel music. Bring your own lawn chair or blanket to enjoy the sunshine and music in the park. Visit www.hopehaven.org for more information.
Steen Reformed Tractor Ride, Saturday, June 18.
Registration at 8:00 a.m. The ride starts at 8:30 a.m. The cost is $25 per tractor. This is a fundraiser for church youth group camps. All tractors are allowed, except duals (12mph travel speed). A slow moving vehicle sign is required. There will be a drawing for door prizes and a lunch will be served. Call to reserve your spot Gawaine Diekevers 507-227-7759 or Lenny Otkin 507-885-2256. O you can email the church at steenreformed@alliancecom.net.
This Week
Nursery: Londa Dirksen and Carly Groen
Children's Message: Amy Van Hulzen
Fellowship: Tricia & Mike Jouwstra and Jill & Loren Bleyenburg
Calling Elders: Randy Bolt and Jason Menning
Monday –Friday:
9:00 a.m. –11:30 a.m. Vacation Bible School


Monday:
1:00 p.m. Joy Circle
7:00 p.m. Elders Meeting
7:30 p.m. Deacons Meeting
8:00 p.m. Consistory Meeting
Friday:
7:00 p.m. VBS Program at Edgerton Christian Grade School
Next Week Sunday
Nursery: Kelly Heard and Adalyn Hulstein
Children's Message: Nancy Wassink
Fellowship: Kim & Ron Menning and Aud & Clyde DeBoer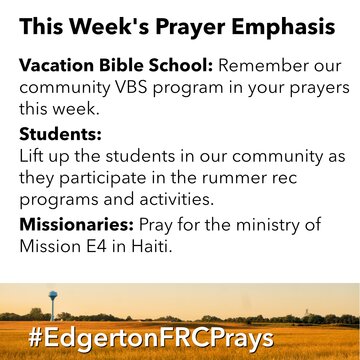 Our address is: 230 Maple St, Edgerton, MN 56128, USA