Announcements
for the Week of June 12

Join us this Sunday morning for worship at 9:30.
The sermon text this week has us in Genesis 43:1-34 as we continue through the story of Joseph. The responsive reading is Psalm 62:9-12 and our public reading of scripture is from 1 John 1:1-10.
If you unable to join us in person, the webcast of our service is available on our website, YouTube Channel, or Facebook Page.

Following worship this Sunday the Elders will be sharing an update on the denominational discernment process.

Prayer Partners Needed:
Today is the deadline to sign-up. Please
consider signing up to be a Prayer Partner for a mission trip team member today! Our process will be different this year. You will receive a participant's name along with a Prayer Partner Guide on Send-off Sunday, June 19. The sign-up sheet is on the welcome desk.
Dutch Festival:
Help Wanted! We are asking for help supervising
inflatables again this year. Could you help with an hour or two of your time? This is a paid position, please reach out to a committee member or email keithbuckridge@gmail.com or phone Keith at 319-290-1243.
This Week
Nursery: Kelly Heard and Adalyn Hulstein
Children's Message: Amy Van Hulzen
Fellowship: Kim & Ron Menning and Aud & Clyde DeBoer
Calling Elders: Kevin Kleinjan and Keith Van Hulzen
Monday:
9:00 a.m. The ladies will be making pigs-in-the-blanket.
Tuesday:
1:00 p.m. The ladies will finish the pigs.
Next Week Sunday
Nursery: Ashley Hulstein and Kami Smit
Children's Message: Nancy Wassink
Fellowship: Carol & Duane Schmidt and Cheryl & Scott DeJong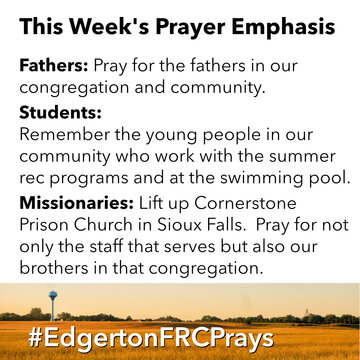 Our address is: 230 Maple St, Edgerton, MN 56128, USA