Announcements
for the Week of June 19

Join us this Sunday morning for worship at 9:30.
The sermon text this week has us in Genesis 44:1-34 as Joseph's plotting against his brothers continues. The responsive reading will be Psalm 63:1-11 and our public reading of scripture is from 1 John 2:1-14.
If you unable to join us in person, the webcast of our service is available on our website, YouTube Channel, or Facebook Page.

At the June meeting, the full Consistory voted unanimously to recommend to the congregation the Elders' decision to depart the Reformed Church in America for the Evangelical Presbyterian Church. This decision was arrived at after much research and deliberation. The EPC was chosen for its strong, confessional commitment to Reformed theology and its proven system of presbyterian church government with a strong emphasis on lay elder leadership. Prior to the congregational vote on this decision, there will be opportunities to learn more and inquire about the decision and how it impacts our congregation.

Bulletin:
Next week the bulletin will be printed early. Please have all bulletin announcements in by noon on Wednesday.
Thank You:
Thank you to the Reformed Church Women for the flowers for our Anniversary. Glenda & Norm Van Dyke
Mission Trip:
Please be in prayer for the mission trip attendees as they leave following this Sunday's service and travel to work for Grace Covenant Ministries, Anneville, KY.
This Week
Nursery: Ashley Hulstein and Kami Smit
Children's Message: Nancy Wassink
Fellowship: Carol & Duane Schmidt and Cheryl & Scott DeJong
Calling Elders: Jason Heard and Gene Westenberg
Next Week Sunday
Nursery: Rihanna Hulstein and Mari Snyder
Children's Message: Jason Snyder
Fellowship: Alvina Schoolmeester and Kelly & Jason Heard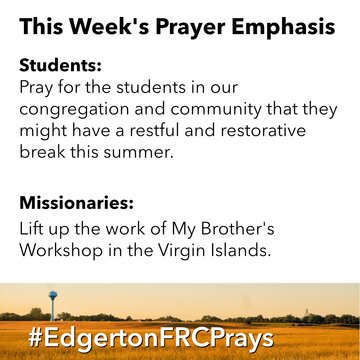 Our address is: 230 Maple St, Edgerton, MN 56128, USA