Announcements
for the Week of June 26

We look forward to seeing you this Sunday morning at 9:30 for worship.
The identity of Joseph is final revealed to his brothers in our sermon text from Genesis 45:1-28. The responsive reading will be Psalm 64:1-10 and our public reading of scripture is from 1 John 2:15-29.
If you unable to join us in person, the webcast of our service is available on our website, YouTube Channel, or Facebook Page.

Edgebrook Kiddie Parade:
Edgebrook Care Center is having a 4th of July Celebration Community Kiddie Parade. Bring your child/children to Edgebrook Care Center on Thursday, June 30 at 3:30 p.m. dressed up in red, white, and blue apparel starting at the Assisted Living front entry door around the front of Edgebrook Care Center. Our residents/tenants will be excited to see the fun event from the window of the dining area and out by the Center's front patio. Hope to see you at this fun event.
Thank you:
Thank you for your donation of bags of clothing. We appreciate your generosity and will enjoy sharing with our guests.
God Bless You, Center of Hope Staff
This Week
Nursery: Rihanna Hulstein and Mari Snyder
Children's Message: Jason Snyder
Fellowship: Alvina Schoolmeester and Kelly & Jason Heard
Calling Elders: Jason Menning and Mike Drooger
Wednesday:
9:30 am Priscilla Circle
Next Week Sunday
Nursery: Kinsie Nelson and Hope Snyder
Children's Message: Brenda Kleinjan
Fellowship: Hennie & Jay Scholten and Gloria & Larry Stevens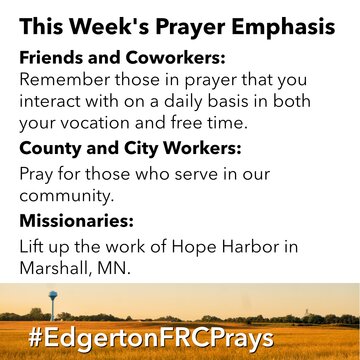 Our address is: 230 Maple St, Edgerton, MN 56128, USA