Announcements
for the Week of July 3

We look forward to seeing you this Sunday morning at 9:30 for worship.
Jacob and Joseph are reunited in our sermon text from Genesis 46:1-34. The responsive reading is Psalm 65:1-8 and our public reading of scripture is from 1 John 3:1-10.
If you unable to join us in person, the webcast of our service is available on our website, YouTube Channel, or Facebook Page.

Next Sunday, July 10 at 4:00 p.m. the congregation is invited to a meeting on the decision to depart the Reformed Church in America for the Evangelical Presbyterian Church. The meeting will consist of presenting information on the denomination and time for the congregation to inquire about the denomination and the discernment process.

The book of the month for our repeated reading for July is the book of James. Due to the holiday weekend, the Sunday evening video on the book of the month will be available online on Sunday July 10 instead of this Sunday.
This Week
Nursery: Kinsie Nelson and Hope Snyder
Children's Message: Nancy Wassink
Fellowship: Hennie & Jay Scholten and Gloria & Larry Stevens
Calling Elders: Jason Heard and Kevin Kleinjan
Wednesday:
9:30 a.m. Priscilla Circle
Next Week Sunday
Next week Sunday we will be celebrating the Lord's Supper
Nursery: Jessica Roskamp and Tyler Van't Hof
Children's Message: Kristin Groen
Fellowship: Maryann Zylstra and Kristin & Mark Groen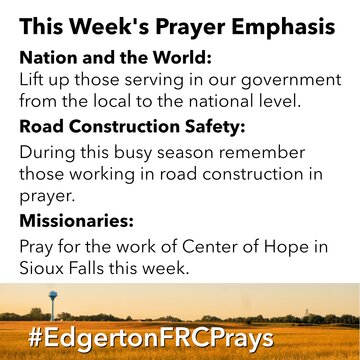 Our address is: 230 Maple St, Edgerton, MN 56128, USA