Announcements
for the Week of July 10

Join us this Sunday morning as we celebrate the Lord's Supper during worship at 9:30.
The story of the generations of Jacob continues in our sermon text for this week from Genesis 47:1-31. The responsive reading is Psalm 65:9-13 and our public reading of scripture is from 1 John 3:11-24.
If you unable to join us in person, the webcast of our service is available on our website, YouTube Channel, or Facebook Page.

This Sunday, July 10 at 4:00 p.m. the congregation is invited to a meeting on the decision to depart the Reformed Church in America for the Evangelical Presbyterian Church. The meeting will consist of presenting information on the denomination and time for the congregation to inquire about the denomination and the discernment process.

There will be a Red Cross blood drive at the First Reformed Church in Edgerton on Tuesday, July 26 from 12:30 to 6:30. Please call Betty 507-227-8416 or fbhuisken@gmail.com to make or confirm an
appointment. There is a constant need for blood. Every 2 seconds someone/somewhere in the U.S.A. needs blood. Anyone 17 years or older, and in good health is able to donate. We will be serving root beer floats to all donors.

Dutch Festival Worship Service:
Over the weekend of the Dutch Festival, First CRC in Edgerton will be hosting a combined worship service on Sunday evening, July 17, beginning at 6:30 PM. Pastor Lee Christoffels will be leading the service and preaching.
ATLAS:
Our Spirit Life Encounter Weekend #3 is quickly approaching! It will take place at ATLAS in Pipestone on Friday evening 6:00-9:00 p.m., July 15, and Saturday morning 9:00 a.m.-1:00 p.m., July 16. You can register for this free event on-line t: www.eventbrite.com/e/spirit-life-encounter-weekend-1-tickets-234605079107 or call the ATLAS office: 507-562-5777. Come and be blessed!
This Week
Nursery: Jessica Roskamp and Tyler Van't Hof
Children's Message: Kristin Groen
Fellowship: Maryann Zylstra and Kristin & Mark Groen
Calling Elders: Jason Menning and Mike Drooger
Monday:
1:00 p.m. Joy Circle
Next Week Sunday
Nursery: Danette Smit and Reagan Van't Hof
Children's Message: Kristin Groen
Fellowship: Aud & Clyde DeBoer and GayLynn & Mike Drooger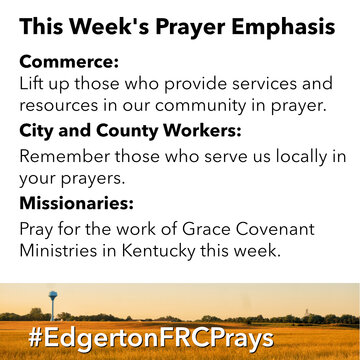 Our address is: 230 Maple St, Edgerton, MN 56128, USA