Announcements
for the Week of July 24

Join us this Sunday morning for worship at 9:30.
Just two weeks left in Genesis as we see Jacob's final prophetic word to his sons in Genesis 49:1-33. The responsive reading is Psalm 66:8-15 and our public reading of scripture is 1 John 4:7-21.
If you unable to join us in person, the webcast of our service is available on our website, YouTube Channel, or Facebook Page.

JR. High RYM:
There will be a short meeting for students and parents about Jr. High RYM Texas July 24 following the worship service.
Bloodmobile:
There will be a Red Cross blood drive at the First Reformed Church in Edgerton on Tuesday, July 26 from 12:30 to 6:30. Please call Betty 507-227-8416 or fbhuisken@gmail.com to make or confirm an appointment. There is a constant need for blood. Every 2 seconds someone/somewhere in the U.S.A. needs blood. Anyone 17 yrs. or older and in good health is able to donate. We will be serving root beer floats to all donors.
Fellowship:
The after-church fellowship schedule will be updated for the coming year. Please contact Shanna Snyder by July 30 if you would like your name removed or added. The new schedule will be out by August 15. You can text Shanna (507-227-3953) or leave a note in my church mailbox.
Note:
The August Consistory meeting will be held on August 8th due to Pastor Mark being at RYM with the Jr. High Kids on August 1st.
Thank you:
Thank you to Nancy Wassink for blessing First Reformed with her 17 years of service as Resource Director. The dedication to the ministry and mission of our congregation both visibly and behind the scenes has not only blessed the congregation of First Reformed but also the Kingdom beyond our church walls and our community. With Nancy stepping away from the Resource Director position, we would like to announce that Caty Arp has been hired for the position of Resource and Communication Director.
This Week
Nursery: Brenalyn Smit and Jozilyn Van't Hof
Children's Message: Nancy Wassink
Fellowship: Brenda Hamm and Linda & Ron Van Grootheest
Calling Elders: Keith Van Hulzen and Randy Bolt
Next Week Sunday
Nursery: Shanna Snyder and Tucker Arp
Children's Message: Jason Snyder
Fellowship: Hermina & Frank Jouwstra and Diane & Gene Westenberg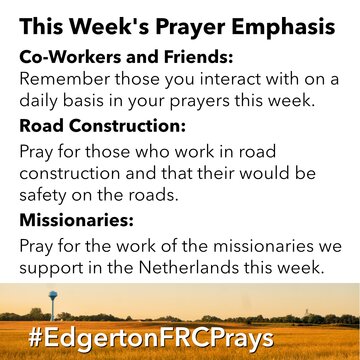 Our address is: 230 Maple St, Edgerton, MN 56128, USA