Announcements
for the Week of July 31

Join us as we worship the Lord Sunday morning at 9:30.
Thisis our final week in the book of Genesis as we look at Genesis 50:1-26. The responsive reading is Psalm 66:16-20 and our public reading of scripture finishes up 1 John as we read 1 John 5:1-21.
If you unable to join us in person, the webcast of our service is available on our website, YouTube Channel, or Facebook Page.

RYM:
Please keep the group of students that will be at RYM Middle School Texas in your prayers this week. 34 students and 6 adults will be departing on Monday morning and returning on Saturday evening.
Fellowship:
The after-church fellowship schedule will be updated for the coming year. Please contact Shanna Snyder by July 30 if you would like your name removed or added. The new schedule will be out by August 15. You can text Shanna (507-227-3953) or leave a note in my church mailbox.
Fundraiser:
Justice For All is excited to announce a Summer Antique Auction. View the video to preview items listed for the auction. More views when auction becomes live. Lot items are also listed. JFA is a nonprofit ministry that focuses on helping the underserved in our community in our community and around the world. To view the video: (120) 2022 Summer Auction on YouTube. Bidding will close on August 15 at 5:00 p.m.
Picnic & Praise Celebration:
ATLAS for Life wants to thank you for your faithful support through prayer and finances the last years. We would love to share a delicious meal with you and share through testimony what God is doing. You are invited to the Picnic & Praise Celebration on Thursday, August 11 at Hiawatha Lodge/Grounds at 805 3rd Ave. NW Pipestone. The meal is at 6:00 p.m. and is provided. The program will be at 7:00 p.m. Please RSVP SOON, by August 2 to 507-562-5777 or email the office at office@atlastforlife.org. Please bring a lawn chair and enjoy a beautiful night of praise!

My thanks to Pastor Mark, the Consistory and to the church family for the support, encouragement, notes of appreciation and many kind words received throughout my time as Resource Director. I have thoroughly enjoyed the work and am grateful to have had the opportunity to serve the church these many years. The gift cards were a wonderful surprise and will be enjoyed with my family. Thank you, Nancy Wassink
This Week
Nursery: Shanna Snyder and Tucker Arp
Children's Message: Jason Snyder
Fellowship: Hermina & Frank Jouwstra and Diane & Gene Westenberg
Calling Elders: Mike Drooger and Kevin Kleinjan
Monday:
8:00 a.m. Jr. High RYM departure
1:00 p.m. Joy Circle - Lesson 18
Wednesday:
9:30 a.m. Priscilla Circle
Saturday:
10:00 p.m. Estimated return time from RYM
Next Week Sunday
Nursery: Dixi Snyder and Colin Scholten
Children's Message: Brenda Kleinjan
Fellowship: Melissa & Kim Voge and Dixi & Jeff Snyder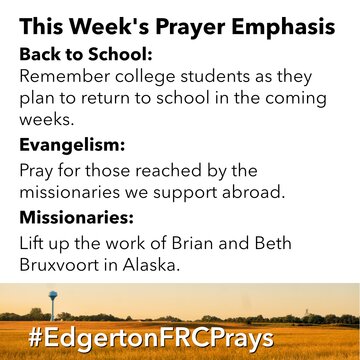 Our address is: 230 Maple St, Edgerton, MN 56128, USA