Announcements
for the Week of August 28

Join us for worship this Sunday morning at 9:30.
This our sermon passage for the sermon is Luke 8:1-15. The responsive reading is Psalm 68:14-19 and our public reading of scripture has us in Song of Solomon 2:8-17.
If you unable to join us in person, the webcast of our service is available on our website, YouTube Channel, or Facebook Page.

Congregational Meeting:
Following worship this Sunday there will be a congregational meeting to vote on the Consistory's decision to disaffiliate with the Reformed Church in America and join the Evangelical Presbyterian Church.
EDGE Youth:
We are looking for volunteers to help with EDGE Youth (Sr. High Youth Group) events. Anyone interested, please talk to Mark or Diane Brockberg.
Edge Youth Chili Cook-Off:
We need your best Chili! EDGE Youth is doing a Chili Cook-off September 21 and are looking for people to enter their best Chili. Entry fee of $30 and you provide the Chili. Prizes will be awarded. We need your help to make this fundraiser be a success. To Sign-up or if you have questions, contact Mark or Diane Brockberg by September 11. Thank You!
New Church Directory:
It's been 16 years since First Reformed Church's last church directory was completed. Plans are underway for local photographer, Ashley Stoel, to take church members' photos (in our church) for a new directory. Please sign up for a time on one of the available dates to have your photo taken! Sign-up sheets are located on a table by the welcome desk.
The directories will be printed by Main Street Printers in Edgerton. There will be no cost to church members for having photos taken (or sales pressure to buy photos) or the new directories. Digital photos will be available on Ashley's website in early November for those who wish to have Christmas cards or portraits printed. Help will be available with digital photos for anyone who needs it. The new directories will be completed in December. Please direct any questions to Pastor Mark or a directory committee member: Ora Bobeldyk, Rhonda Grimmius, Ila Muyskens, Ronna Wassink, and Diane Westenberg.
This Week
Nursery: Caty & Bergen Arp
Children's Message: Nancy Wassink
Fellowship: Carol & Jim Schulze and Glenda & Lee Vande Griend
Calling Elders: Kevin Kleinjan and Jason Menning
Monday:
9:00 a.m. The ladies will be making pigs-in-the-blanket.
Tuesday:
1:00 p.m. The ladies will finish the pigs.
Next Week Sunday
Nursery: Alyssa Bleyenburg and Brynlee Lustfield
Children's Message: Jason Snyder
Fellowship: Gloria & Larry Stevens and Carol & Jim Schulze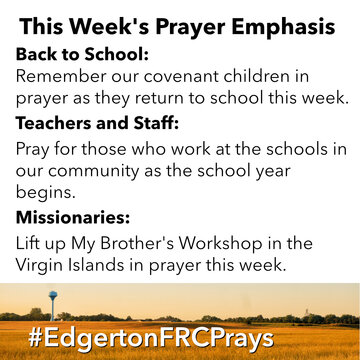 Our address is: 230 Maple St, Edgerton, MN 56128, USA