Announcements
for the Week of September 4

Join us for worship this Sunday morning at 9:30.
This our sermon passage for the sermon is Luke 8:16-21. The responsive reading is Psalm 68:20-28 and our public reading of scripture has us in Song of Solomon 3:1-11.
If you unable to join us in person, the webcast of our service is available on our website, YouTube Channel, or Facebook Page.

You still have time to sign up!
Don't miss your opportunity to get your name on the Church Directory Photo Signup sheets in the entry. Slots are available September 7-10. These sessions are available at no cost to you.
Stop by church and reserve your spot.
We can't wait to see your smiles!

Come join us for fellowship next Sunday (September 11) as we kick-off all our activities starting at church! During the service our third-grade class will be receiving their Bibles. Following worship, there will be a time of fellowship! At 11:15, we will be serving BBQs and hotdogs for our potluck. You are invited to bring a side dish or dessert to share. There will also be outdoor activities for the kids. We can't wait to see you!

EDGE Youth:
We are looking for volunteers to help with EDGE Youth (Sr. High Youth Group) events. Anyone interested, please talk to Mark or Diane Brockberg.
Edge Youth Chili Cook-Off:
We need your best Chili! EDGE Youth is doing a Chili Cook-off September 21 and are looking for people to enter their best Chili. Entry fee of $30 and you provide the Chili. Prizes will be awarded. We need your help to make this fundraiser be a success. To Sign-up or if you have questions, contact Mark or Diane Brockberg by September 11. Thank You!
Women's Bible Study Opportunity:
On September 21, Coffee Break will kick off a new season with registration and brunch at 9:30 in the First CRC Fellowship Room. Join us as we fellowship and view an introductory video to begin a 15-week study of the Letters to the Seven Churches found in Revelation 1-3. Revelation is a revealing—and here in the letters to the churches we see Jesus in his glory, Jesus among his churches. As he stands with his church, he speaks words of commendation and correction. We see the revelation of God's heart for his church. What will he say to these churches? To us today? Childcare is provided for newborn to 3 years and there is Bible Story Hour for 3 years – Kindergarten.
Evening Bible Study Opportunity for Women:
Priscilla Pater will be leading the Coffee Break Bible Study on Wednesday evenings for those who are not able to attend the morning session. If you are interested in attending the evening Bible Study, contact Priscilla at 507-215-1482 for more information.
Pancake Breakfast:
Come and enjoy delicious, all you can eat, pancakes at the Southwest Christian High School Cafeteria on Labor Day, September 5, from 7:00 a.m. to 10:00 a.m. Also included at the breakfast is sausage, juice, milk, and coffee. Freewill donation. Sponsored by SWCH Circle #2.
Tractor Ride:
Please plan to join us for the 5th Annual SWC Tractor Ride. The event will be held on Saturday, Sept 10 beginning at 9:30 from Harold's Repair near Holland, MN. The noon meal will be served at Woodstock Community Church. For more details or to REGISTER, please contact Kendra Kuipers at 507.227.0488.
Inspiration Hills Fundraiser:
Inspiration Hills Warrior Run will be held Saturday, September 17, 9:00 a.m. 1 Mile Family Fun Run/Walk - 9:30 a.m. 5K Warrior Trail Run. Experience a fun but challenging obstacle course for the entire family of all ages to enjoy through our beautiful hills and valleys at
Inspiration Hills. Proceed will go towards Kids Camp Scholarships. Cost: $25 - 1 Mile (6 years & younger are free) $30 - 5K. Early bird discount $5 off before September 3. To learn more, watch a video, or to register visit inspirationhill.org/warrior-5k.
Bible League Conference:
The 2022 Bible League Conference will be held September 19-20 at First Reformed Church, Sioux Center, IA. Registration is due September 12. Register online at bibleleague.org/tickets or call Judy at 708-367-8546 (M-F 8-4:30 p.m.)

Bloodmobile:
There will be a Red Cross blood drive at the First Reformed Church in Edgerton on Tuesday, September 20, 2022, 12:30 to 6:30. Please call Betty at 507-227-8416 or fbhuisken@gmail.com to make or confirm an appointment. There is a constant need for blood. Anyone 17 years or older and in good health is able to donate. Be sure to eat before you come to donate and drink plenty of water. Please bring along a picture or ID. Thank you!

Thanks so much to the Reformed Church Women for remembering our anniversary with flowers.
Pat & Dave Rieck
This Week
Nursery: Alyssa Bleyenburg and Brynlee Lustefield
Children's Message: Jason Snyder
Fellowship: Gloria & Larry Stevens and Carol & Jim Schulze
Calling Elders: Keith Van Hulzen and Mike Drooger
Monday:
7:00 p.m. Elders Meeting
7:30 p.m. Deacons Meeting
8:00 p.m. Consistory Meeting
Tuesday:
7:00 p.m. Sunshine Circle
Wednesday:
9:30 a.m. Priscilla Circle
Next Week Sunday
We will be observing the sacrament of the Lord's Supper and Sunday School Kicks Off next Sunday! Join us for fun after the service with an inflatable for the kids and a Fellowship Meal.
Nursery: Linda Bleyenburg and Liana Bloemendaal
Children's Message: Brenda Kleinjan
Fellowship: Danette & Dennis Smit and Diane & Gene Westenberg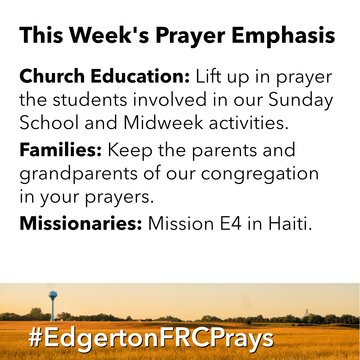 Our address is: 230 Maple St, Edgerton, MN 56128, USA