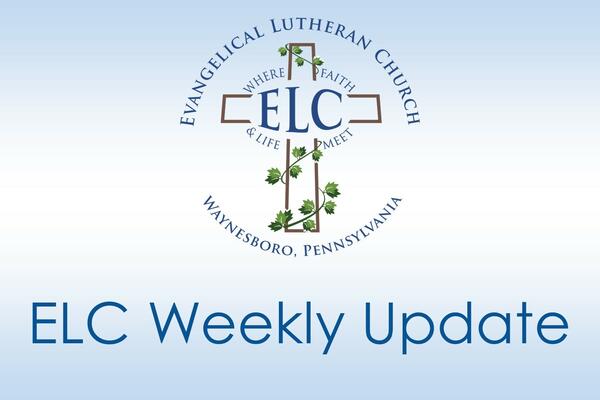 July 30, 2021
Please do not respond to this update. If you need to contact the office, please send a separate email to officemanager@elchome.org Thank you!
COVID MODIFICATION CHANGES TO TAKE EFFECT AUGUST 1
We are very happy to say that we are once again easing our Covid restrictions. Starting August 1, we will allow singing without masks for all of those who have been vaccinated. We will also have altar communion at the 8:00 AM service, and we will have continuous communion at the 9:30 AM service. Communion packets will still be available to those who would rather continue to have communion while sitting in their pew. To see a complete list of the changes click here. If you have any questions or concerns, please contact the church office.
EVANGELISM COMMITTEE - SOLES OF LOVE
Please have all shoes to the church by this Sunday August 1
Soles of Love is a nonprofit that believes that love, grace and generosity knows no boundaries. And for that reason, Soles of Love is expanding their territory this year to include our own Waynesboro Community and Human Services (WCHS). ELC Evangelism Committee recognizes this opportunity to share God's grace and serve our local community by prayerfully and generously supporting this worthy event. We are working with the local church community to determine multiple "designated locations for collection". Many local families struggle each year to provide shoes for their children to wear in the upcoming school year. Wanting children to know the excitement of a new pair of shoes when school starts is an opportunity to share God's grace and serve our community! https://juliegaver.com/must-love-shoes/soles-of-love/
SEWING BELLES
The Sewing Belles will begin meeting weekly beginning in August from 9 until noon. Please note we will be meeting on Thursday mornings instead of Wednesday mornings. Anyone interested in joining the ladies to make quilts please give me a call or stop by. You don't need to know how to sew – we have cutters, designers, pinners, knotter and sewers. I want to thank those workers who continued to work on quilts at home during the past year. We are already over 100 quilts. I look forward to getting back together again. Joyce Manges (717)749-3686)
WCHS SCHOOL SUPPLY COLLECTION
We are once again collecting school supplies for local children in need. Please have all donations to the church by this Sunday August 1st. All items can be placed in the food cart at the end of the Parlor hallway. Thank you for your continued generosity.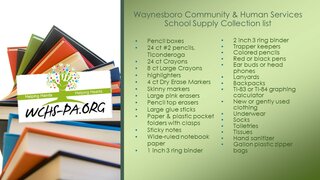 WORSHIP
Join us for in person worship Sunday mornings at 8:00 AM & 9:30 AM. Communion will be offered at both services. We will continue to do our best to live-stream our 9:30 AM service to both our Facebook page and our YouTube channel . If we are unable to live stream the service, we will post the service to both Facebook and YouTube as soon as we are able. Thank you very much for your patience and understanding! You can download a copy of our August 1st bulletin here so you are able to follow along at home to our virtual 9:30 AM service. Thank you!
CHURCH PICNIC AND RALLY DAY SUNDAY SCHOOL FALL KICK OFF SUNDAY, SEPTEMBER 12, 2021
Come join us for worship at 10:45 AM at Pine Hill Park
Pavilion A. The service with Donkey will be followed by lunch and Rally Day activities. Organized games for the kids will be offered. So, worship, eat, stay and play! The meal will be catered by GT Catering and we will have Antietam Dairy ice cream for dessert! Lawn chairs are optional. A service of Holy Communion will be held at ELC at 8:00 AM that morning.
PICTORIAL DIRECTORY - SAVE THE DATE: OCTOBER 8-9 & 12-13
We are very excited to announce that we will be putting together a new church pictorial directory this fall. Our photo dates are October 8-9 & October 12-13. Be on the lookout for a link to schedule your appointment. You may also schedule your appointment by calling the church office. We will start scheduling appointments in mid-August. Our directory will not be complete without you, so please keep one of these dates open!!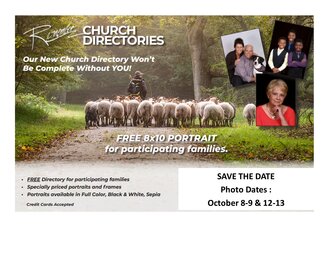 Our address is: 43 S Church St, Waynesboro, PA 17268, USA