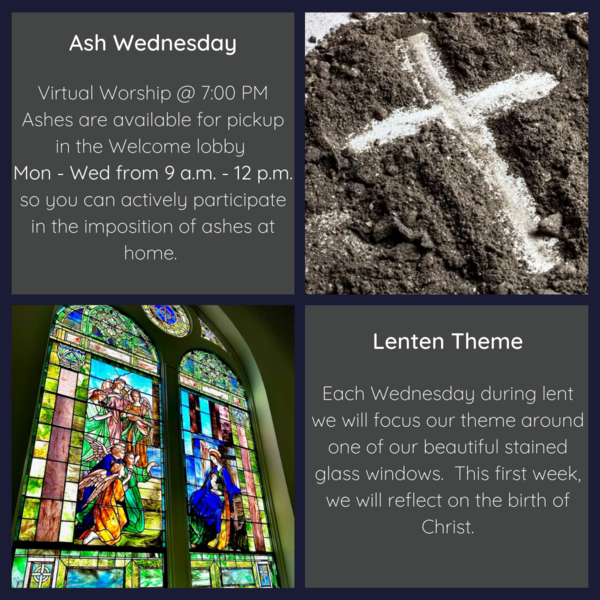 LENT
Please do not respond to this update. If you need to contact the office, please send a separate email to officemanager@elchome.org Thank you!
ASH WEDNESDAY
Join us for a virtual Ash Wednesday service this Wednesday February 17th at 7:00 PM. We will live-stream to our Facebook page https://www.facebook.com/elcwaynesboro and our YouTube Channel https://www.youtube.com/channel/UCaeKa1_Uo4gnV58do3c0OIg You can view the bulletin here.
We also still have ashes available for pickup in the Welcome Lobby. Please stop by Monday - Wednesday from 9:00 AM - 12:00 PM or contact the church office for other arrangements.
HOLDEN EVENING MID-WEEK SERVICE
During lent we will have a mid-week virtual service Wednesday evenings at 7:00 PM. Even though we will be having in person worship at this time, we feel that many of you will want to sing along with the beautiful music, and that is safer at home. Each week our theme will focus around one of our beautiful stained glass windows.
We hope you will join us!
LENTEN DEVOTIONAL CALENDAR
There are a few Lenten devotional calendars available from the United Lutheran Seminary. These devotionals can be picked up in the Welcome Lobby during office hours.
Our address is: 43 S Church St, Waynesboro, PA 17268, USA