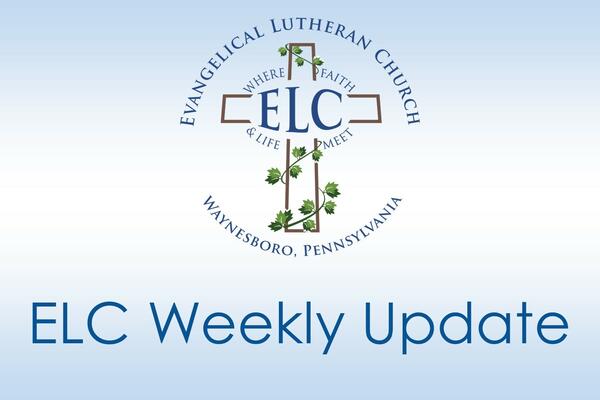 April 30, 2021
Please do not respond to this update. If you need to contact the office, please send a separate email to officemanager@elchome.org Thank you!
WORSHIP
Join us for in person worship Sunday mornings at 8:00 AM & 9:30 AM. We will continue to live-stream our 9:30 AM service to both our Facebook page and our YouTube channel . The live stream will start at 9:25 AM on Sunday so you can enjoy Debbie's beautiful Prelude before the start of worship. If you are unable to join in person, please continue to join virtually! You can download a copy of our May 2nd bulletin here so you are able to follow along at home to our virtual 9:30 AM service.
COMMUNION
Starting this Sunday May 2nd we will offer Communion every Sunday morning at both the 8:00 AM & 9:30 AM service. We will also continue with drive-up Communion on the first Monday of the month for those who are unable to attend in person.
SAFETY
We are still asking everyone, even those who have been vaccinated, to continue to properly wear your mask. Also if you attend Worship, and you test positive in the following week, please contact the church office. We want to do our best to keep everyone informed if they may have been exposed. You can find a complete list of our Covid-19 modifications here.
PENTECOST MEMORIAL FLOWERS
This Pentecost season we will continue the tradition of remembering and honoring those we hold dear. If you would like to purchase Geraniums to be placed on the altar on Pentecost Sunday May 23rd, or if you would like to make a monetary donation to Waynesboro Community and Human services you can find our order form here. We will need all orders by Sunday May 9th and we will include the memorial bulletin in the June newsletter.
VOLUNTEERS NEEDED FOR ALTAR GUILD
First, I want to thank all those who are serving on the Altar Guild Committee. Let me extend my sincere appreciation for all the hard work you do to prepare the altar for Sunday worship. Our church services could not go as smoothly without you, and I am delighted to serve with you. Secondly, because of medical issues and the pandemic, some of the Altar Guild members are not able to continue serving. So, I am looking for volunteers to serve on this committee. The work can sometimes be taken for granted, but have you ever wondered what it would be like if there were no altar candles lit, or the altar not set up for communion on Sunday?Serving on this committee is a small part of helping others worship our Lord and Savior, and being a blessing to our congregation. If you or anyone you know who would be interested in serving, please have her/him contact me or the Church Office. My email address is moritzrl@hotmail.com
CONFIRMATION RETREAT - FRIDAY APRIL 30TH
There will be two Confirmation Retreats this Spring at the church cabin. The first retreat will be today Friday, April 30th and Saturday, May 1st and the second retreat will be on Friday, June 4th and Saturday, June 5th. All Confirmands will meet at the church at 5:00 PM on Friday and we'll be back at church the following day at 5:00 PM. A confirmation retreat letter will be mailed to all participants.
2021 SUMMER CAMP
The Lutheran Camping Corporation has several camping opportunities for this summer at Camp Kirchenwald & Camp Nawakwa. If you are interested, you can check out their website, lutherancamping.org or you can pick up a pamphlet on the table in the Parlor Hallway on your way into the Sanctuary on Sunday mornings. For each child member of ELC, the church will pay 50% of one week of camp (this does not include family camp).
TUESDAY MORNING BIBLE STUDY
Join Pastor Drahus at 9:00 AM Tuesday mornings via Zoom for bible study. This study focuses on a new current event topic each week, so feel free to join at any time. If you would like to receive the Zoom link, please contact the church office.
WCHS FOOD COLLECTION
This month we are focusing our food collection on crackers (Ritz, Saltines, graham crackers etc). Waynesboro Community and Human Services provide food that students in need can take home in their backpacks. They always include a sleeve of crackers for each child. All food donations can be placed in our food cart on Sundays before worship, or during the week Monday - Friday 9:00 AM - 12:00 PM. Thank you for your continued generosity.
VBS 2021
Registration and volunteer sign-up here!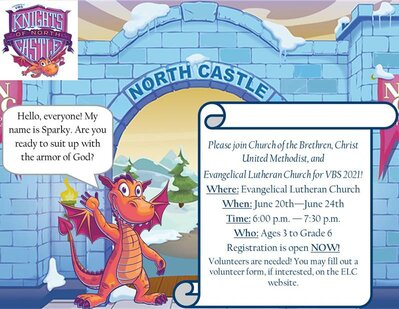 Our address is: 43 S Church St, Waynesboro, PA 17268, USA