Estrella Mountain Church
Newsletter August 5th, 2021
Great is the Lord
Matthew 5:13-16
You are the salt of the earth, but if salt has lost its taste, how shall its saltiness be restored? It is no longer good for anything except to be thrown out and trampled under people's feet. You are the light of the world. A city set on a hill cannot be hidden. Nor do people light a lamp and put it under a basket, but on a stand, and it gives light to all in the house. In the same way, let your light shine before others, so that they may see your good works and give glory to your Father who is in heaven.
Upcoming Events
August 6th - Men's Bible Study 8:30 AM meeting at Starpointe
August 11th - Women's Getting Healthy in 2021 meeting at 6:00 PM
August 16th - New Women's Bible Study starting, meet at 6:30 PM
August 19th - Prayer Gathering 6:30 AM
August 22nd - Potluck celebration for Pastor Jeremy's 10th year at EMC. Please signup to bring something.
August 27th - Sr. High Youth Fundraiser, Parent's Night Out 6:00 - 10:00 PM
August 28th - Sr. High Youth Carwash Fundraiser 8:00 - 11:00 AM
September 1st - Last day to register for Women's Retreat
September 3rd - Blood Drive 10:00 AM - 3:00 PM register using code Estrella
September 11th - Membership Class 9:00 AM - 12:00 PM
September 17th - 18th - Women's Retreat at EMC
Sunday Evenings - Youth Group Jr. High at 4:30 PM and Sr. High at 6:00 PM.
For more specific event information & how to register for different events see below.
Thank you for your faithfulness and generosity! There are several ways you can give: we have a drop box by the office door, mail your check, use your bank's Bill Pay option and have them send your check, give as you exit the Sunday service, or give online here: https://emcaz.org/give. You can also Text to Give (T2G)! Enter our T2G number 928-589-1588, type the word Give and the amount you wish to give. For example, Give 100 to give $100. Another convenient way to give. Again, thank you!
If you know of anyone who needs help, or need to contact the office, please call (623.386.0300) or email (jennas@emcaz.org) and I'll respond as soon as possible.
Living every day in HOPE!
Jenna Schutten
jennas@emcaz.org
Livestream - EMC Sunday Services
Giving Summary
2021
YTD Budget Needs $ 279,000
YTD Actual Giving $ 305,771 110%
Thank you for your faithfulness!
Potluck Celebration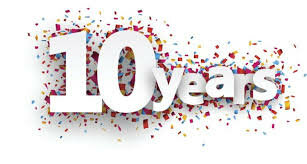 This year Pastor Jeremy celebrates his 10th year of serving at EMC. To show our appreciation we'll have a potluck after second service.
The kitchen will be open prior to the 11:00 AM service so you can drop off your contribution. (If you want to donate but will be out of town, you can coordinate with Jenna Schutten @ 507-272-1567 or jennas@emcaz.org to drop it off early.)
Please have your food ready to serve! We would appreciate it if you would put the food in disposable dishes or label your plate/platter on the bottom.
Blood Drive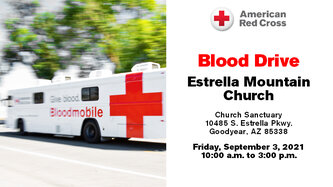 Friday, September 3rd, 10:00 AM - 3:00 PM
To schedule your appointment or for more information, please call 1-800-RED-CROSS (1-800-733-2767) or visit redcrossblood.org and use Sponsor Code: Estrella.
Membership Class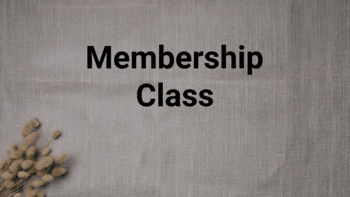 Saturday, September 11th, 9:00 AM - 12:00 PM
Our next membership class is coming Saturday, September 11th, 2021, 9:00 AM to 12:00 PM. All materials are provided. Please register by emailing Jenna Schutten at jennas@emcaz.org.
Women's Ministry @ EMC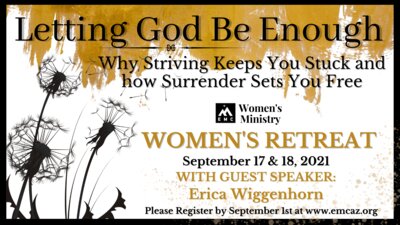 Women's Retreat
Sept. 17th - 18th - Women's Retreat w/speaker Erica Wiggenhorn
EMC Women's Ministry is hosting a local, 2-day retreat! Erica Wiggenhorn, powerful speaker and teacher, invites you to rest in God when life doesn't make sense. You no longer have to strive, compare, or appease others to secure your worth. Instead, you can let a loving God be enough.
Getting Healthy in 2021
Meeting the second and fourth Wednesday at 6:00 PM in the sanctuary. Next Meeting - Wednesday, August 11th at 6:00 PM
If you are interested in getting healthier in 2021 join us the second and fourth Wednesday of the month. We are focusing on mind, body, and spirit and being healthy in all areas of our lives. The meetings and designed to provide encouragement and give accountability to one another. Join us and you might leave with a few new recipes and friends!
Questions? Reach out via email to Wanda at wandakerb@gmail.com or Kristine Harkins kristine@dcharkins.com
Bible Study
Join us Mondays at 6:30 PM or Fridays at 9:30 AM.
The Monday evening group will be starting Jesus and Women by Kristi McLelland on August 16th. Contact Sabrina Cohen (scohen25@yahoo.com) with questions.
The Friday morning group is currently doing Erica Wiggenhorn's study Unexplainable, looking at the Gospel of Luke. This fall they'll begin The Power of God's Names by Tony Evans.
November Christmas Bazaar & Craft Fair
EMC Women's Ministry is hosting a Christmas Bazaar & Craft Fair on Saturday, November 20th 10:00 AM - 3:00 PM!
Come show off your hand-crafted items as that first annual EMC Christmas Bazaar! Crafters can reserve one or two 6 foot tables to sell their handmade goods. Registrations will close Saturday, October 23rd, one table is $25 and two are $40. The table fees will benefit the Estrella Mountain Church Women's Ministry and vendors are welcome to donate any proceeds from their sales if they so desire.
Questions contact Janet Erb, erb.janet@gmail.com
Ignite Student Ministries
Weekly Youth Events
Jr. High
Youth Group: Sunday Nights 4:30 - 6:00 PM
Volleyball & Games: Wednesdays 6:00 - 7:30 PM
Sr. High
Youth Group: Sundays 6:00 - 7:30 PM
Volleyball & Games: Wednesdays 6:00 - 7:30 PM
Bible Study: Thursdays at 5:00 PM. Beginning September 13th, the study will move to Monday evenings.
Youth Missions Events
Jr. High Missions Event: Monday, October 4th EMC Jr. High Youth will be going to serve at Feed My Starving Children. There are 16 spots for students to attend, please sign up here to reserve your student's spot.
Sr. High Mexico Missions Trip: EMC Sr. High Youth will be going to Mexico over fall break, October 6th - 9th. The cost is $195, and payment is due at registration. Register your student here by September 21st. Contact Dave Sims at ignite@emcaz.org or Cameron Isaacs at cameroni@emcaz.org for more info!
Mexico Mission Trip Fundraising Opportunities
Parent's Night Out: To help with the cost for the Mexico Missions Trip the youth will do a few fundraising events, a parents night out and a carwash. Friday, August 27th they will host a parent's night out from 6:00 PM - 10:00 PM. Cost is $20 for 1 child, $10 for additional children with a family cap of $50. Register for Parent's Night Out here.
Car Wash: Saturday, August 28th the youth will host a carwash in the church parking lot 8:00 - 11:00 AM.
Follow us on Instagram @emcstudents for what's happening this week. Questions? Contact David Sims at ignite@emcaz.org or Cameron Isaacs at cameroni@emcaz.org for more info.
Men's Bible Study
All men are invited to join us Wednesdays at 7:30 PM or Fridays at 8:30 AM.
The Wednesday evening group is studying Acts and meets every other Wednesday at 7:30 PM. Contact Pastor Denny for more information dennyh@emcaz.org.
The Friday morning group meets weekly at Starpointe Resident's Club at 8:30 AM.
Did you know??
We provide water, peanut butter and jelly for You Matter Ministries. Our donations cover what 16 churches gave in the past. With all the challenges of the past year, your generous heart shines through! Thank you!
Prayer Gathering

Meeting the first Monday @ 6:30 PM and the third Thursday @ 6:30 AM, office conference room.
Coming up - Thursday, August 19th at 6:30 AM
Estrella Mountain Preschool
Preschool pre-registration for the 2021-2022 school year is now open. Go to https://empreschool.com to learn more about our preschool. Contact Lisa Tucker if you have questions. Email lisat@emcaz.org or call the office at 623.476.5578.
1st day of preschool for the 2021-22 school year is Wednesday, August 18th.
Communication Card & Prayer Requests
Communication cards are on the back table in the sanctuary if you are attending Sunday service. You can update your contact information, etc. AND you can submit prayer requests and praise reports.
If you aren't attending services, please email jennas@emcaz.org with any updates, prayers and praises. Thanks!
Love One Another
Call, email or use social media to stay in touch. Of all people, we will be known by our love for others. Hugs and prayers and blessings. We love you!
Our address is: 10485 South Estrella Parkway, Goodyear, AZ, 85338