Estrella Mountain Church
Youth Fundraiser Reminders
The youth are hoping to raise money for camp this summer. Saturday, May 28th they are having a car wash and Goodwill Donation Drive. See below for more details.
Car Wash!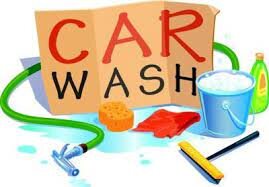 Car Wash: 8:00 - 10:00 AM in the church parking lot.
Goodwill Drive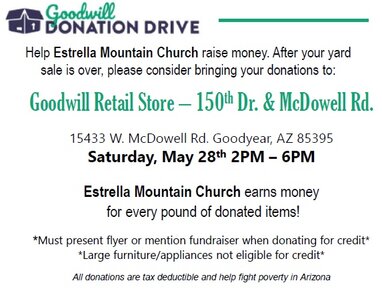 Goodwill Donation Drive: Bring your Goodwill items to EMC on Saturday, May 28th and Goodwill will donate money back to us. Funds raised from this will go towards helping with the cost of summer camp.
Drop off Items at EMC: 8:00 -10:00 AM you can drop off items to be donated at EMC and we will take them to Goodwill for you.
Take your Items to Goodwill: 2:00 - 6:00 PM you can take your items to Goodwill Drive, let them know you are dropping off items for Estrella Mountain Church and they'll apply the donations to us. on Saturday, May 28th 2022, from 2:00pm to 6:00pm at the Goodwill retail store located at 150th Dr. and McDowell Rd. (15433 W. McDowell Rd. Goodyear, AZ 85395).
Items they will accept:
Small Appliances | Books | Clothing | Cooking Accessories | Electronics | Furniture (small) | Handbags | Housewares | Jewelry | Knick-Knacks | Linens | Musical Instruments | Pictures | Shoes | Sporting Goods | Tools | Toys
Items they will NOT accept:
Auto Parts/Tires | Baby Furniture | Building Materials/Cleaning Products | Flammable Products/Hazardous Materials | Larger items including appliances, exercise equipment, furniture, etc. | Lawn & Garden Products | Liquids/Hygiene Products | Mattresses/Box Springs | Paint | Pianos/Organs | Televisions (older than 5 years)
Our address is: 10485 South Estrella Parkway, Goodyear, AZ, 85338