Estrella Mountain Church
Newsletter May 22, 2020
Good morning, EMC!
We are very excited to be physically meeting on Sunday, May 24, 9am service only. The 11am service will be livestream only. Of course the facility will be thoroughly clean and ready for use, but we will not have guidelines in place. Please use your own discretion as to whether you attend or not.
Both Sunday services are livestream, at 9am & 11am. Go to https://faithlife.com/emcaz/livestream.
More big news. Mike and Joyce Tait are moving to Texas to be near their family. They have served here at EMC, loved and discipled many, and really shown us Jesus. They are here for two more Sundays, and will be sharing this Sunday, 5/24. Because of the current situation, we won't be having a going-away party, but you can still let them know how much you love and appreciate them by bringing a card or note. There will be a basket on the back table for you to drop them in. We will miss them!
Don't forget to check your email for your invitation to FaithLife. It's a great place to share prayer requests, study the Bible together, keep up-to-date on what's happening, and so much more. If you didn't receive an invitation, please let me know and I'll send it to you. As we learn together, I would appreciate your feedback. :)
VBS is coming June 1-5! See below for all the info. It's online this year and it's free!
You Matter Ministries continues to minister to the homeless. They are most in need of WATER. Please bring your water and PB&J donations on Monday & Tuesday, 9am-11am. Thank you!
Thank you again for your faithfulness and generosity during this time. There are several ways you can give: We have installed a drop box by the office door, mail your check, use your bank's Bill Pay option and have them send your check, or give online here: https://emcaz.org/give. Again, thank you!
If you know of anyone who needs help, or need to contact the office, please call (623.386.0300) or email (annk@emcaz.org) and I'll respond as soon as possible.
Looking forward in HOPE!
Ann Knister
623.694.2551
Livestream - EMC Sunday Service
Giving Summary 2020
Click HERE to give
Through 05.17.2020
Budget Needs Year-to-Date $174,000
Actual Giving Year-to-Date $183,192 105%
Thank you for your faithfulness!
VBS @ EMC 2020

June 1-5, 2020
This year is quite different, and we will have online VBS. It's FREE! Just register HERE and you will receive a link on 5/31. Also, we will be handing out bags of resources on 5/31 at Sunday services.
Women's Ministry
EVERY MOMENT COUNTS...EVERY WOMAN COUNTS
We strive to make Every Moment Count
and we believe that Every Woman Counts!
Please join the Estrella Mountain Church Women & Ministry private FB group here www.facebook.com/groups/EMCWomensMinistry
In this private group you can share praises, prayer requests and connect with other women from EMC.
Let's stay connected!
Prayer Requests & Praise Reports
Please email info@emcaz.org to send a prayer requests and/or praise reports. We want to pray with you!
Ignite Student Ministries
GREAT NEWS! We are now meeting in person on Sundays at 5pm! Follow us on Instagram at emcstudents for what's happening this week. Questions? Contact David Sims at ignite@emcaz.org or Cameron Isaacs at cameroni@emcaz.org for more info.
NEWS - there will be no camps at Tonto Rim this summer, so we are looking into other options. Stay tuned!
Estrella Mountain Preschool
Preschool Summer Camp is in session, and is accepting registrations at https://empreschool.com then click on Summer Camp 2020. Three and five day options available.
Registration is now open online for the 2020-21 school year. Visit https://empreschool.com to register, and to learn more about our preschool. Classes fill up quickly, so don't delay! Contact Lisa Tucker if you have questions. Email lisat@emcaz.org or call the office at 623.476.5578
Blood Drive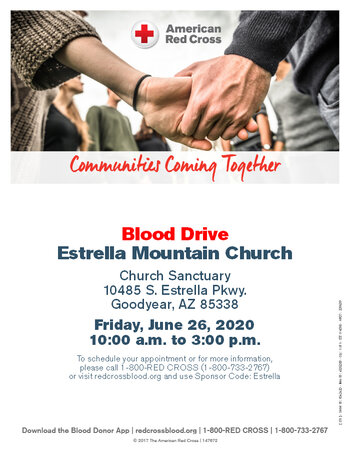 Friday, June 26, 10am-3pm @ EMC. Register to donate at redcrossblood.org and use sponsor code Estrella.
We Are Still the CHURCH!
Call, email or use social media to stay in touch. Of all people, we will be known by our love for others. Hugs and prayers and blessings. We love you!
Our address is: 10485 South Estrella Parkway, Goodyear, AZ, 85338