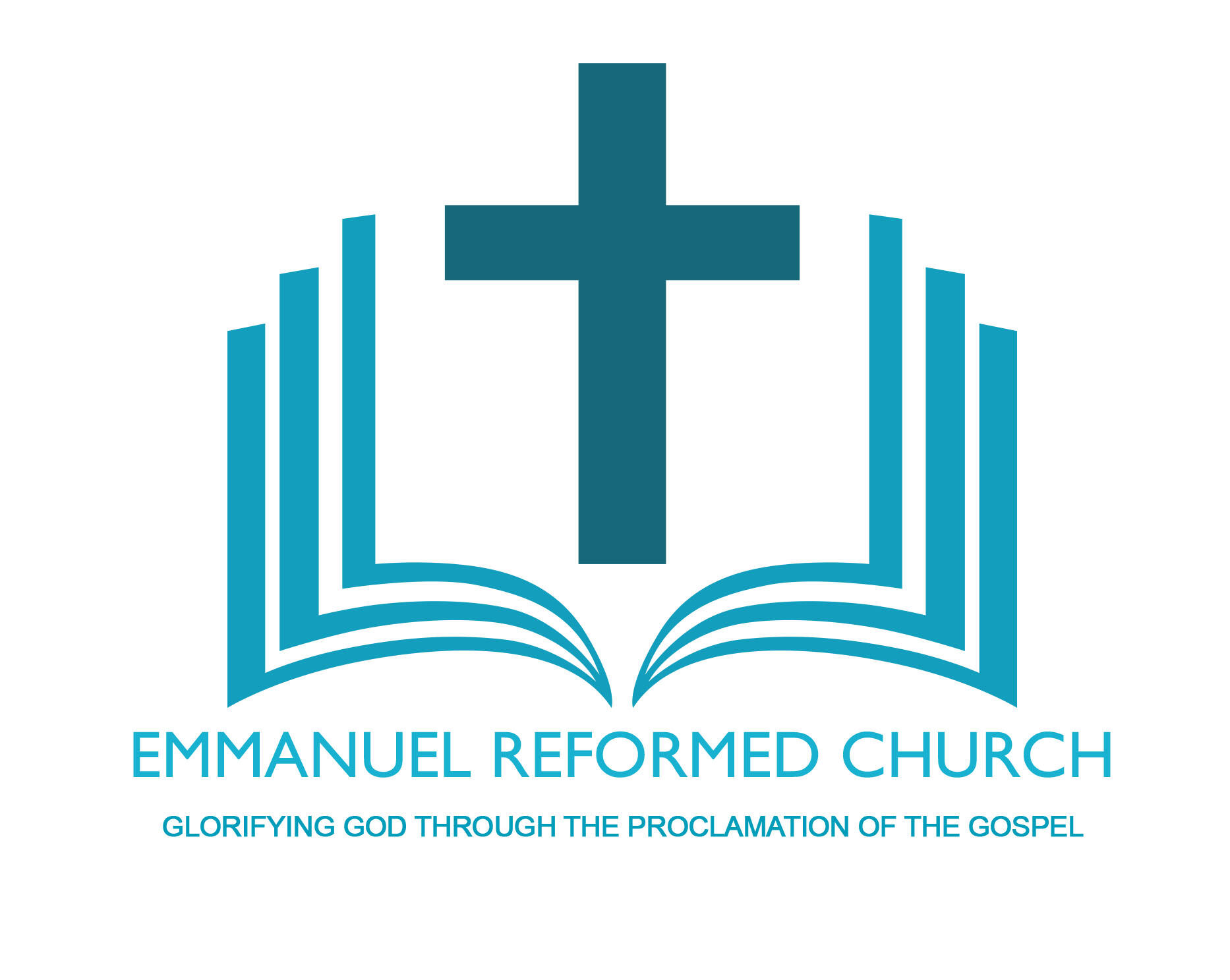 Emmanuel Reformed Church (RCUS)
Lord's Day Worship — Sunday, September 20, 2020
Order of Worship
Order of Worship
[Prelude and Announcements]
Silent Prayer and Piano Response
Call to Worship — Psalm 9:1-2, 7
Opening Prayer and Gloria Patri
Hymn #38, "Immortal, Invisible, God Only Wise"
Reading of Holy Scripture: Isaiah 52:13 - 53:12 (p. 637)
Psalter Reading — Psalm 2 (p. 786)
Heidelberg Catechism: Lord's Day 38, Question 103 (p. 872)
Congregational Prayer
The Lord's Prayer (p. 784)
Hymn #311, "Hail to the Lord's Anointed"
Reading of Holy Scripture: John 1:29-34 (p. 919)
Sermon: "The Lamb of God"
Pastor Carl Gobelman
Presentation of Offerings (Offering plate will be available in foyer)
Hymn #585, "Take My Life, and Let it Be"
Closing Prayer and Doxology
Postlude
Congregation please stand as able
Announcements
This Week: September 20, Sunday School — 9:30 am; Worship — 10:30 am; Family Bible Study — 7:00 pm
Next Week: September 27, Sunday School — 9:30 am; Worship — 10:30 am; Coffee Fellowship — 12:00 pm
Sutton Community Home: Myrna Ulmer, Verly Hofmann, Leoma Sisel; Kearney Veteran's Home: Johnny Griess; Henderson Care Center: Jeanine Fehr
Prayer Requests: Ulmer family (Eugene & Cindy, death of Eugene's brother Richard), Elaine Nuss (broken foot, Gary's mom), Marsha Hendrikus (lump in throat, Bev Ochsner's sister), Ryan Briggs (wrist, Cheryl Cloet's son-in-law), Thomas Nuss (hip, Leola's husband & Jane's father), Leoma Sisel, Arnie Boehler; Jeannine Fehr; Mercy Street Reformed Church (Denver); Omaha Reformed Church; Westminster Biblical Missions; Compassion Kenya; MERF; Reformed Faith & Life; Reformed churches in Kenya, Congo, and the Philippines; Philippine Student Seminary
Announcements: If you have any announcements for the Sunday bulletin, please call Pastor Gobelman, (847) 989-4676.
Please join me in extending our condolences to Eugene & Cindy Ulmer in the death of Eugene's brother, Richard. Richard (77) passed away early Monday morning after a prolonged battle with prostate cancer.
Next Sunday, September 27, 2020, we will be hosting a Coffee Fellowship at the parsonage after the worship service. All are welcome!
The next Family Bible Study through the Book of Revelation will be on Sunday, October 4, 2020, at 7:00 pm here in the sanctuary.
The next ERC Ladies Bible Study will be on Wednesday, October 7, 2020, at 1:00pm in the church basement. We will cover chapter 4 in the study guide.
The next ERC Youth Fellowship will be on Wednesday, October 7, 2020, at 7:00pm over at the parsonage. Invite your friends to attend!
ERC will be having its Missions Fest celebration on Sunday, October 18, 2020. Rev. Mark VanderHart, associate professor of OT @ Mid-America Reformed Seminary in Dyer IN, will be our guest speaker.
Offering & Attendance: September 13, 2020
General Fund — $1,355.00
Philippine Student Seminary — $100.00
Attendance — 42, Communicant Members — 37
Offering Today: General Fund & Compassion Kenya
Next Week: General Fund & MERF
Let us get to know you!
Please take a moment to send us your information so that we may stay connected with you. Your information is carefully managed and protected.
How did you hear about us?