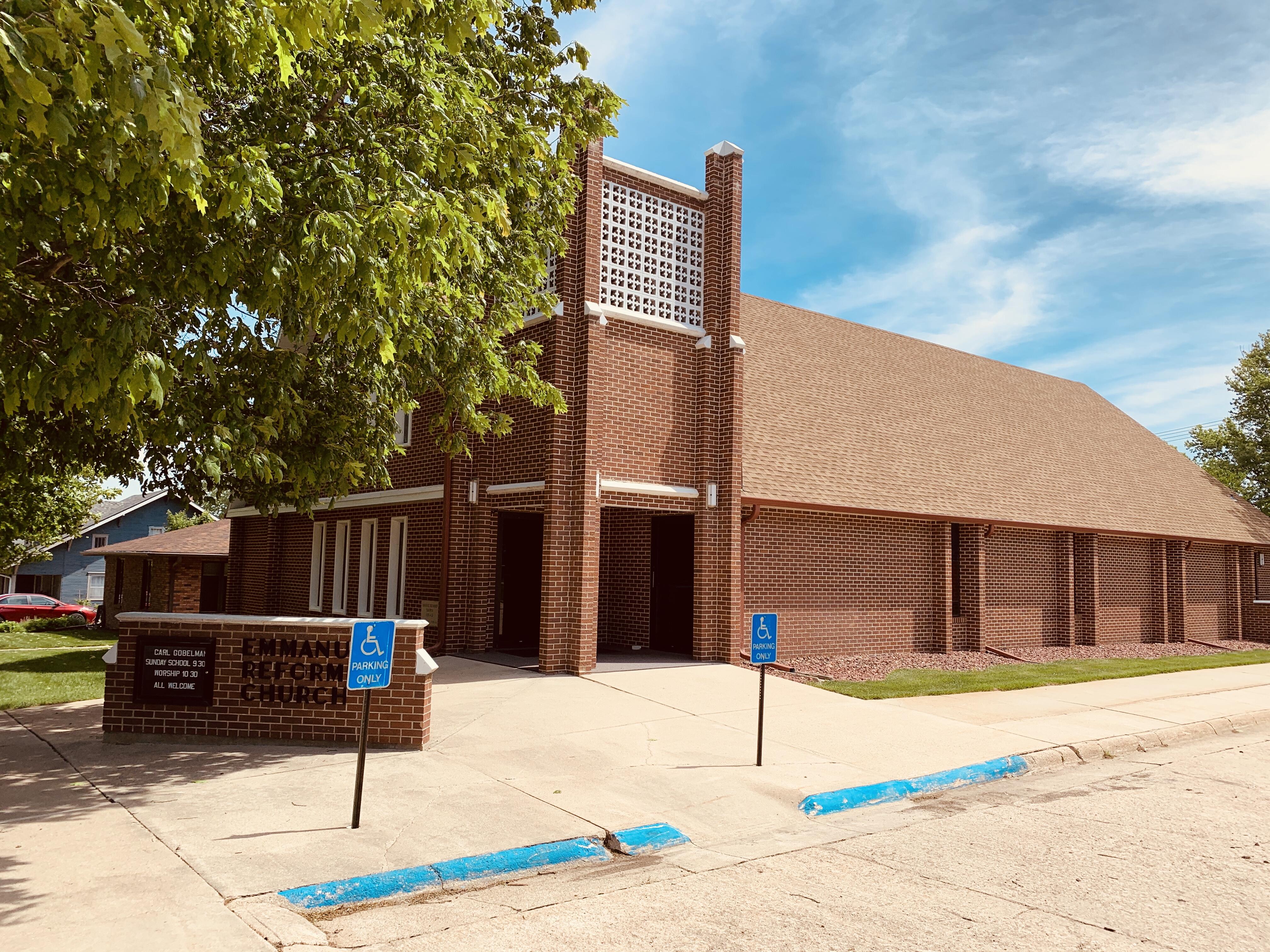 Emmanuel Reformed Church (RCUS)
Lord's Day Worship — Sunday, October 4, 2020
Order of Worship
[Prelude and Announcements]
Silent Prayer and Piano Response
Call to Worship — Psalm 29:1-2
Opening Prayer and Gloria Patri
Hymn #2, "O Worship the King"
Reading of Holy Scripture: Isaiah 62 (p. 645)
Psalter Reading — Psalm 3 (p. 786)
Heidelberg Catechism: Lord's Day 40, Questions 105-107 (p. 872)
Congregational Prayer
The Lord's Prayer (p. 784)
Hymn #159, "O Savior, Precious Savior"
Reading of Holy Scripture: John 1:35-42 (p. 919)
Sermon: "Taste and See that the Lord is Good"
Pastor Carl Gobelman
Presentation of Offerings (Offering plate will be available in foyer)
Hymn #516, "Jesus, I Live to Thee"
Closing Prayer and Doxology
Postlude
Congregation please stand as able
Announcements
This Week: October 4, Sunday School — 9:30 am; Worship — 10:30 am; Family Bible Study — 7:00 pm
Next Week: October 11, Sunday School — 9:30 am; Worship — 10:30 am
Sutton Community Home: Myrna Ulmer, Verly Hofmann, Leoma Sisel; Kearney Veteran's Home: Johnny Griess; Henderson Care Center: Jeanine Fehr
Prayer Requests: Elaine Nuss (broken foot, Gary's mom), Marsha Hendrikus (lump in throat, Bev Ochsner's sister), Ryan Briggs (wrist, Cheryl Cloet's son-in-law), Thomas Nuss (hip, Leola's husband & Jane's father), Cheryl Cloet (back), Leoma Sisel, Arnie Boehler; Jeannine Fehr; Mercy Street Reformed Church (Denver); Omaha Reformed Church; Westminster Biblical Missions; Compassion Kenya; MERF; Reformed Faith & Life; Reformed churches in Kenya, Congo, and the Philippines; Philippine Student Seminary
Announcements: If you have any announcements for the Sunday bulletin, please call Pastor Gobelman, (847) 989-4676.
The October 2020 issue of Table Talk Magazine is available in the foyer. Make sure and pick up your copy.
The next ERC Ladies Bible Study will be on Wednesday, October 7, 2020, at 1:00PM in the church basement. We will cover chapter 4 in the study guide.
The next ERC Youth Fellowship will be on Wednesday, October 7, 2020, at 7:00PM over at the parsonage. Invite your friends to attend!
ERC will be having its Missions Fest celebration on Sunday, October 18, 2020. Rev. Mark VanderHart, associate professor of OT @ Mid-America Reformed Seminary in Dyer IN, will be our guest speaker.
We will be celebrating the sacrament of the Lord's Supper on Sunday, October 18, 2020. Fellowship meal to follow after the service.
The next Family Bible Study through the Book of Revelation will be on Sunday, October 18, 2020, at 7:00 pm here in the sanctuary.
Offering & Attendance: September 27, 2020
General Fund — $1,412.00
MERF — $135.00
Attendance — 43, Communicant Members — 35
Offering Today: General Fund & Synod/Classis
Next Week: General Fund & Philippine Student Seminary
Let us get to know you!
Please take a moment to send us your information so that we may stay connected with you. Your information is carefully managed and protected.
How did you hear about us?