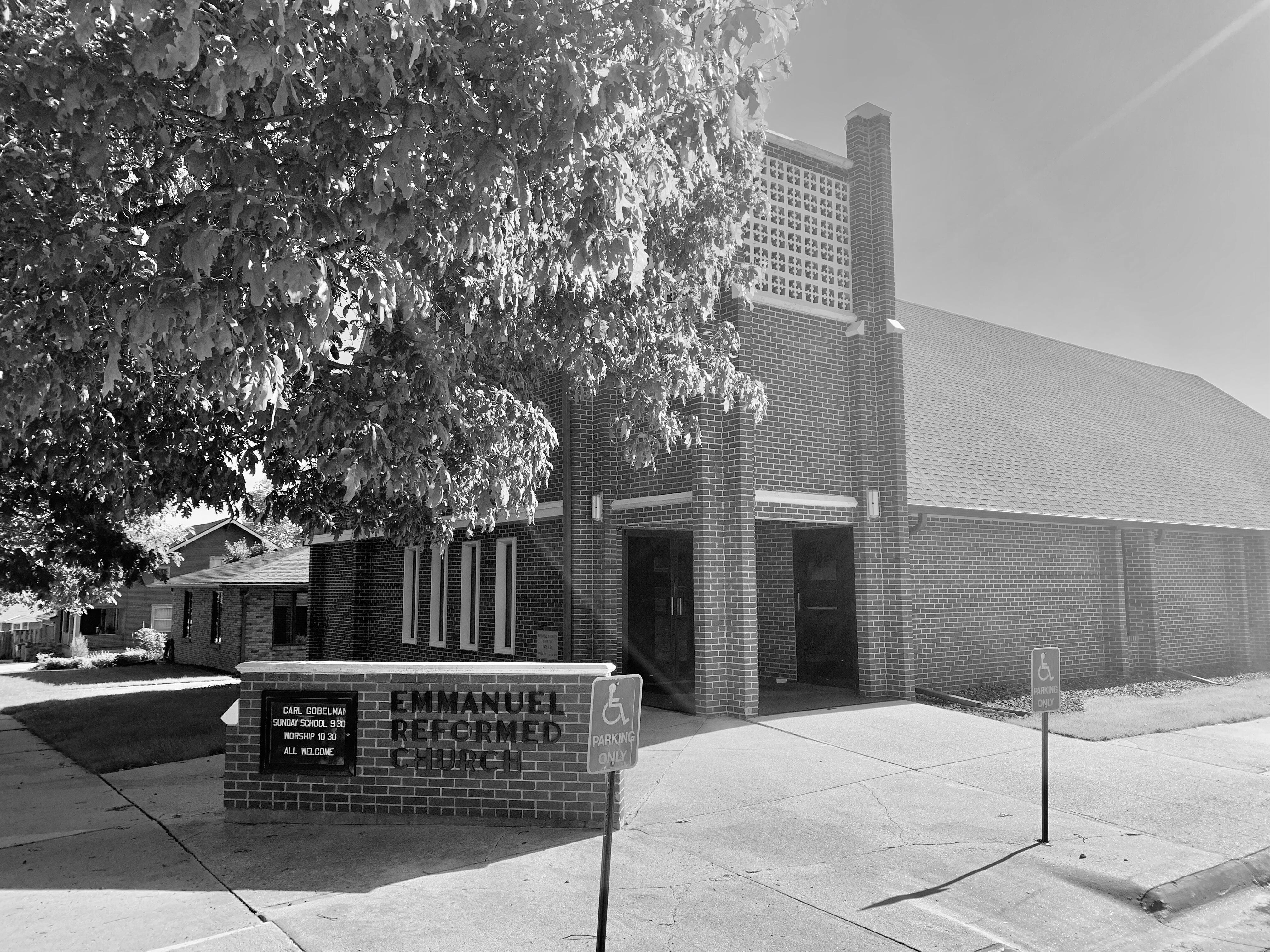 Emmanuel Reformed Church (RCUS)
Lord's Day Worship — Sunday, October 18, 2020 Mission Fest 2020
Order of Worship
[Prelude and Announcements]
Silent Prayer and Piano Response
Call to Worship and Apostolic Greeting
Opening Prayer and Gloria Patri
Hymn #436, "Zion, Founded on the Mountains"
Reading of Holy Scripture: Matthew 28:16-20 (p. Xxx)
Reading of the Law of God (p. 785)
Heidelberg Catechism: Lord's Day 42, Questions 110-111 (p. 872)
Congregational Prayer
The Lord's Prayer (p. 784)
Hymn #453, "All Authority and Power"
Reading of Holy Scripture: Psalm 87 (p. Xxx)
Sermon: "Many Nations Born Again in Zion"
Rev. Mark Vander Hart
Hymn #246, "Man of Sorrows! What a Name"
Sacrament of the Lord's Supper
Presentation of Offerings (Offering plate will be available in foyer)
Hymn #455, "And Can it be That I Should Gain"
Benediction and Doxology
Postlude
Congregation please stand as able
Announcements
This Week: October 18, Sunday School — 9:30 am; Worship — 10:30 am; Family Bible Study — 7:00 pm
Next Week: October 25, Sunday School — 9:30 am; Worship — 10:30 am
Sutton Community Home: Myrna Ulmer, Verly Hofmann, Leoma Sisel; Kearney Veteran's Home: Johnny Griess; Henderson Care Center: Jeanine Fehr
Prayer Requests: Marsha Hendrikus (lump in throat, Bev Ochsner's sister), Cheryl Cloet (back), Leola Nuss & Nuss Family (death of Tom Nuss), Leoma Sisel, Arnie Boehler; Jeannine Fehr; Mercy Street Reformed Church (Denver); Omaha Reformed Church; Westminster Biblical Missions; Compassion Kenya; MERF; Reformed Faith & Life; Reformed churches in Kenya, Congo, and the Philippines; Philippine Student Seminary
Announcements: If you have any announcements for the Sunday bulletin, please call Pastor Gobelman, (847) 989-4676.
Please welcome our special guest Rev. Mark Vander Hart, associate professor of OT at Mid-America Reformed Seminary in Dyer, IN. Rev. Vander Hart will be leading us in worship and preaching this morning
Today we will be celebrating the sacrament of the Lord's Supper. Fellowship meal to follow after the service. All are welcome!
Tonight we will continue our Family Bible Study through the Book of Revelation at 7:00 pm here in the sanctuary. We will be looking at Revelation 2:1-7.
Next Sunday, October 25, 2020 we will continue our Sunday School Bible study through the Book of Romans. The text we will study is Romans 5:12-21.
Next Sunday, October 25, 2020, we will continue our sermon series through the Gospel of John. Sermon text: John 2:1-12
The next ERC Ladies Bible Study will be on Wednesday, November 4, 2020. We will continue our study through the Book of Genesis using the Crossway Knowing the Bible study guide (chapter 5).
The Next ERC Youth Fellowship will be on Wednesday, November 4, 2020.
Offering & Attendance: October 11, 2020
General Fund — $1,991.00
Philippine Student Seminary — $125.00
Attendance — 45, Communicant Members — 38
Offering Today: General Fund & Compassion Kenya
Next Week: General Fund & MERF
Let us get to know you!
Please take a moment to send us your information so that we may stay connected with you. Your information is carefully managed and protected.
How did you hear about us?