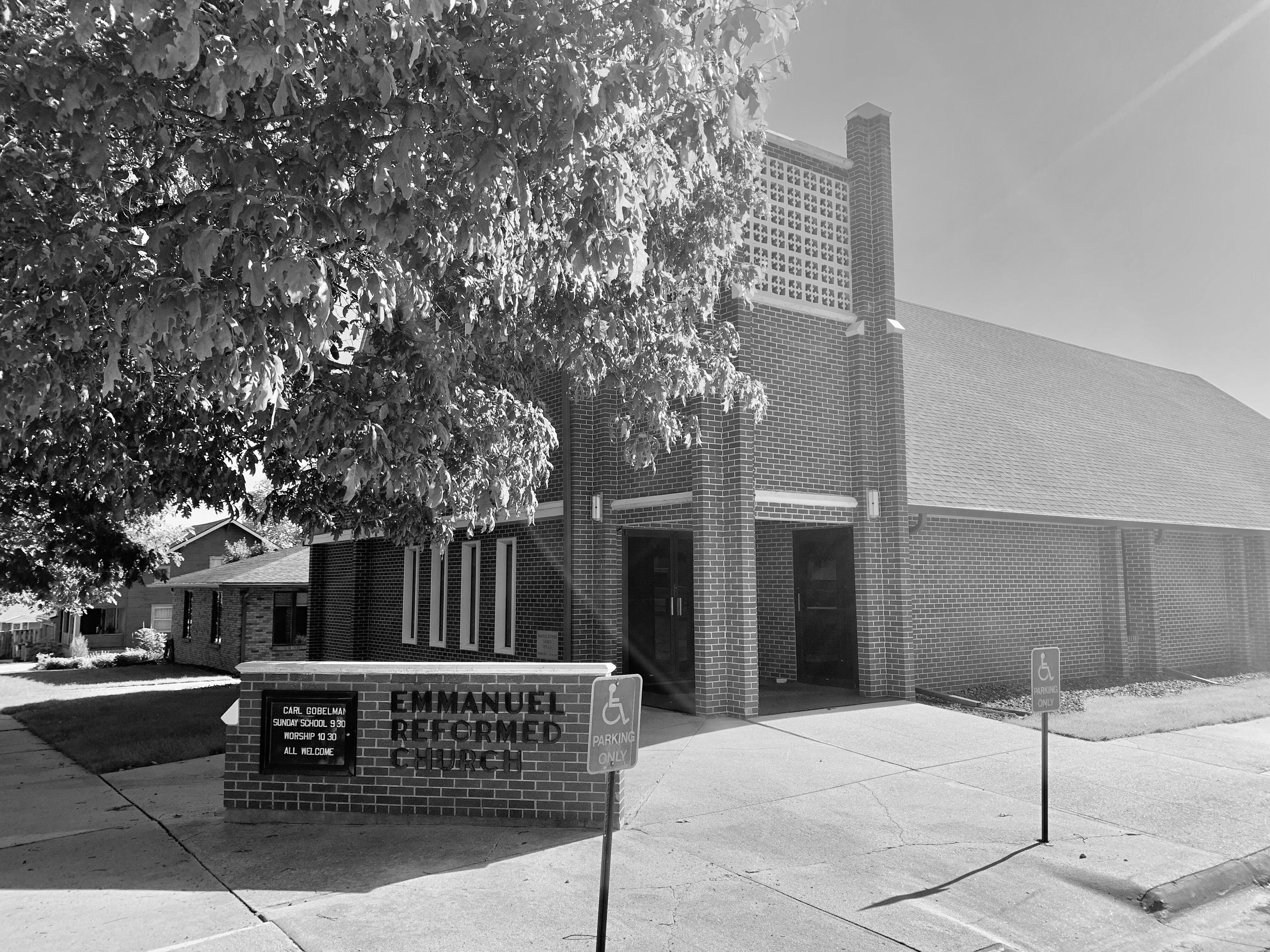 Emmanuel Reformed Church (RCUS)
Lord's Day Worship — Sunday, November 22, 2020
Order of Worship
[Prelude and Announcements]
Silent Prayer and Piano Response
Call to Worship — Psalm 92:1-4
Opening Prayer and Gloria Patri
Hymn #88, "With Grateful Heart My Thanks I Bring"
Reading of Holy Scripture: Numbers 21:4-9
Confession of Faith — The Nicene Creed (Bulletin Insert)
Heidelberg Catechism: Lord's Day 47, Questions 122 (p. 873)
Congregational Prayer & Lord's Prayer
Hymn #296, "All Hail the Power of Jesus' Name!"
Reading of Holy Scripture: John 3:9-21
Sermon: "Earthly Things and Heavenly Things"
Pastor Carl Gobelman
Presentation of Offerings (Offering plate will be available in foyer)
Hymn #498, "Jesus! What a Friend for Sinners!" (vv. 1-2, 4-5)
Closing Prayer and Doxology
Postlude
Congregation please stand as able
Announcements
This Week: November 22, Sunday School — 9:30 am; Worship — 10:30 am
Next Week: November 29, Sunday School — 9:30 am; Worship — 10:30 am
Sutton Community Home: Myrna Ulmer, Verly Hofmann, Leoma Sisel; Kearney Veteran's Home: Johnny Griess; Henderson Care Center: Jeanine Fehr
Prayer Requests: Marsha Hendrikus (lump in throat, Bev Ochsner's sister), Cheryl Cloet (back), Family of Dave Huber, Leoma Sisel, Arnie Boehler; Jeannine Fehr; Mercy Street Reformed Church (Denver); Omaha Reformed Church; Westminster Biblical Missions; Compassion Kenya; MERF; Reformed Faith & Life; Reformed churches in Kenya, Congo, and the Philippines; Philippine Student Seminary
Announcements: If you have any announcements for the Sunday bulletin, please call Pastor Gobelman, (847) 989-4676.
Pastor and Linda Gobelman will be away on vacation from Monday, November 23 through Monday, November 30, 2020.
Our guest speaker for Sunday, November 29, 2020 will be Mr. Robert Davis. Mr. Davis is a ruling elder at St. John's Reformed Church in Lincoln, NE
Due to new Nebraska DHM's, we will be postponing our monthly fellowship at the parsonage until December.
We will be holding a special offering on Sunday, November 29, 2020 to help cover the costs of the repairs on the parsonage.
Starting Sunday, December 6, 2020 and continuing for the months of December and January, we will be taking a break from our sermon series through the Gospel of John and beginning a recurring series through the Book of Psalms titled A Heart Longing for God.
The next Family Bible Study hour will be on Sunday, December 6, 2020 at 7:00PM. We will be looking at Revelation 2:18-29.
As of now, we have a shortfall in our Synod/Classis giving for June 2021. Our shortfall currently stands at $21,695.74.
The consistory will be accepting nominations for the office of elder to be voted upon during our annual meeting in January 2021.
Offering & Attendance: November 15, 2020
General Fund — $1,910.00
Compassion Kenya — $60.00
Attendance — 39, Communicant Members — 37
Offering Today: General Fund & MERF
Next Week: General Fund & Sutton Christian School
Let us get to know you!
Please take a moment to send us your information so that we may stay connected with you. Your information is carefully managed and protected.
How did you hear about us?