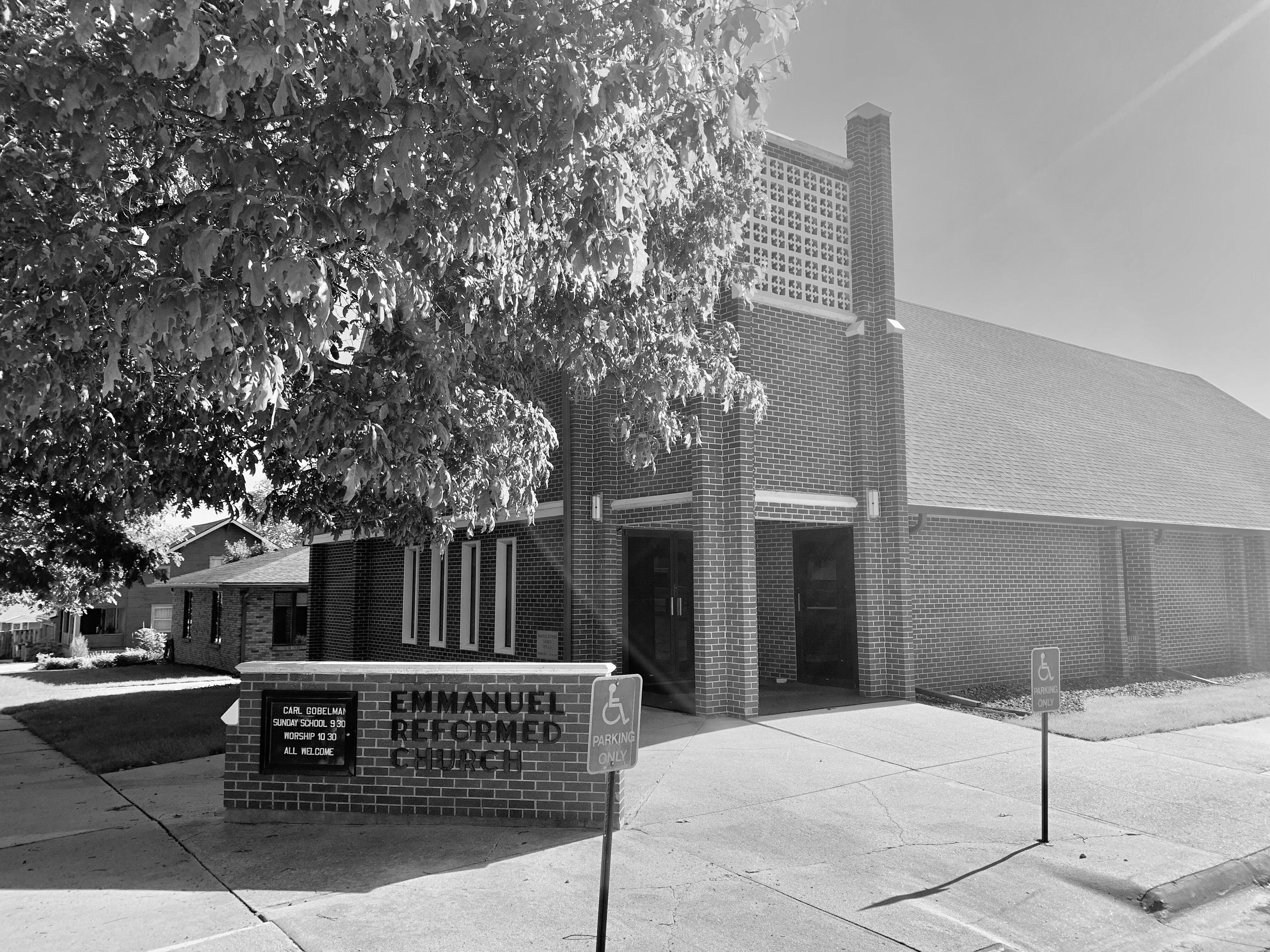 Emmanuel Reformed Church (RCUS)
Lord's Day Worship — Sunday, December 6, 2020
Order of Worship
Silent Prayer and Piano Response
Call to Worship
Opening Prayer and Gloria Patri
Hymn #32, "Great is Thy Faithfulness"
Psalter Reading — Psalm 6 (p. 787)
Heidelberg Catechism: Lord's Day 49, Question 124 (p. 873)
Congregational Prayer & Lord's Prayer
Hymn #194, "O Come, O Come, Emmanuel"
Reading of Holy Scripture: Psalm 42-43
Sermon: "Yearning for God in the Midst of Distress"
Pastor Carl Gobelman
Presentation of Offerings (Offering plate will be available in foyer)
Hymn #661, "As Pants the Hart for Cooling Streams"
Closing Prayer and Doxology
Postlude
Congregation please stand as able
Announcements
This Week: December 6, Sunday School — 9:30 am; Worship — 10:30 am; Family Bible Study — 7:00 pm
Next Week: December 13, Sunday School — 9:30 am; Worship — 10:30 am
Sutton Community Home: Myrna Ulmer, Verly Hofmann, Leoma Sisel; Henderson Care Center: Jeanine Fehr
Prayer Requests: Marsha Hendrikus (lump in throat, Bev Ochsner's sister), Gina Borders & the Griess family (passing of Johnny Griess), Eric &Cheryl Cloet (COVID), Leoma Sisel, Arnie Boehler; Jeannine Fehr; Mercy Street Reformed Church (Denver); Omaha Reformed Church; Westminster Biblical Missions; Compassion Kenya; MERF; Reformed Faith & Life; Reformed churches in Kenya, Congo, and the Philippines; Philippine Student Seminary
Announcements: If you have any announcements for the Sunday bulletin, please call Pastor Gobelman, (847) 989-4676.
Tonight we will continue our Family Bible Study through the Book of Revelation as we look at Revelation 2:18-29.
This Wednesday, December 9, 2020 our ERC Youth Fellowship will be meeting for a time of food, fellowship, and fun. Time: 7:00PM. Place: The Parsonage. Invite your friends.
Next Sunday, December 13, 2020 we will continue our sermon series through Book Two of the Psalms titled A Heart Longing for God as we look at Psalm 44.
Next Sunday, December 13, 2020 we will continue our Sunday School Bible study through the Book of Romans as we look at Romans 7:1-6.
The Next ERC Lady's Bible Study will be meeting on Wednesday, January 6, 2021. We will be going over ch. 7 in the Knowing the Bible study guide.
As of now, we have a shortfall in our Synod/Classis giving for June 2021. Our shortfall currently stands at $21,695.74.
The consistory will be accepting nominations for the office of elder to be voted upon during our annual meeting in January 2021.
Offering & Attendance: November 29, 2020
General Fund — $1,025.00
Parsonage Repair — $1,610.00
Sutton Christian School — $20.00
Attendance — 25, Communicant Members — 23
Offering Today: General Fund & Synod/Classis
Next Week: General Fund & Philippine Student Seminary
Let us get to know you!
Please take a moment to send us your information so that we may stay connected with you. Your information is carefully managed and protected.
How did you hear about us?