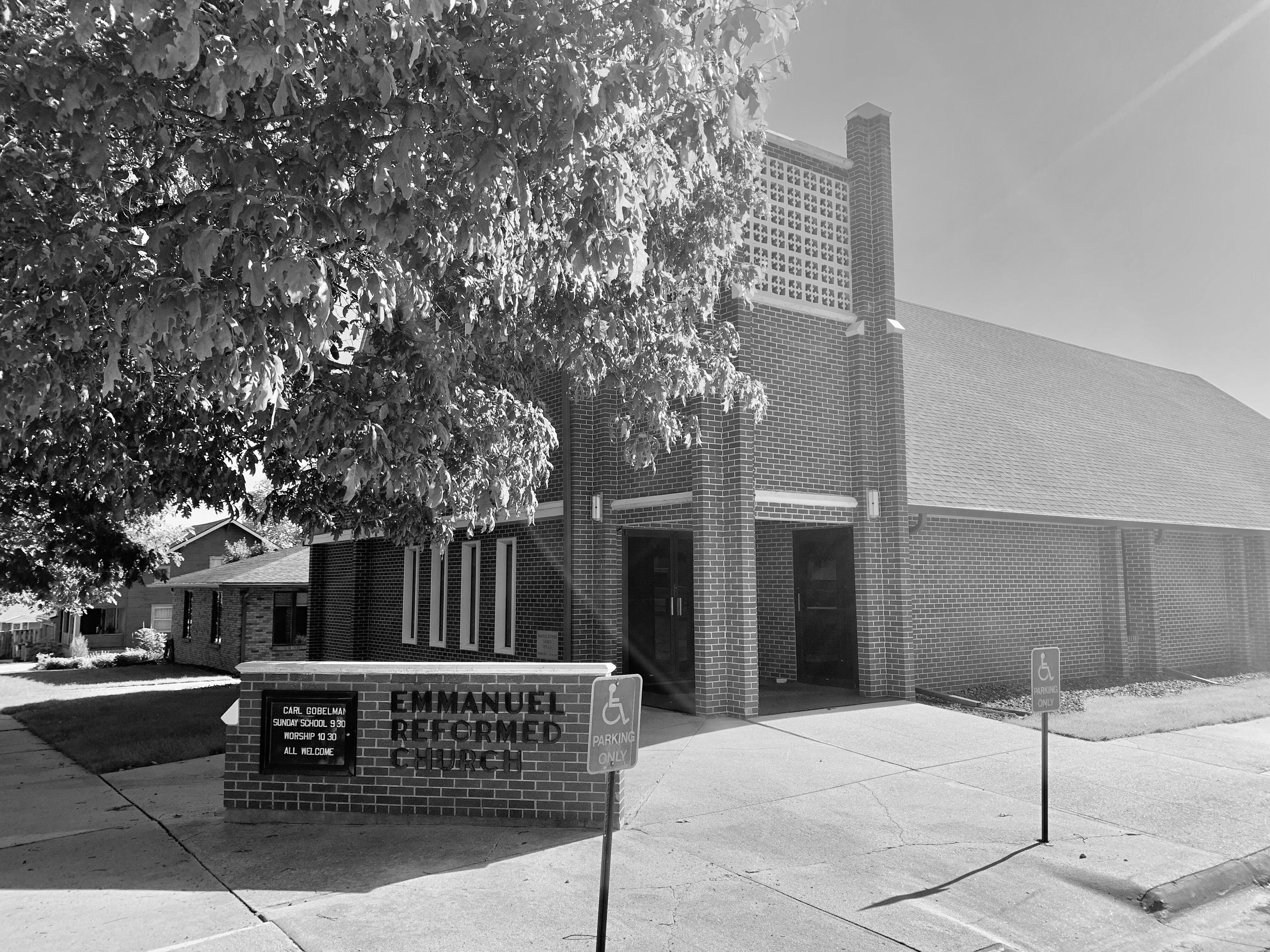 Emmanuel Reformed Church (RCUS)
Lord's Day Worship — Sunday, December 27, 2020
Order of Worship
[Prelude and Announcements]
Silent Prayer and Piano Response
Call to Worship — Psalm 100
Opening Prayer and Gloria Patri
Hymn #40, "God is Our Refuge and Our Strength"
Confession of Faith — Nicene Creed (Bulletin Insert)
Heidelberg Catechism: Lord's Day 52, Questions 127-129 (p. 874)
Congregational Prayer & Lord's Prayer
Hymn #301, "Join All the Glorious Names"
Reading of Holy Scripture — Psalm 46
Sermon: "God is Our Refuge and Strength"
Pastor Carl Gobelman
Presentation of Offerings (Offering plate will be available in foyer)
Hymn #92, "A Mighty Fortress is Our God"
Closing Prayer and Doxology
Postlude
Congregation please stand as able
Announcements
This Week: December 27, Sunday School — 9:30 am; Worship — 10:30 am
Next Week: January 3, Sunday School — 9:30 am; Worship — 10:30 am; Family Bible Study — 7:00 pm
Sutton Community Home: Myrna Ulmer, Leoma Sisel
Henderson Care Center: Jeanine Fehr
Prayer Requests: Marsha Hendrikus (lump in throat, Bev Ochsner's sister), Leoma Sisel, Arnie Boehler; Jeannine Fehr; Mercy Street Reformed Church (Denver); Omaha Reformed Church; Westminster Biblical Missions; Compassion Kenya; MERF; Reformed Faith & Life; Reformed churches in Kenya, Congo, and the Philippines; Philippine Student Seminary
Announcements: If you have any announcements for the Sunday bulletin, please call Pastor Gobelman, (847) 989-4676.
Next Sunday, January 3, 2021, we will continue our Family Bible Study through the Book of Revelation as we look at Revelation 3:7-13.
Next Sunday, January 3, 2021, we will continue our Sunday School Bible study through the Book of Romans as we look at Romans 8:1-4.
The next ERC Lady's Bible study will be on Wednesday, January 6, 2021. We will be looking at ch. 7 in the Knowing the Bible study guide through Genesis.
Our 2021 Annual Meeting will be on Sunday, January 10, 2021 immediately following the worship service. Worship will start at 10:00 AM and there will be no Sunday School that morning.
The next ERC Youth Fellowship will be on Wednesday, January 13, 2021 @ 7:00 PM at the parsonage. Invite your friends!
As of now, we have a shortfall in our Synod/Classis giving for June 2021. Our shortfall currently stands at $21,695.74.
The consistory will be accepting nominations for the office of elder to be voted upon during our annual meeting in January 2021.
Offering & Attendance: December 20, 2020
General Fund — $1,322.00
Compassion Kenya — $230.00
Verly Hofmann Memorial Fund — $90.00
Attendance — 49 Communicant Members — 42
Offering Today: General Fund & MERF
Next Week: General Fund & Classis/Synod
Let us get to know you!
Please take a moment to send us your information so that we may stay connected with you. Your information is carefully managed and protected.
How did you hear about us?