Read on to find out what's going on around here!
Egg Hunt Fun

A wonderful time was had by all of our Easter Egg Hunt participants this past weekend! We had 56 people attend (24 parents and 32 kids), served by 14 volunteers.
There was loud active worship, sharing the message of Easter, a fun family craft, snacks, and of course hunting for eggs!
Thank you to everyone who participated. If you missed out on this Faith and Kiddie Kollege family event, be watching for the next one!
YFC Camp May 13-15 @ Camp Lyndon
Students, prepare yourselves for a great time away from the everyday!
We will be enjoying games, music, guest speakers, and the great outdoors to grow in our relationship with Jesus.
Per student cost is $130, with fund-raising opportunities coming soon.
Want more information? See Pastor Sean Sunday at Faith!
Missions Updates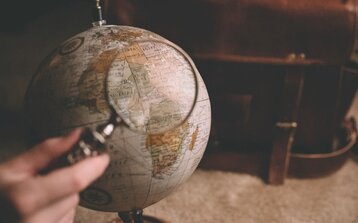 This past Sunday was Missions Sunday, which makes today a great time to let you know what's new with a few of our missionaries!
Mike and Polly Brown, Bolivia
"'Home' is an interesting concept. I have heard it said that 'Home is where the heart is.' Well, I am not quite sure what that means for us. On the one hand, the United States has a lot of pieces of our heart, especially with our family. On the other hand, Bolivia has a huge part of our heart, as God has called us to serve the people here. So, we left 'home' to come 'home.' Seems confusing, right? But somehow it makes sense to our hearts. In fact, even Jonah commented on how we were 'home' when he saw a familiar landmark in Cochabamba, Bolivia from the plane window.
It was great to have arrived in Cochabamba, but the truth was that settling would be a bit more work. You see, we needed to find a home. Thankfully, our missionary friends--the Henry's--allowed us to stay in their home while we searched. When we had to leave there, other missionary friends--the Holman's--allowed us to stay in theirs. We came close to signing on one place, but backed out at the last minute as we did not feel quite right about it. We really wanted a yard for the kids and that house did not have one. We searched more and it really paid off. God blessed us with a house with a huge yard (photo below). A couple of weeks after signing, we moved in. We are still in the process of getting settled, but I can say that it feels like home."
Please pray:
...continued health and safety
...continued favor as we settle
...wisdom with next steps for each ministry
...opportunities to share the Hope of the Gospel--Jesus Christ--with others
...favor with visas for Jonah and Olive
...all financial needs to be met each month
Jen Kinnamon, Backyard Orphans
Part of my job is to come alongside new missionaries that join our team, support their growth, and help release them to train the churches in their state. Rebekah is our Oklahoma Orphan Care Missionary. She's gifted, compassionate, and completely carries a burden for this space. It was an honor to come alongside her to teach and train her first church to prepare them to care for children and families in their backyard. This church has been doing unstructured orphan care ministry for a while, so we're excited to watch the ministry flourish outside the walls of the church spilling over into their community!
(CrossPoint in Sand Springs, Oklahoma)
Please pray:
That God will continue to open the hearts of churches and families to welcome vulnerable kids into their homes and church communities.
For God's guidance as we dream as a family for the future mission.
For God's leading to connect with ministry prayer and financial partners in the coming months.

Affecting Lives for Eternity
Our address is: 154 Bearses Way, Hyannis, MA