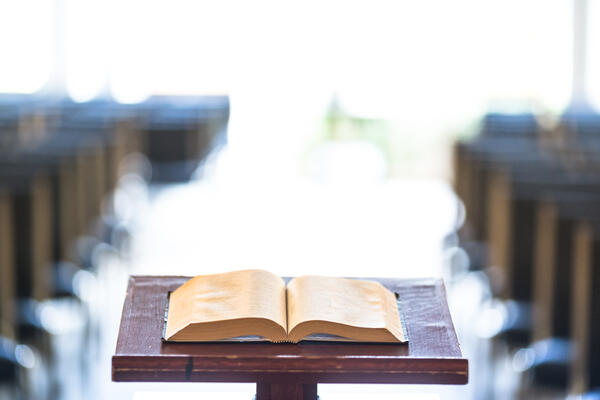 Summer Sermon Series
A New Way of Life
Preaching Menu
The apostle Paul is one of the most influential voices in Christianity. Originally an enemy of the early church, Paul was converted to faith by an encounter with the risen Jesus. His letters, which make up a large portion of the New Testament, have helped Christians down through the ages to be converted from worldly ways to new life in Christ. This summer we will be hearing sermons on important selections from Paul's readings. Our goal will be to discover and embrace the ways Christ is calling us to be transformed by him.
May 30: Trinity Sunday. Romans 8:12-17. Through the Spirit, we are adopted as children of God and co-heirs with Christ for glory.
June 6: 2 Corinthians 4:13-5:1. Even though our outer nature is wasting away, our inner nature is being renewed day by day.
June 13:2 Corinthians 5:6-17. We are always confident; even though we know that while we are at home in the body we are away from the Lord.
June 20: 2 Corinthians 6:1-13. We are putting no obstacle in anyone's way.
June 27: 2 Corinthians 8:7-15. Paul's request for relief aid.
July 4: 2 Corinthians 12:2-10. Paul is content in weakness.
July 11: Ephesians 1:3-14. Doxology celebrating blessings in Christ.
July 18: Ephesians 2:11-22. Unity in Christ.
July 25: Ephesians 3:14-21. Prayer for the readers' spiritual formation.
August 1: Ephesians 4:1-16. One Lord, one faith one baptism; but many gifts.
August 8: Ephesians 4:25-5:2. Put away falsehood, stealing, evil talk,...
August 15: Ephesians 5:15-20. Be careful then how you live, not as unwise people but as wise.
August 22: Ephesians 6:10-20. Put on the whole armor of God.
To prepare for Sunday morning worship, you may choose to read Paul's Second Letter to the Corinthians and his letter to the Ephesians in their entirety. If you would like to take a closer look at the apostle Paul, you might consider the book "The Apostle: the Life of Paul" by John Pollock or a similar title.
Connecting with Christ, Connecting with You
Our address is: 900 E Beau St, Washington, PA 15301, USA