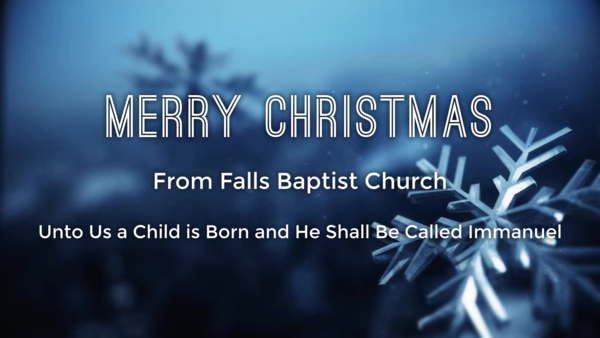 December 2018 Newsletter
Current News, Upcoming Events, and Prayer Requests
Pastor's Corner:
Hello, Church Family! Thank you for taking the time to read my first official newsletter. I am hoping that correspondence such as this will go a long way in not only keeping one another connected, but ensuring everyone who wishes to keep current with the latest news now has a means of doing so.
We have a number of events coming up! I hope you and your family will be able to join us for some awesome food and fellowship during this Christmas Season! Take a look at what is coming up and please let me know if you have any questions.
I also wanted to catch you up to speed on some upgrades we are hoping to do before our big Christmas Eve Service. We have almost completed the painting of the fellowship room downstairs and are still awaiting the arrival of our new stair lift that will provide access to the basement. We are very excited at the prospect of re-claiming the large fellowship room downstairs that has not been used in years.
You will notice that we have a number of pressing prayer requests listed below. I would really encourage you to pray for our church family. Also, please let me know if there is a prayer request that I have missed and I will be sure to add it to the list! However, I would prefer to keep this particular list limited to our church family so that it does not become to large to manage effectively.
I want you to know that I fell so blessed to be called your pastor. Please know that I pray for each of you and so desire your relationship with Jesus to grow. I pray you and your family have a wonderful and blessed Christmas Season. Please let me know if I can be any assistance to you.
In Christ,
Pastor J~
Perspective Christmas Series:
Our address is: 6070 S 15th E, Idaho Falls, ID 83404-7752