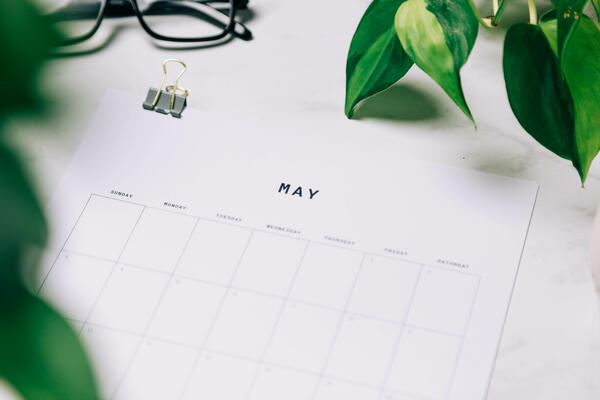 A Little Bit of Faith
Our Monthly Newsletter!
Things are about to get busy.
This is a busy time of year, isn't it? For example, the day I'm writing this is the last day of April, May isn't even quite here yet. However, this morning we had our Men's Coffee, Donuts, and Devotional at 9 am, I got some work done in the office, ran home to change clothes, then to head to Ellendale for Pastor Calvin's graduation at TBC.
It was a great graduation, too. I hope you were able to catch it on the livestream if you couldn't make it in person. We're very proud of Calvin!
But things are about to get hectic if they aren't already. Maybe you've even barely had time to read this newsletter - or just recently learned there is a newsletter! That's okay, but life just seems to get busier as the weather warms up.
Even still, I would challenge you to make sure you're making time for your own spiritual health. I know weekends at the lake are great, and you may miss a service now and then. We expect attendance to drop some during the North Dakota summers, with farmers and ranchers in the congregation, and the few months of good weather we get to take advantage of, it's understandable! But I'm not just talking about your church attendance in the coming months. Make time to get alone with Christ.
May 1st, when this newsletter is released, I'll be preaching on the three things that show us we are the sheep that belong to the Good Shepherd - our proximity to Christ, our obedience to Christ, and our satisfaction in Christ. We see this play out in Mark 6 when Jesus feeds the 5,000.
That first one is a doozy, though. What is your proximity to Christ? How often do you take time to get alone with your Bible and prayer, just to spend 30 minutes or an hour alone with Him? I'm not suggesting you don't, but make sure you don't stop just because things get a little busier in the coming weeks.
Our time, our "quiet time" with Christ is vital. So is our church attendance, as Hebrews 10:25 reminds us. But when we can't meet as often, and we don't take time out of our daily lives, our walk with Christ begins to slip and our stride on that narrow path begins to sway.
So even though things are about to get busy, remember these words of David:
Surely my soul waits in silence for God;
From Him is my salvation.
Surely He is my rock and my salvation,
My stronghold; I shall not be greatly shaken. (Psalm 62:1-2, LSB)
In all the craziness of the coming weeks, take some time to wait in silence for God.
Sharing the Gospel as we love God, love people, and make disciples of Jesus Christ.
Our address is: Lisbon, ND 58054, USA