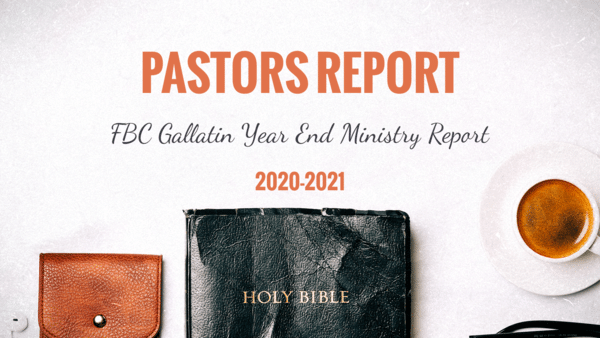 Pastors Report 2020-2021
FBC Gallatin Year End Report
Pastors Report 2020-2021
First Baptist Church of Gallatin
Pastor's Report
Ministry Year End Report (2020-2021):
The Word was Preached:
2 Timothy 4:1-2 I charge you in the presence of God and of Christ Jesus, who is to judge the living and the dead, and by his appearing and his kingdom: 2 preach the word; be ready in season and out of season; reprove, rebuke, and exhort, with complete patience and teaching.
· Sunday Morning Worship Service
o The Gospel two Part Series on 1 Corinthians 15:1-8 during Covid Good Friday & Easter…
o Evening worship in the morning – 3 part series including modeling congregational prayer online during pandemic…
o 1 John – Evidence & Assurance – 20 sermons through the book relating to assurance of salvation and evidence of genuine conversion…
o Genesis 1-11 Creation, Fall, Consequences – 12 Sermons through this foundational portion of Scripture on creation, the image of God, and the consequences of the fall…
o Centered Commitments – 4 Part series exploring the key commitments of our church of Expository Preaching, Intentional, Discipleship, and the Great Commission.
o Understanding Ordinances & Membership – a 4 part impromptu series dealing with benefiting from the Lord's Supper, Baptism, and church membership…
o Matthew 1-7 Kingdom Come – 21 message series spanning the birth of Christ to the sermon on the mount…
o Jude – Discerning Counterfeit Teachers – Pastor Wood began his series and preached 3 sermons dealing with the importance of defending the faith against false teachers…
o Exploring the Psalms - Selected expositions in the Psalms were explored (4 so far and continuing intermittently)…
o Intentional Discipleship – 3 part series encouraging Men, Women, and Children to follow Jesus together!
o Galatians – began the series through the book of Galatians (6 sermons through years end) focusing on the Gospel and justification in opposition to false gospels of legalistic works…
o Individual Sermons - Multiple one-off single sermons were preached from different passages by various preachers on Sunday morning (Wood, Scott, Daniel, missionaries, children home director, former interim pastor, and even a young man who Daniel mentored from his ministry at his church in California)…
· Sunday Evening Prayer Service (and the congregation responded in prayer)
o In the last couple of years even through the pandemic 29 shorter sermons were preached during our bi – monthly evening prayers services by multiple preachers including Daniel, Wood, Scott, & Micah…
o Sermon texts chosen based on our daily Bible Reading from Robert Murray McCheyne from Genesis, Romans, Job, Luke, Psalms, Proverbs, Acts, Ephesians, 1 Kings, 2 Samuel, Revelation, Exodus, Ecclesiastes, Deuteronomy, Mark, Philippians, 2 Timothy, & Isaiah….
· Monthly business/members meetings…
o Daniel transitioned and took over the moderator role in the business meetings in 2020…
o Understanding our Church Covenant – Pastor Daniel taught 5 short sermons through our church covenant to remind us all of how we have agreed to live with one another in our church…
o Understanding our Church Doctrine – Daniel began and taught 7 short sermons through the Baptist faith and message where we explored our key doctrinal understanding on important topics about what we believe together as a church and plans to continue through the remaining 11 BF&M 2000 doctrines next year...
· Reach Youth Group…
o Reach Youth Group
o Book of Ephesians with JD Greear: Discussed the topic of what the church is and who makes up the church while moving through the book of Ephesians.
o Control with D.A. Horton: discussion of who has authority in our lives.
o Doctrine Study with Francis Chan: studying our core doctrines.
o Can I Ask That?: A study over big spiritual questions.
o Quick Answers: study on Apologetics.
o Who Is Jesus? With Brody Jespersen: studying and discussing the person and purpose of Jesus.
o Studying the life of Christ utilizing The Chosen series.
o Cold Case Christianity: defending the faith through evidence with J. Warner Wallace
o Topical Lessons: bullying, suicide and depression, the power of words, friendships.
People were Discipled:
Matthew 28:18 And Jesus came and said to them, "All authority in heaven and on earth has been given to me. 19 Go therefore and make disciples of all nations, baptizing them in the name of the Father and of the Son and of the Holy Spirit, 20 teaching them to observe all that I have commanded you. And behold, I am with you always, to the end of the age."
· Initial Discipleship Table Talks… About 40 meetings in the last two years...
· Co-ed Discipleship Table Talks… 8 Meetings for the first semester in Fall 2021…
· Sunday School Bible Studies…
· Weekly staff devotionals…
· Wednesday Pioneer Clubs…
· Wednesday Reach Youth Group…
· 2 baptisms and new members were taken in one in 2020, and another in 2021 with the baptism and membership process led by the pastors…
· Church members attended a 9marks conference at Midwestern in February 2020…
· Church members attended Together For the Gospel Conference Virtually April 2020…
· Church members attended For The Church conference Virtually Fall 2020…
· Vacation Bible School…
· Deacons Meeting – Micah taught edifying monthly devotions…
· Keenager – Monthly edifying teaching and discussion!
· Pastor Daniel's Weekly Encouragement & Accountability Meetings with Pastor Friend…
· Daniel - Practical Shepherding Pastors 40 Week Cohort 2020…
· Daniel - Practical Shepherding Pastors Retreat March 2021…
· Wednesday Workshops at Midwestern Baptist Theological Seminary…
· Daniel - 40/50 Hours of Biblical Counseling Supervision through ACBC…
People were Counseled:
Acts 20:20 how I did not shrink from declaring to you anything that was profitable, and teaching you in public and from house to house,
· Pastors are not only called to the public ministry of the Word but also the personal ministry of the Word to particular issues and problems of peoples lives…
· In 2020, Pastor Daniel counseled 7 different individual or family units (either individual, married couple, or married couple with children), 10 people, 48 formal counseling meetings (ranging anywhere from 1 to 2 hours… Well over 60 hours of biblical counseling ministry…
· In 2021, Pastor Daniel counseled 14 different individual or family units (either individual, married couple, or married couple with children), 29 people, 75 formal counseling meetings (ranging from 1 - 2 hours… Well over 90 hours of biblical counseling ministry… 40 of these counseling meetings were supervised by a more seasoned mentor pastor…
· In 2020-2021 Pastor Wood counseled 2 different couples for premarital counseling, total of 4 people, 15 formal counseling meetings for about 20 hours of counseling care…
Pastors Led:
Acts 20:28 Pay careful attention to yourselves and to all the flock, in which the Holy Spirit has made you overseers, to care for the church of God, which he obtained with his own blood.
· The pastors led preaching/teaching, discipleship, and counseling care ministry…
· Weekly pastors meetings to pray for the congregation, encourage one another, discuss discipleship ministry in the church, review the previous service & sermons, and plan new future services and ministry…
· The pastors led the worship services as God called them to do…
· The pastors led the prayer service…
· In 2020, the pastors got our church setup for audio sermons on our site and podcast…
· In 2020, the pastors also worked to research and set-up our church for service streaming on Facebook and on our YouTube channel through pandemic…
· In 2021, Daniel led a childcare workers children's safety training…
· Pastor's led in SBC association involvement at 2 state convention meetings in St Charles & Branson and 1 National Convention meeting in Nashville…
Deacons Served:
1 Timothy 3:13 For those who serve well as deacons gain a good standing for themselves and also great confidence in the faith that is in Christ Jesus.
· Deacon's contact and care lists…
· Deacon Benevolence…
· Covid-19 additional meetings and support…
· Christmas Eve Services…
· Intercessory Prayer & Giving...
· Monthly Deacons Meetings…
· Led greeting & ushering…
· Led the Naiomi Banquet for our widows…
Trustees Fixed & Maintained:
Nehemiah4:6 So we built the wall. And all the wall was joined together to half its height, for the people had a mind to work.
· Took care of the infamous bats…
· Air Conditioning units replaced…
· Put together the Ark Playset!
· Regular facility maintenance…
· Parsonage maintenance…
Music Ministry Led in Worship Through Song:
Colossians 3:16 Let the word of Christ dwell in you richly, teaching and admonishing one another in all wisdom, singing psalms and hymns and spiritual songs, with thankfulness in your hearts to God.
· Led us in weekly God glorifying music!
· Celebration choir potlucks and training...
· Many God glorifying rehearsals!
· 4 Cantatas…
· Good Friday & Thanksgiving Community Choir Service…
· 1 Community Choir Christmas Concert!
The Congregation Supported in Gospel Motivated Giving:
2 Corinthians 9:7 Each one must give as he has decided in his heart, not reluctantly or under compulsion, for God loves a cheerful giver.
· Our Members Generously Gave through Covid-19 pandemic even when we didn't gather for a season…
· Our members have continued to regularly, generously, and sacrificially give to maintain and grow ministry motivated by the Gospel!!!
Fellowship was Cultivated:
1 John1:3 that which we have seen and heard we proclaim also to you, so that you too may have fellowship with us; and indeed our fellowship is with the Father and with his Son Jesus Christ.
· Potluck meals (Easter Breakfast, Pastor's Appreciation Meal, Christmas Meal)
· Park BBQ fellowship, concert, & softball game…
· Brotherhood fishing tournament…
· Bi-monthly Women's Coffee…
· Valentine's dinner…
· Baby Shower…
· Keenagers Ministry…
· 2 Superbowl Fellowships…
· Multiple Reach Youth Group Outings & Events…
· Pioneer Club…
· VBS end of summer presentation and fellowship at the pool…
People were Cared for and Served:
Philippians2:3 Do nothing from selfish ambition or conceit, but in humility count others more significant than yourselves. 4 Let each of you look not only to his own interests, but also to the interests of others. 5 Have this mind among yourselves, which is yours in Christ Jesus,
· Christmas boxes…
· Meals through the pandemic…
· Meals on Pioneer club and youth nights…
· Meal Trains for those in need…
· Blood Drives…
· Youth group clothing, food, school supplies given…
· Hospital visits as much as possible through pandemic and phone calls and prayers due to pandemic limitations…
· Pastoral Home Visits in 2020 & 2021…
· Funerals were conducted and the hospitality committee prepared a meal…
· Special missions offerings MMO, Annie Armstrong, Lottie Moon 2020 & 2021…
Benevolence help distributed through FBC Gallatin… And also through our Ministerial Alliance cooperation…
Expository preaching, intentional discipleship, the Great Commission
Our address is: 511 West Richardson Street, Gallatin, MO, 64640