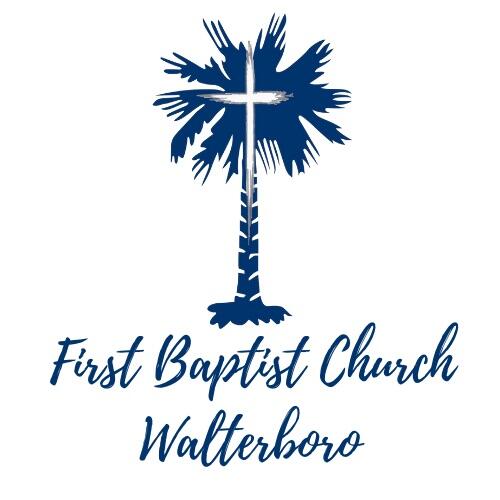 The Beacon
Volume 100, Number 5 May 2022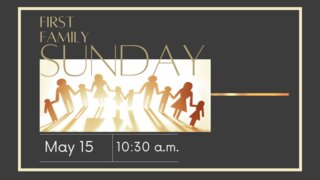 A Word From Dr. Jeff
Jesus said something profound about the church. He told Peter, "Upon this Rock (referring to Himself) I will build My church", Peter reminded us that Jesus is the Chief Cornerstone (1 Peter 2), and the Apostle Paul stated that, "no man can lay a foundation other than the one which is laid, which is Jesus Christ." (1 Cor. 3:11) This is why we who have salvation in Christ are faithful and committed to the local church, it's God's plan to carry out His mission on earth. When we are the church gathered, we worship and make much of Jesus, and when we are the church scattered, we faithfully live the new life He gave us and tell others how to know Jesus. The church has a purpose for those who are redeemed, and the church has a purpose in the world today. Unfortunately, sometimes we forget why the church exists and what we as faithful followers of Jesus are called to be and do.
We have all heard the statement "the church has become like a country club" or a "secret society" where only select people are members. What they are really saying is that they sense the church has lost its purpose and meaning in the lives of the redeemed and its meaning and purpose in the world today. I think I understand what they are trying to say. They feel like what they read in the Bible doesn't line up with what they are experiencing in their church life. I think we have all been there one time or another on our journey.
I typically describe the situation a bit differently. I've illustrated the church that is off-track from its purpose and meaning as a Cruise ship. Nothing wrong with a cruise ship. Errin and I love to take a cruise from time to time to rest, relax, and recharge. We enjoy the pool decks and chairs for sunning and reading a good book. We enjoy all the food that is available and the gorgeous dining rooms with skilled servers to meet our every feasting need. As you can see cruising can be enjoyable especially when you drop in some interesting port of call for spectacular sightseeing.
Some see the church this way. A gathering of similar-minded people cruising through life to relax and enjoy their spiritual journey. They are customers to the staff and ministry leaders. The staff becomes the cruise directors serving the needs of the onboard customers with games, activities, and first-class entertainment. The ship is well equipped to chase the sun around the Caribbean while the cruise directors entertain the paying customers. Obviously, the cruise ship model makes for a poor strategy to build the church found in Scripture.
I clearly see that the Bible gives the church purpose and meaning in a totally different manner. The church has never been assigned to float an emerald sea of humanity for the sake of those onboard. Jesus gave the church its purpose five times in the Bible (once would have been enough), once in each gospel and again in the book of Acts (Matt. 28:18-20; Mark 16:15; Luke 24:47; John 20:21; Acts 1:8). Instead of a cruise ship, I think the church is better modeled as a battleship.
The church and battleship are given purpose and meaning from a much higher authority. They both exist at the pleasure of a Commander-in-Chief. The church and the battleship exist to carry out a mission. The church exists for the purpose of the Mission of God. Neither the church nor the Battleship are intended to get their purpose and meaning from comfortable customers but if they do then they both stop existing for their created purpose and lose their meaning. First Baptist Church, Walterboro is a Battleship on a mission for God. We wage a spiritual war for the souls of men. We train up Kingdom Warriors to set the captives free from the grip and prisons of Jesus arch enemy, Satan. Heaven forbid that we ever take on the characteristics of a cruise ship and lose the mission of God as a Kingdom Battleship.
Dr. Jeff

We extend our sympathy to the friends and family of
Thomas Craven.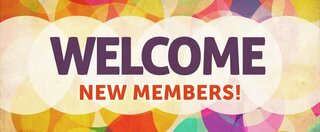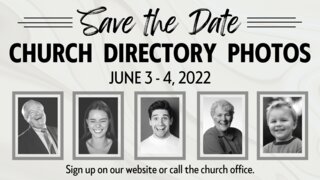 What's Next?
As we have celebrated Easter at FBC, I want to encourage you to continue praying for our student ministry. The great news of Jesus' death and resurrection is compelling and life-changing for those who truly believe. I am praying that we will make much of Jesus, students will realize just how amazing this Gospel is, and cannot help but give their lives to serve Him.
I believe that God wants to do incredible things with this generation of students, and it all begins with the realization of the Gospel. As you interact with students in our church and the community, be intentional in sharing the reason for your hope and why we celebrate Easter. A joyful, exciting celebration is often a greater witness to students than a clever presentation. Pray for, share, and enjoy Jesus with all those you encounter. Thank you, FBC for your support and encouragement. It is my privilege to minister alongside each of you.
Brax Edwards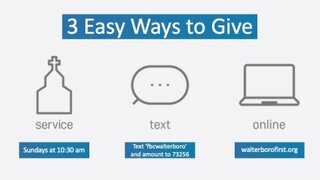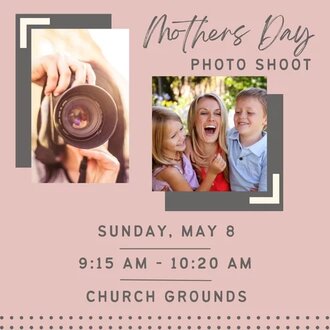 HAPPY BIRTHDAY!
Ron Sammons
Ashton Syfrett
Terri Tomedolsky
Ralph Warren
Cal Griffin
Corey McMillan
Kathy Houck
Meredith Henderson
Lydia Culler
Ree Padgett
Jason Dandridge
Henry Ulmer
Mary Corbett
Lin Houck
Linda Hudson
Tiffany Fender
Irene Carroll
Ann Syfrett
Sally Hudson
Bobo Hudson
Linda Ritter
IN OUR HEARTS AND PRAYERS
Sue Herries (Suzanne Chapman's mother)
Paul Hooker
Adelyn Leopard
Grace Sanders
Mitchell Bryan
Eleanor Moore
Deborah Walker
Frances Welch
Moye Padgett
Ricky Hiott (Vicki Syfrett's brother)
Jack Slimm (George White's uncle)
Rhonda Rhode Stubbs (Pat Rhode's daughter)
Velma Floyd (Edward Floyd's sister-in-law)
Henry Weber
Carol Ewing
Joyce Stynchcomb
Bob Johnson
Jon Edwards
Rosemary Ross (Emily Ross' daughter)
Linda P. Ritter
Ernie Willis
Buddy Craven
Ray Toler
Shirley Holloman
Thomas Craven Family
Larry Smith Family (Ellen Smith's brother-in-law)
Due to privacy laws, we can only include the names of individuals we have been given verbal or written permission to print and post online. To add a name to our prayer list, please send an email to ainsley@walterborofirst.org or call the church office at 843-549-1180.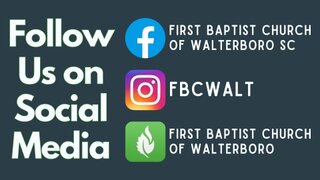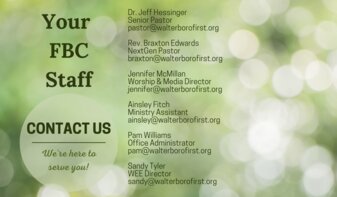 FBC Walterboro is a Southern Baptist Church in Walterboro, SC.
Our address is: 124 South Memorial Avenue , Walterboro, SC, 29488