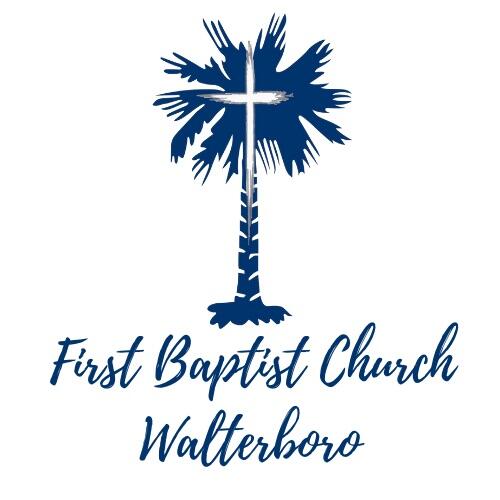 The Beacon
Volume 100, Number 6 June 2022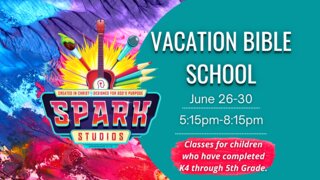 A Word From Braxton
There is no season quite like summer, it has a peculiar glory, doesn't it? The bright, balmy days seem to give life to everything around us. Vacations to the beach, lying in the golden sand watching the waves roll in, remind us of all the fun times we've had and ones to come. Warm evenings blended with hues of purple and orange in the sunset offer a relaxing close to the day. Students out of school, fireflies dancing in the night sky, and sun-kissed skin all announce summer has finally arrived.
As we each relish the joys of summer, don't forget there is a God behind each blessing. He delights in giving good things to His children and cherishes the smile on each of our faces. As FBC begins to transition into a new season, I want to remind you that we serve a good God who only has our best in mind. God is carefully watching over us and knows exactly what we need (Ps. 139:2-3). Just as summer brings life and vibrancy, I am confident FBC will continue to be lively and vibrant because of His loving care.
I want to say thank you to each member who faithfully serves FBC and continues to pray for our church. It is my privilege to serve alongside each of you and minister in this place of worship. As we come together as the unique and dynamic bride of Christ, I would ask that you consider how you can minister in and through FBC during this time. Finally, I encourage you this summer to pray as David did in the psalms, "Keep me as the apple of your eye; hide me in the shadow of your wings" (Psalm 17:8).
Serving,
Brax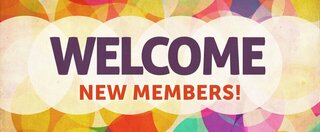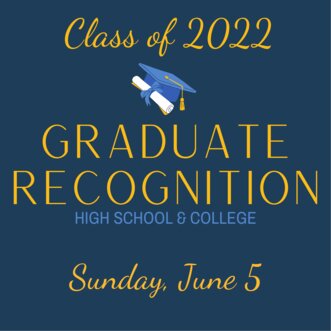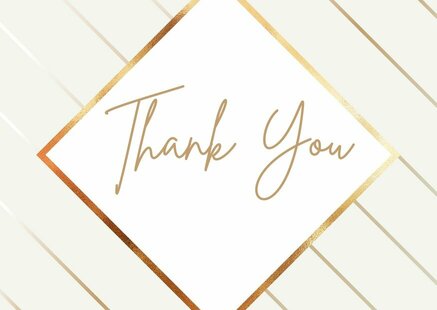 Dear Church Family,
Thank you so much for the many ways you showed your love for us through your calls, visits, cards, memorials, and prayers during Thomas' illness over the past years. May God continue to bless you.
Dora Mae Craven and Family

We extend our sympathy to the friends and family of
Rev. Bob Johnson.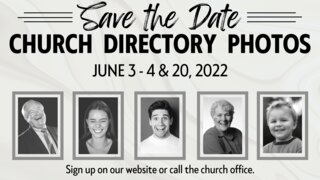 What's Next?
Summer is here! FBC's NextGen ministry is growing and we have a lot going on for our students this summer. Camp is just a few short weeks away and I am very excited to see how God will impact those who are going. FBC will have a week of VBS and participate in Mission Serve this summer as well.
Continue to pray for the ministries of FBC to the NextGen as the church provides opportunities for them to discover God and serve others. God will often use the simple moments of service to reveal His love and power to students. If you know a student, please take time to let them know about all opportunities to get connected at FBC.
Summer is a unique season for us to engage with students during their break. With school no longer taking priority, students may be more open to an invitation to church or simply a meal at your house. Please be in prayer for how you can share Jesus in practical ways with our students this summer and engage them in the life of the church.
I also want to say that it is an incredible blessing for me to serve with you in ministering to our students. I am proud to be a member of this body and watch what God is doing in us and through us to reach the next generation.
Brax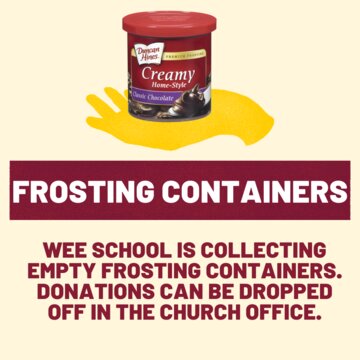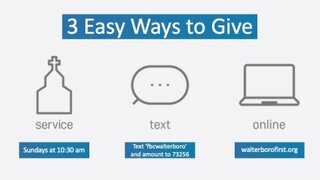 HAPPY BIRTHDAY!
Emily Lemacks
Andrew Sumner
Kinlee Bryan
Norma Nichols
Mary Ellen Bryan
Kevin Rotunda
Kay Eisenhart
Bax Culler
Ernest Canaday
Melanie Ferguson
Ann Hooker
Lydia Pidatala
Lynn Robertson
Quinn McCollum
Barbara Smoak
Glen Carter
Culler Avant
Nicky Harriott
Jan Canaday
Katelyn Heape
Marilyn Cleland
Richard Chapman
IN OUR HEARTS AND PRAYERS
Sue Herries (Suzanne Chapman's mother)
Paul Hooker
Adelyn Leopard
Grace Sanders
Mitchell Bryan
Eleanor Moore
Deborah Walker
Frances Welch
Moye Padgett
Ricky Hiott (Vicki Syfrett's brother)
Rhonda Rhode Stubbs (Pat Rhode's daughter)
Henry Weber
Joyce Stynchcomb
Jon Edwards
Rosemary Ross (Emily Ross' daughter)
Linda P. Ritter
Ernie Willis
Shirley Holloman
Billy & Jackie Benton
Kelly Brant
Jonathan Lyons
Gloria Marksberry
Nancy Breland
Cindy Westbury
Mary Ellen Bryan
Gene Whetsell
David Yarborough
Meredith Henderson
Rev. Bob Johnson Family
Due to privacy laws, we can only include the names of individuals we have been given verbal or written permission to print and post online. To add a name to our prayer list, please send an email to ainsley@walterborofirst.org or call the church office at 843-549-1180.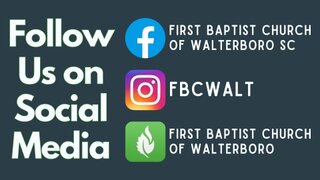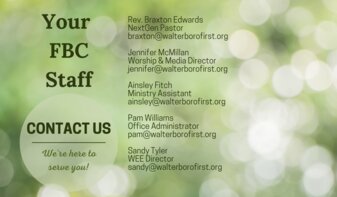 FBC Walterboro is a Southern Baptist Church in Walterboro, SC.
Our address is: 124 South Memorial Avenue , Walterboro, SC, 29488