The Beacon
Volume 100, Number 10 October 2022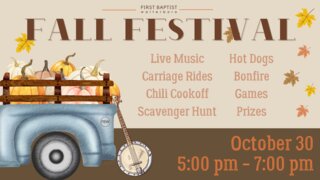 A Word From Pastor Jim
The month of October ushers in the fourth quarter of our calendar year. Fourth quarters are important. Take football, for instance. The fourth quarter gives each team the chance to put their whole hearts into the game with the hope of a victory. If the scores of each team are relatively close, I've seen the players play with a renewed commitment knowing that the clock is ticking down to the game's end.
Unlike football, the fourth quarter in the life of FBCW is not the beginning of the end. However, it is a time to push forward with faith and fervor not only to keep up, but to escalate, our passion for the ministry, fellowship and outreach to which God has called us.
To that end, you will see that many opportunities to serve the Lord and celebrate His goodness are forthcoming. In October alone, in addition to our regular weekly schedule, the seniors will take their annual trip to the Celebrators Conference in Pigeon Forge, Tennessee. We will host the Colleton Baptist Association Men's Rally where men and boys are invited to a time of worship and fellowship. Pastor Braxton will be the speaker for the evening.
We will end the month with a huge celebration at our Fall Festival. You don't want to miss this event. It's coming together nicely and everyone will have a great time! This will also serve as an occasion to reach out to the unchurched and unsaved people in our community. In addition, our neighbors at Bethel United Methodist Church will be having games, refreshments and a trunk-or-treat at the same time. Mutual invitations have been extended to both churches to cross the street and share in the fellowship.
From watching the beauty of the fall leaves to the celebration of Thanksgiving and the birth of our Savior, the fourth quarter is my favorite time of the year. It was during this season forty-six years ago that God gave me the precious gift of marriage to my wife, Pam. God is so good!
I appreciate the gracious way you have welcomed me into the First Baptist family. I look forward to serving alongside you during this season.
Blessings,
Pastor Jim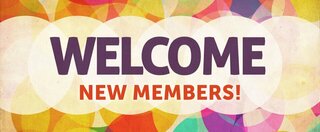 Mary S. Crosby
Cole & Kendall Hogan
Pastor Jim & Pam Williams

Special Called Conference
October 9
Discuss the Proposed 2023 Budget
October 16
Vote on the Proposed 2023 Budget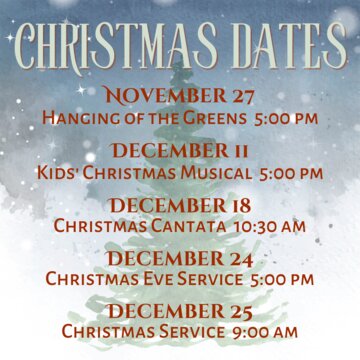 We're Making a Joyful Sound
"Why is this happening?" In recent weeks, I've heard this phrase repeatedly. It seems life has suddenly dumped an abundance of heartbreak on those in my daily path, and they're finding it difficult to concentrate on the goodness of God.
We don't hear much about Habakkuk, yet he's a prophet with whom I dare say we can identify. In his short, powerful book, Habakkuk complains to God about tragedy and injustice, questions why He allows suffering, and begs God do something about it immediately.
Is it really okay to question God? I think so. I believe He wants to hear from us, and like any parent, He's willing to listen to our complaints, even our angry outcries.
The problem is our "don't wait, act now" demands. We ask God to perform instant miracles, or at the very least, provide an explanation. Then comes the hard part: waiting. Waiting for test results; waiting for signs; waiting for life-changing phone calls, emails, and text messages; waiting for any form of communication that relieves or explains our pain.
Life doesn't always make sense. Sometimes the path is darkly chaotic and there is absolutely no comfort in words or actions.
God eventually answered Habakkuk, and the outcome was not what he expected. When the world seems to be falling apart around you, when you feel you have absolutely nothing more to cling to other than faith, I pray you'll trust God to bring justice in His time. The outcome may surprise you!
If you're praying for a friend, I recommend listening to "Prayer for a Friend" by Casting Crowns.
If you're struggling to make sense of recent events, try "Thy Will" by Hillary Scott or "Shoulders" by For King and Country.
Until next time, pray for me and I'll be praying for you.
Jennifer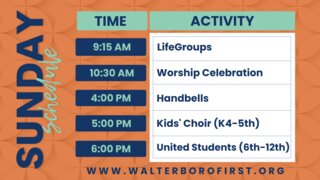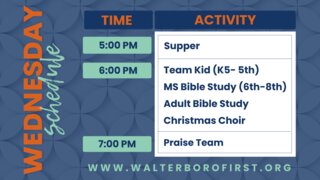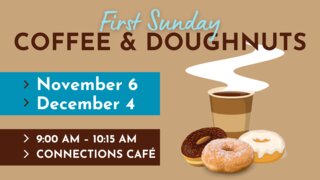 What's Next?
I am so excited about this season and all that is taking place in the NextGen Ministry! As many of you know, we have several church-wide events planned in the coming months that are intended to reach out to the local community and foster family ties at FBC. I want to encourage everyone to take the time to invite any students that you may know to come and be a part of FBC. This is a great opportunity to engage with the next generation and show them a side of church life they may have never seen before.
Also, our student ministry is in full swing for the fall. We have several student events that are being planned and multiple opportunities for them to get involved in our Sunday night meetings. Please continue to pray for the NextGen ministry and invite students to come. The fall and holiday season can be a great time to encourage students to check out all FBC is doing and find a place in the church.
I always ask for your prayers for our ministry. But I want to ask you to pray especially often for our students and for the NextGen ministry. We have had some incredible moments and experienced success in our efforts to engage students. But we want to increase and continue to have a meaningful impact on those around us. So I ask that you be praying for us as we work in the school system, the church, and in our community with students. Thank you for all of your support!
Brax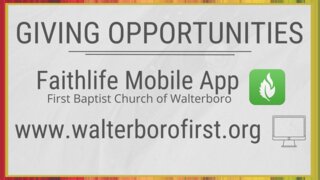 HAPPY BIRTHDAY!
Christine Coffin
Nancy Breland
Jean Dandridge
Braxton Edwards
Della Robertson
Maggie McGhie
Lynn Bazzle
Phyllis Way
Gray Marvin
Heather Murray
Rachel McGhie
Ann Carmichael
Bill Weeks
Jennie Swindler
Kyle Hooker
John Hiott
Bill Johnson
Bryan Lemacks
Reeves Culler
Joe Stone
Misty Hughes
Kallen Campbell
Nancy Thomas
Lance Calcutt
Byron Altman
Bramlett Drew
Judy Bridge
Celeste McCollum
IN OUR HEARTS AND PRAYERS
Julie Altman
Doris Bales
Billy & Jackie Benton
Scott Bell
Kelly Brant
Mary Ellen Bryan
Mitchell Bryan
John Carr
Elwin Cleland
Daniel Coffin - Military
Ryan & Katie Crosby
Jon Edwards
Suzanne P. Gurley (Sherlene Brown's mother)
Greer Hall
Sue Herries (Suzanne Chapman's mother)
Paul Hooker
Vicki Kinard
Adelyn Leopard
Rev. Gerald Mabry
Lee Nichols
Moye Padgett
Linda Ritter
Grace Sanders
Rosanne Schmidt
Rhonda Stubbs (Pat Rhode's daughter)
Joyce Stynchcomb (Ann Syfrett's sister)
Deborah Walker
Henry Weber
Frances Welch
Gene Whetsell
Shirley Altman Family (Byron Altman's mother)
Jim Tompkins Family (Doris Bales' son-in-law)
Genie Wellons Family (Ralph & Betty Warren's nephew)
Due to privacy laws, we can only include the names of individuals we have been given verbal or written permission to print and post online. To add a name to our prayer list, please send an email to ainsley@walterborofirst.org or call the church office at 843-549-1180.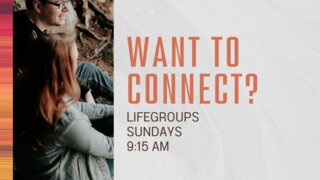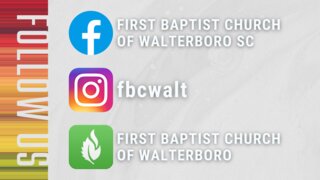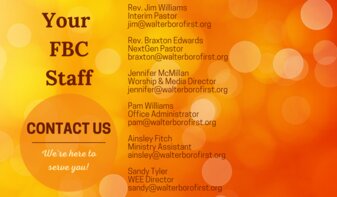 FBC Walterboro is a Southern Baptist Church in Walterboro, SC.
Our address is: 124 South Memorial Avenue , Walterboro, SC, 29488