The Beacon
Volume 100, Number 11 November 2022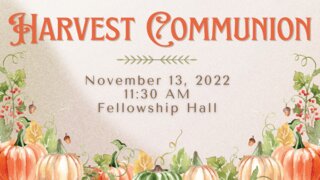 A Word From Pastor Jim
Years ago, I saw a church sign that said, "Get rich quick. Count your blessings." That's good advice! It's not that we aren't already rich in blessings; it's just that most of us are so busy worrying about our problems that we fail to take the time to count our blessings.
Psalm 9:1 says, "I will give thanks to the Lord with my whole heart; I will recount all of Your wonderful deeds." Why not try a simple exercise? Take a pen and a piece of paper and begin making a list of the things God has blessed you with. Just watch how quickly the page fills up with reminders of all God has done for you. Now, take some time to say, "Thanks." I like the prayer I read recently: "Dear God, I want to take a minute, not to ask for anything from You, but simply to say, 'Thank You' for all You've done for me."
Each year in late November, we look forward to Thanksgiving Day. However, many view this day only as a day off from work to do two things: eat turkey (over 46 million turkeys will be bought in the U.S. this month) and watch football on television. We have become so blinded to the true reason for which this day is set aside that the term "Turkey Day" is preferred by many over "Thanksgiving Day."
Let's set the example and get back to the true meaning of the holiday. While it's true that most of us will eat turkey and watch football, let's be sure that those activities don't overshadow our giving thanks to God for His bountiful blessings to us. But doing so on the official holiday alone isn't enough. We need to give thanks every day because God is good all the time!
As I thank God for His blessings to me, my church family at First Baptist Walterboro is near the top of my list!
With a grateful heart,
Pastor Jim
We extend our sympathy to the friends and family of:
Paul Hooker
Billy Padgett
Linda Ritter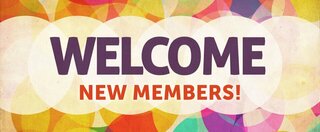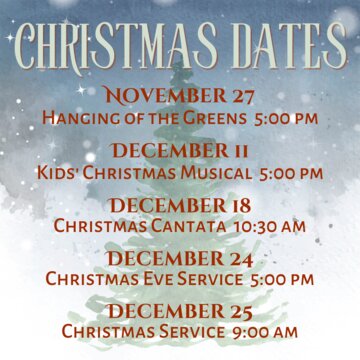 All to Jesus I Surrender
Are You Resigned or Surrendered?
Have you ever found yourself chronically exhausted? Whether it's the daily routine or a specific instance that gets the best of us, we all wear down sooner or later. In those moments, we have a choice to make: to resign or to surrender; and the difference is largely determined by our mindset.
When we resign, we simply give up because we feel powerless to change the circumstances. We decide to accept the conditions, but continue to struggle internally, which typically leads to some level of anger and/or withdrawal, eventually accompanied by exhaustion. Resignation is the result of attempting to handle all situations on our own.
When we surrender, on the other hand, we submit ourselves to trusting and following our Savior. We relinquish control and find freedom in learning to accept the will of God – even if it's not ideal in our eyes. The best part: it's not strenuous. In fact, it's the exact opposite!
The Message quotes Matthew 11:28 this way: "Are you tired? Worn out? Burned out on religion? Come to me. Get away with me and you'll recover your life. I'll show you how to take a real rest."
Is it really that easy to find freedom and rest? Can we surrender without being resigned first, or is the angry struggle a prerequisite for surrendering? I suppose that's based on some combination of experience and maturity, but either way, the choice to surrender is far more rewarding than the alternative.
The next time you find yourself struggling, try singing the familiar chorus and applying it (even if you must sing it 25 times before truly surrendering): "I surrender all, I surrender, all to Thee my blessed Savior, I surrender all."
Until next time, pray for me and I'll be praying for you.
Jennifer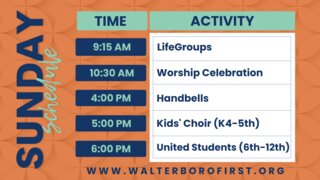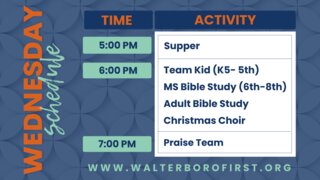 A special Happy Birthday to our Office Administrator, Pam Williams! Pam will also be celebrating nine years at FBC on November 23. Thank you for all you do!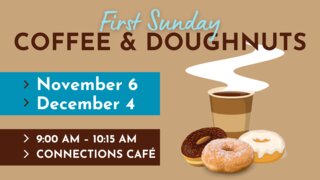 What's Next?
As the leaves change, temperatures drop, and our thoughts shift toward the holidays, I always think back to this same time the previous year. I think about the fun moments I had. But I also think about the things that went wrong and make plans on how I am going to avoid those setbacks this year. I think, "I'm going to slow down for the holidays and actually relax." Or "I'll spend more time with a good book and less time in front of the T.V.," and "I'm definitely not going to wait until the last minute to ask Gracie about what she wants for Christmas." I'm planning because I want to make the most of the moments ahead of me. I don't want to waste them.
The fall season is full of moments that we can make the most of, or waste when it comes to students. Sports are in full swing, they will be home for breaks from school, beach trips have stopped and watching football together has started. In short, they will be around more which means you will have more opportunities to be around them.
I want to encourage you to make the most of the moments you can share. The moments of watching football together, having them home for a meal, or driving them to their next game can be places where heaven meets earth. Never underestimate how God can use ordinary and mundane circumstances to impact their lives. Sometimes the simplest things can turn out to be the most important things we do in our spiritual life. Seize the opportunity this season presents to guide students spiritually. Plan to make the most of the moment.
Offer to pray for them as they take mid-term exams, take the long way home from the game so you can talk more, plan to make their favorite meal, or invite them to a church event. Intentionally make time together and don't let moments slip away simply because we haven't thought ahead. As always, please be diligently praying for FBC's NextGen ministry and that we make the most of the moments God gives us.
Brax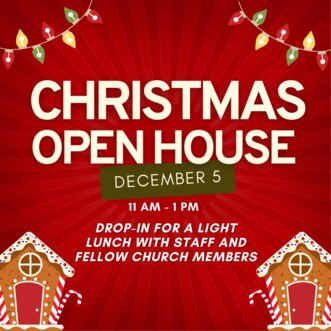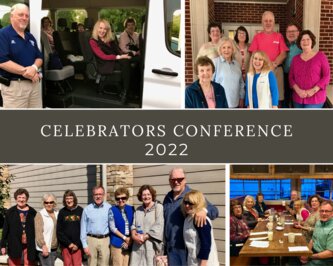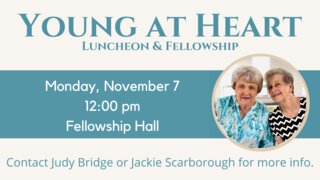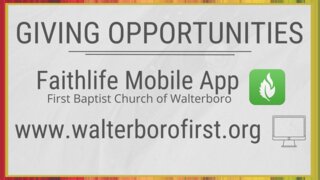 HAPPY BIRTHDAY!
Miriam Sharp
Jackie Benton
Billy McGinnis
Pat Ramsey
Robert Baggett
Ernestine Rizer
Cameron Warner
Becky hill
Rachel Dandridge
Ava Murray
John Swindler
Bud Linder
Phyllis Utsey
Kevin Martin
James Breland
Freddy Avant
Finley Marvin
Anne Oswald
Bray Campbell
Linda Henderson
Pam Williams
Lonnie Nettles
Ken Hill
Lonna hill
Altha Lake
Vonda Calcutt
Pamela Fulk
Vicki Hill
IN OUR HEARTS AND PRAYERS
Julie Altman
Aris Atkinson (Philip Roberson's uncle)
Doris Bales
Billy & Jackie Benton
Scott Bell
Mary Ellen Bryan
Mitchell Bryan
Elwin Cleland
Daniel Coffin - Military
Ryan & Katie Crosby
Joann Davis
Suzanne P. Gurley (Sherlene Brown's mother)
Greer Hall
Sue Herries (Suzanne Chapman's mother)
Ken Hill
Joan Hiott
Remley Hooker
Vicki Kinard
Adelyn Leopard
Rev. Gerald Mabry
Lee Nichols
Moye Padgett
Emily Ross
Grace Sanders
Rhonda Stubbs (Pat Rhode's daughter)
Deborah Walker
Henry Weber
Frances Welch
Gene Whetsell
Jon Edwards Family
Paul Hooker Family
Billy Padgett Family
Linda Ritter Family
Joyce Stynchcomb Family (Ann Syfrett's sister)
Due to privacy laws, we can only include the names of individuals we have been given verbal or written permission to print and post online. To add a name to our prayer list, please send an email to ainsley@walterborofirst.org or call the church office at 843-549-1180.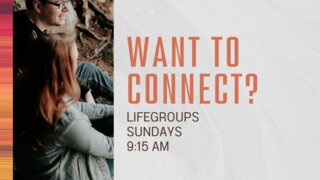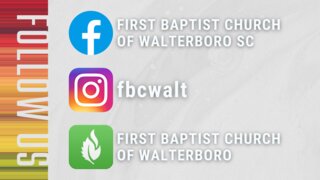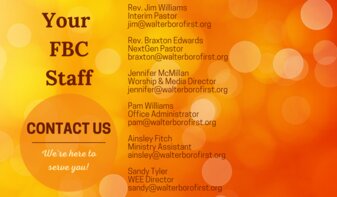 FBC Walterboro is a Southern Baptist Church in Walterboro, SC.
Our address is: 124 South Memorial Avenue , Walterboro, SC, 29488