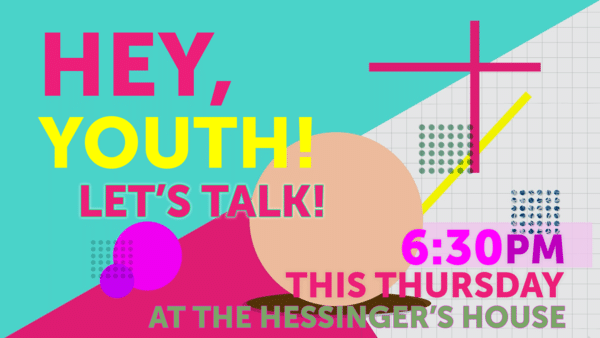 The Beacon
Volume 98, Number 29 November 8, 2020
A MESSAGE FROM DR. JEFF
Dear Family,
It's hard to believe that Errin and I have been here for two weeks. Our first Sunday with you was a wonderful day of celebration. It was an amazing day to be officially introduced to the congregation by Dr. Calcutt and prayed over by the deacon body. The exciting adventure begins! We all have expectations as to what we believe God will do in our midst over the years to come. But let me mention a few of the hopes and expectations that I have for the first couple of months.
First of all, Errin and I want to get to know you! There are a bunch of you and just two of us, so we will work hard on names. We are people persons. We enjoy visiting with you and getting
stopped for a hello or a conversation. Not only do we want a pastor/wife relationship with you as a congregation, but we want to really know you. We want friendships. We don't want to live in the proverbial "pastoral bubble". We are real people - just like you - and we love having friends!
Secondly, I am working with my ministry teammates to create a celebrative worship experience each Sunday that exalts Jesus. Jesus will be the One who takes center stage every time we gather.
It's all about Jesus. When you arrive at church Sunday mornings, come expecting to gather with friends and family, to meet with God and to respond to the Holy Spirit as He speaks to your heart. We will honor your generation, adapt to a post-Christian culture, consistently be evangelistic, and always make much of Jesus.
Thirdly, you are the best promoter of what God is doing at First Baptist Church! If you attended last Sunday you know God is moving powerfully in this church. So now what? Well, I am grateful for good, faithful church members, but what we really need are members who are missionaries! Missionaries invite friends, family, and acquaintances to attend church with them and they may even
take them out to lunch after Sunday worship. Missionaries want to intentionally impact others with the Good News. Your actions will make a great Kingdom impact and give our family of faith the
best chance to become a thriving Spirit-filled congregation in the heart of Colleton County.
Last of all, so many of you have personally said to me and Errin that you want to help, be a part, or carry some responsibility. You want to do ministry! Honestly, the past few weeks have been a blur. I wish I knew every person who has said they want to help. If you are ready to go on this great adventure and you want to find your place to serve, then would you reach out to me? We will need far more than a skeleton crew to become what I believe God is calling us to become. You're needed now! Go ahead call the church office now or put your name and contact information on a scrap piece of paper and hand it to me . . . I'll reach out to you.
The adventure begins . . .
Called to serve,
Dr. Jeff
OUR MESSAGE THIS WEEK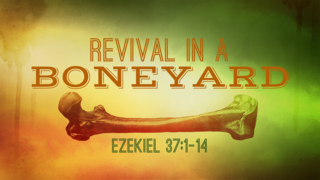 BIRTHDAYS THIS WEEK

Ernestine Rizer
Cameron Warner
Rachel Dandridge
Becky Hill
Ava Murray
Phyllis Utsey
Kevin Martin
James Breland
Freddy Avant
Finley Marvin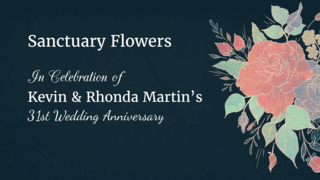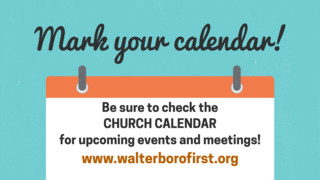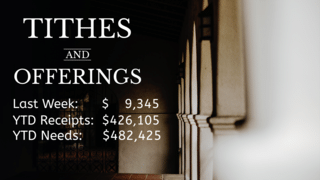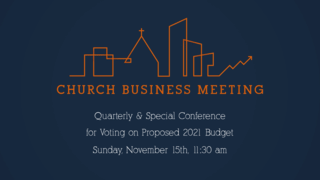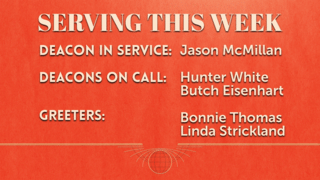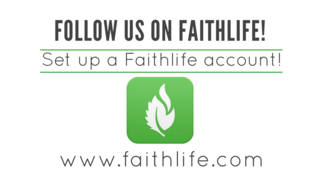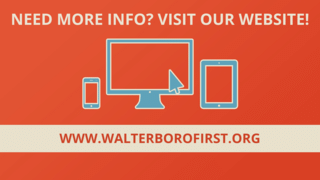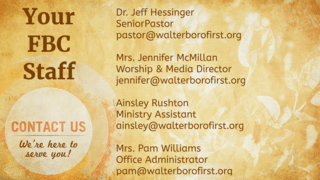 FBC Walterboro is a Southern Baptist Church in Walterboro, SC.
Our address is: 124 South Memorial Avenue , Walterboro, SC, 29488