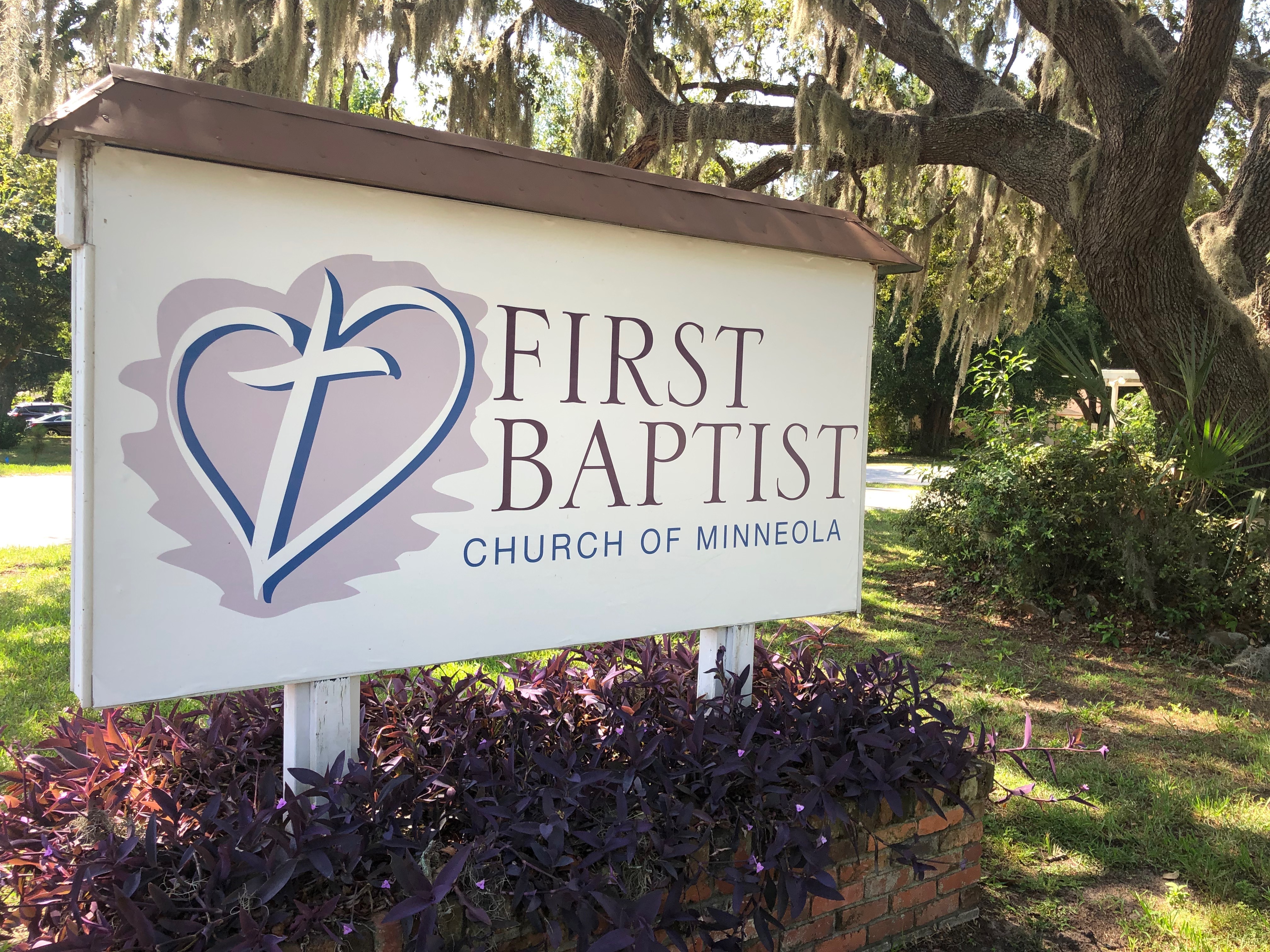 First Baptist Church of Minneola
7/28/2019 FBCMIN
Heads in December: Judah's Contamination
Download

Church Cleaning and Sack Lunch

August 3, 2019 - 9:00 AM - 1:00 PM

Meet to clean the church. Fellowship while eating a sack lunch brought from home.

Download

Church Cleaning and Sack Lunch

August 3, 2019 - 9:00 AM - 1:00 PM

Meet to clean the church and fellowship. Bring a sack lunch.

"The Lord has given us a table at which to feast, not an altar on which a victim is to be offered; He has not consecrated priests to make sacrifice, but servants to distribute the sacred feast." --

John Calvin

INTRO

- Our series is divided into three parts.

We've looked at Haggai for the hands and heart.

Today we shift to look at the test as it appeals to head.

We've considered God's exhortation "Build the Temple!"

We discussed the exhorters, Zerubbabel the governor or prince, Jeshua the priest, and Haggai the prophet.

The first part of chapter two taught us God cares for people and the big message was patience during the time of rebuilding.

We noted both the 1st and 2nd temples and that God urged the people to keep an eye forward toward the future temple.

In part, that was fulfilled in Herod's temple, but as we noted last week, comparing the OT and NT, the Bible paints a fuller picture that is still to come.

Also, last week, we noted the chastening and coming of the Messiah that proceeds the glorious event when we will see the true temple.

EST

- God is determined to change Judah's deprivation to blessing because they've dedicated themselves to Him.

ESS

- Holiness can't be transmitted buy touch, but defilement can be.

OSS

- This message will challenge you to tell other people about the one true God.

TRANS

- This morning we move into Haggai's December message.

We're discussing Judah's contamination this week and will consider Zerubbabel's elevation next week.

Next week will end our series, but do make special plans to attend the following Sunday as we are planning a very special Lord's Supper service.

On the twenty-fourth of the ninth

month,

in the second year of Darius, the word of the

Lord

came to Haggai the prophet, saying,

"Thus says the

Lord

of hosts, 'Ask now the priests

for

a ruling:

'If a man carries holy meat in the fold of his garment, and touches bread with this fold, or cooked food, wine, oil, or any

other

food, will it become holy?' " And the priests answered, "No."

Then Haggai said, "If one who is unclean from a corpse touches any of these, will

the latter

become unclean?" And the priests answered, "It will become unclean."

Then Haggai said, " 'So is this people. And so is this nation before Me,' declares the

Lord

, 'and so is every work of their hands; and what they offer there is unclean.

'But now, do consider from this day onward: before one stone was placed on another in the temple of the

Lord

,

from that time

when

one came to a

grain

heap of twenty

measures,

there would be only ten; and

when

one came to the wine vat to draw fifty measures, there would be

only

twenty.

'I smote you

and

every work of your hands with blasting wind, mildew and hail; yet you

did

not

come back

to Me,' declares the

Lord

.

'Do consider from this day onward, from the twenty-fourth day of the ninth

month;

from the day when the temple of the

Lord

was founded, consider:

'Is the seed still in the barn? Even including the vine, the fig tree, the pomegranate and the olive tree, it has not borne

fruit.

Yet from this day on I will bless

you.

' "

2 big ideas this morning.

Past problems

and

future promises

are our main points for discussion.

The date is now three months after temple work began; just after the fall planting.

Let's begin with a look at vv.10-17.

Getting right to the meat in this section, we'll zoom in on 2 verses, v.12 & v.13.

2 questions of

holiness

and

horribleness

Being

Holy

: Question #1 v.12

"

'If someone carries holy meat in the fold of his garment and touches with his fold bread or stew or wine or oil or any kind of food, does it become holy?' " The priests answered and said, "No."

" (

Haggai 2:12

, ESV)

"No" holiness does not pass on to other things that way.

Haggai is apparently preaching in the temple.

The prophet calls for a pries to bring an official ruling.

The word here

tora

calls for a short instruction that continued alongside the bigger application of God's law.

Later, this

tora

became the Pentateuch, or Torah.

That is why we see "Ask now the priests concerning the Law" in some older translations.

Newer translations do a better job at considering both the literary and cultural contexts.

Haggi is not looking for information; but using a methodological device that every teacher knows.

By asking a

question

, the prophet creates and keeps interest.

Holy flesh became holy be being setting apart to fulfil a sacrificial purpose.

The animal used for a sin offering was "most holy."

Following a Nazirite vow, part of the ram of the peace offering, along with tokens from the meal offering, was waved as a gesture of presentation to the Lord:

'Then the priest shall wave them for a wave offering before the

Lord

. It is holy for the priest, together with the breast offered by waving and the thigh offered by lifting up; and afterward the Nazirite may drink wine.'

According to Leviticus, priest often carried these items:

'Anyone who touches its flesh will become consecrated; and when any of its blood splashes on a garment, in a holy place you shall wash what was splashed on.

The garment would be holy, but not past from the garment to anything it touched.

ILL

- You and I are called to be holy, set apart for good works.

We share our story, serve our God, and sacrifice for Jesus.

Yet, we can't save a soul, spare from punishment, or secure a place in heaven for anybody.

No praying for a person, brining to this building, nor giving generous gifts will change someones destiny.

For a person to become holy unto God, that person must believe in Jesus and ask for His forgiveness.

You and I are examples of holiness, witnesses to the truth, and used by God for reaching others.

As holy sacrifices were once carried by priests you and I are carried by Jesus' Spirit as we are used by God for His good purposes.

Okay, so there is the example of holiness, as it was in the OT, and we noted a NT correlation to you and I today.

What might the second question teach us about how God views our sacrificial living.

Being Horrible: Question # 2 v.13

"

Then Haggai said, "If someone who is unclean by contact with a dead body touches any of these, does it become unclean?" The priests answered and said, "It does become unclean."

" (

Haggai 2:13

, ESV)

"Yes" it makes other things unclean by contact in this way.

How does Haggai explain this?

Haggai applies this principle to the people.

Haggai teaches how sinful ways

contaminate

peoples offerings resulting in crop failures, famine, and fortune lost.

Offerings were a way the people showed their obedience to God.

The OT sacrificial system no longer has a purpose.

However, it does give us insight into God's expectation of behavior.

For example, we don't make cultic offerings such as burnt offerings, but, as NT believers, we do offer ourselves to God.

ILL

- Let' me give you another, somewhat less obvious lesson we get from our knowledge of OT practices.

Do you know what flesh hooks are in the OT?

These were three pronged forks that the priest would use to keep the sacrifice from sliding off the altar.

And the priests' custom with the people

was that

when any man offered a sacrifice, the priest's servant would come with a three-pronged fleshhook in his hand while the meat was boiling.

You and are are called to be living sacrifices, correct?:

Therefore I urge you, brethren, by the mercies of God, to present your bodies a living and holy sacrifice, acceptable to God,

which is

your spiritual service of worship.

What do you suppose is a NT correlation to fleshhooks?

Determination and devotion help NT believers from

slipping

away from God.

Just as an OT sacrifice might slide off, so can we slide away from God.

When you pray less; read less; or become less than God desires, you stop living a sacrificial life.

Determination says, "I will discover my gift(s), put them to use, and never let anything get in my way of serving God—nobody, nothing, never will I surrender the for less than God's best!"

Devotion says, "I will be devoted to God, spending time with Him—so I can love my family, spouse, and everyone else like Jesus wants me to do."

Only with determination and devotion will you keep your life on the altar of living sacrifice.

TRANS

- These 2 questions were written to people 2500 years ago, but the principles of God continue to teach us today.

With the first question we noted that Jesus will use us to make an impact, but we can't make a person holy.

The second one reminds us how necessary it is to keep holy, because even a good sacrifice can slip.

TRANS

- As a good Father, God has expectations.

God loves you and wants to bless you.

Do you know that God's blessings increase once you get with His program?

Let's look at vv.18-19 to see how that works.

Because the people repent and lay the Temple's foundation, God abundantly blesses them.

HUM

- "Repent" is really a funny word if you think about it. The only place I ever hear it is in church or when a Christian uses it in some way.

Shopping at Lucky's, Jennifer and I asked a butcher to package us a piece of fish. He handed me the fresh cut and I was taken back by the price. Instead of the sale price, it was about 10 times more the costs. By accident he'd pressed the wrong code and charged us too much. Now, what if I had told him he needed to "repent?" How might that had gone. Know what I said? Well, I said, "I think this might be the wrong price? The butcher apologized and fixed the price.

In a way, that's how "repent" works. We make a mistake; sin. God communicates to us, "This is not right." We say, "I'm sorry." And, then we fix what we did; stop sinning.

Okay, sure there is more too it than that, we must believe in Jesus and tell Him we know that we are sinners.

Also, we don't take our sin home and cook it :-)

Do you think that some of our very "religious" words need to be evaluated for their real purpose?

Anoint, Atonement, Blasphemy, Consecration, Covenant, Deliverance, Exegesis, Heresy, Infallible, Mammon, Pulpit, Redemption, Repentance, Salvation, Sermon, Testimony, Transgression, Vigil.

Does anybody speak this way to non-Chrisitans?

If you do, do you get strange stares?

What I mean is, do our words really connect the meaning we are attempting to convey?

Can you find a place where Jesus uses words nobody understands?

Now, I'm not saying parables, that's a different issue related to timing; and those parables were understood in time.

Let me phrase the question differently.

Does Jesus use common, everyday words and stories, so He can

connect

with people?

Of course, Jesus is, also, a teacher.

TIE

- We see God wants people to understand His communication to humankind.

It's important to understand what God says so we can know Him more.

BILL

- Let's move on to discuss blessings.

Who doesn't like the idea of God blessing people?

I'd estimate that even the moderate, living on the edge of God's promises, have a desire to be blessed by God.

The greatest blessing begins with knowing that you are

loved

by God.

God loves you so much that he died to set you free from the penalty of sin.

If that is not enough, Jesus gives believers his own Spirit to help people serve Him.

God gives us a place in his church, in his body the Bible explains.

In His body, with Jesus as the head, people belong, fit, and have purpose.

God promises, as he did with the people of Haggai's time, to be with us, to

bless

us with all we need, to protect us, to love us.

The is just a glimpse of the blessings list.

In the first half of this message we noted that as we discipline ourselves, as good Jesus followers, we devote ourselves to obeying God.

That's the normal way God works.

He finds you, you say "yes" to Jesus.

Next Jesus' Spirit guides you and you get to know God more.

You do what God says, often with great sacrifice, and God is so very pleased with you.

As humankind see God in all of creation, obedient Christians, also, see God in their

service

to Him.

You notice that you give and give, and God keeps blessing you is all kinds of ways.

At some point, I suppose it is different for each Jesus follower, people notice that God's blessing list grows and grows and grows.

If anything I've learnt is "You can't out give God."

What is God saying to FBC Minneola?

A church cannot save people, but a Jesus led church will see

people

saved.

Where lack of determination and devotion mark believers, blessings are few.

Where Jesus' followers press on to discover and put to use the gifts God gives, the blessings flow like a river.

Turn Your Eyes Upon Jesus

Download

Church Cleaning and Sack Lunch

August 3, 2019 - 9:00 AM - 1:00 PM

We will meet to clean the church and then fellowship with one another as we eat a sack lunch that we each bring from home. If you have any questions, please contact Jennifer Burdick.

Download

Church Cleaning and Sack Lunch

August 3, 2019 - 9:00 AM - 1:00 PM

We will meet to clean the church and then fellowship with one another as we eat a sack lunch that we each bring from home. If you have any questions, please contact Jennifer Burdick.
Let us get to know you!
Please take a moment to send us your information so that we may stay connected with you. Your information is carefully managed and protected.
How did you hear about us?