A New Generation
FBC Minneola Outreach Development
Strategy Matrix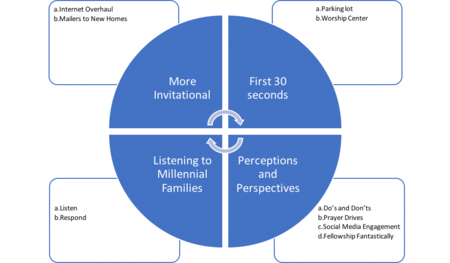 This matrix notes the four sections. Each of the four different areas of the newly adopted outreach strategy are visually represented.
A Strategy Complete
Lots of reading, too many hours in front of a computer, and lots of research when all put together began to present an idea. With prayer, consulting experts, and some small talk the idea started to look like a vision. The vision suggested a way to reach a generation that needs Jesus and for that to happen as a mission of FBC Minneola.
Together with a core group the collective research presented the vision, noted the many obstacles, and suggested numerous routes to reach the destination in the vision. God may speak through one person, but he does speak through the Bible and by way of the Holy Spirit, through the collective mind of his people. God did not let down FBC Minneola.
September marks the time when God led us to see how hard work, determination, lots of prayer, and a unified church find a path toward a vision that once seemed more like a dream. The work is already happening. Our internet site is the business card of this generation. FBC Minneola meets the challenge to have an exceptional web site. Guests can immediately find the sort of information they come seeking. The idea to take an area grabbed the Journey Group and they are busy brain crushing how to work that first thirty second area. Huge improvements coming there.
40 Days Series
Get ready for Homecoming. Leading up to this year's Homecoming we are going to go through a 40 day period of preparation. We want God to take over our church and make the changes in every person necessary to make us unified in serving Jesus together. During the time leading up to the series, beginning Sunday September 23, pray that God will speak to each person and let them know how He wants them to apply themselves during the 40 days.
"Share the Gospel, share His joy"
Our address is: 105 S Galena Ave, Minneola, FL, 34715