The Gospel Harbinger
June 2021
Rick's 'Ritin's
Summer Break/Summer Slump
Two of these words are sweet music to some ears, and the other two words are bitter sounds to other ears. I'm sure you know which is which, but just in case, let me elaborate a bit.
"Summer Break" is sweet music to the ears of students. As an old song from my childhood stated it, "No more pencils, no more books; no more teachers' dirty looks." (Of course, you understand that I never sang those words, but I did hear other students sing them.) Until I started teaching college, I never realized how sweet those words were to the ears of teachers – perhaps even sweeter to teachers. For a little perspective, however, most students in New York cannot sing those words for another month. The school I went to in Hicksville is not out until June 25, and that is a normal ending date and has nothing to do with Covid-19. In New York, we had to squeeze summer break into two months.
Summer break is the time for vacations, church camp, VBS, baseball/softball/t-ball games, trips to an amusement/water park, and if you live in the right place, frequent trips to the beach. Summer break means playing outside until after the fireflies come out and not worrying about school the next day. Summer breaks were wonderful as kids. It's too bad adults don't get an equivalent summer break.
What adults often have to do is squeeze in a week or two of vacation, and then take advantage of week-ends to extend vacation days. As a result of so many people taking advantage of loosened schedules throughout the summer, Summer Break often results in Summer Slumps for churches. If you read church newsletters, blogs, and other means of communication, churches often bemoan the summer slump in attendance, offering, and involvement during the summer break.
Please understand, I am not asking anyone to forego their summer vacation – after all, I plan to miss two Sundays in August when I am in Scotland with my youngest daughter. I am reminding you that it is easier now to "miss" church and still be in church. Thanks to computers and the Internet, you can take church with you. If you are away from Camp Point on a Sunday, you can still be part of our service by logging onto our Facebook page or looking on our YouTube channel. Just search for First Christian Church of Camp Point and you should be able to find us.
Giving to the church is now easier than ever. In addition to the options of dropping off or mailing a check to the church, you can now give online. Go to the church's website, fcccamppoint.org, and click on the button that says Give. The instructions are so easy to follow that even I can do it. You can give a one-time gift to the church, or you can set up a recurring gift. So, whether you are in town or on vacation, you can still join us for church and maintain your giving and help prevent a Summer Slump during the Summer Break.
Have a great summer, however you are able to enjoy it, and thanks for reading.
Rick
Upcoming Events and Meetings
There will be a Red Cross Blood Drive at the Golden Town Hall on Monday, June 7th from Noon – 5:00 pm. Call Pat Heinecke at 217-779-3480 to schedule an appointment to give.
The Camp Point Historical Society will be having a Walking Tour at Pleasant View on Sunday, June 13th. Fred is having a clean-up day on June 12th. The stones need to be swept free of grass clippings, stick need to be picked up as well as some other general clean-up chores. If you are available to help Fred, please contact him at fbcntry@yahoo.com or 217-430-4461. The Society is also asking people to donate cookies to be served during the Walking Tour. If you will provide some cookies, please have them at the church by June 12th.
SERMON RECORDINGS: You can find our Morning Worship Service videos on our Facebook page or our YouTube channel, but did you know you can listen to just the audio of the sermon if you prefer? If you would like to listen to just the audio of a sermon you can find them at the bottom of our page at: www.fcccamppoint.org
The Young Adult Group will be having a picnic at Noon at Bailey Park on Sunday, June 12th. The meat will be provided. Bring a side dish or dessert to share and any yard games you would like to play.
The Elder's Meeting will be at 8:00 am on Sunday, June 13th.
The Board Meeting will be after Morning Worship on Sunday, June 13th.
Our CCAC Volunteer Day is Saturday, June 19th from 9 am - 1:30 pm.
The Worship Planning Meeting will be at 6:00 pm on Sunday, June 27th.
Tune in to…. Mid-Week with Brandon
on Wednesday evenings around 7:00 pm on the FCCCP FaceBook page.
June 2021 Calendar & Serving Schedule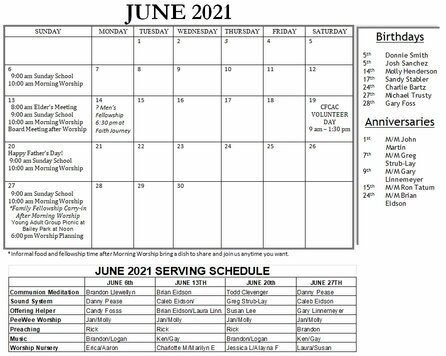 Our address is: 210 S Ohio St, Camp Point, IL 62320, USA