The Gospel Harbinger
Volume 51 August 2021 Number 8
Rick's 'Ritin's
What makes a sermon good?
I asked this question a few weeks ago on my Saturday morning Facebook presentation (Saturdays with Rick – check it out). I know this is a subjective question, because in many ways sermons are like junk: what is one man's junk is another man's treasure; what is one person's idea of a good sermon is another person's idea of a disaster. One experience that many preachers have had (so I have heard) is to have the feeling during the delivery of a sermon that it is a total dud. You just feel like the words barely clear the pulpit before they dive bomb directly into the floor. As you walk to the door, feeling lower than the belly of a worm on a rainy day, someone walks out, shakes your hand, and says it was the best sermon they ever heard you preach. So you smile, say "Thank you," and inwardly resist the urge to hit them.
So with a bit of fear and trepidation, I asked the question and asked people to comment on what they thought made a sermon good. Here is a summary of their thoughts:
1. The number one comment is that a good sermon must be based in Scripture. One person said a sermon without scripture is a dud. Another said a good sermon should be rooted in scripture. I can agree with this thought. The message we have to proclaim is not our own, but the message of Jesus Christ. I remember when I preached in Connecticut (over 40 years ago) some of the preachers in town would occasionally get together for a brown bag lunch. One day, as Easter Sunday was approaching, one of the preachers asked the others what they planned to preach on Easter. One of the preachers responded that he planned to preach about the egg and its application to Easter. Another thought he would preach about Spring flowers and the promise they give us of new life. I felt so out of place suggesting I was going to preach on the cross and resurrection of Jesus. At least I had Scripture to back up my sermon.
2. A good sermon must have practical application. That application may be to encourage one in their Christian walk, or to convict them of a sin that must be avoided. However, it is one thing to be convicted, and another to act on that conviction. A good sermon not only convicts but calls for action. One comment often heard by a preacher as people leave the church is, "You sure stepped on my toes today." A standing comment among preachers is that some people would rather have their toes stepped on continually than make changes in their life to avoid the toe-stepping. Paul wrote that all Scripture is given to us by God and is profitable "for teaching, for reproof, for correction, and for training in righteousness" (2 Timothy 3:16). If a sermon is based in Scripture, then it should accomplish at least one of those purposes, if not more than one.
3. A good sermon is inspirational or encouraging. This idea certainly fits in with Paul's stated purpose for Scripture. Not every sermon needs to be a toe-stepping, harsh reminder of how sinful we are, "Sinners in the hands of an angry God" type of sermon. Sometimes we come to church beaten up enough by our own recognition of our unworthiness. We need to be reminded and encouraged to remember that even so, God still loves us and desires a relationship with us, in spite of our sins.
4. Finally, a good sermon must have some humor. One person suggested that a good sermon would make her (him?) laugh the whole time and then cry at the end. Although Jesus never provided a Rodney Dangerfield-type of monologue, he did use humor in his sermons. The problem is we hardly ever identify it as humor. But really, what can be funnier than suggesting a camel can go through the eye of a needle, or a man with a tree trunk sticking out of his eye trying to find a piece of sawdust in another person's eye? Or how humorous an image can you conjure up thinking of the blind leading the blind?
Have you heard a good sermon lately? I wonder how it would go if a church offered a money-back guarantee: if you do not find today's sermon to be good, then you can have your money back. However, since our offering is received after the sermon, perhaps our guarantee would be: if you do not find today's sermon good, then you do not have to put anything in the offering. This reminds me of a story I have heard several times through the years. A man was complaining about the church service on the way home. Everything came under his condemnation – the sermon, the music, the temperature, the length, the lighting, the people, the choir. Everything seemed to have something wrong with it. After a while, his little boy piped up and said, "Gee, I don't know Dad, I thought it was pretty good considering it only cost us a dollar."
I can't guarantee a good sermon every week at our church, but I can guarantee we try to be Scriptural; we try to find application – asking for a next step in life; we try to be encouraging; and we even try to supply some humor on occasion.
Thanks for reading,
Rick
Upcoming Events, Meetings and Information
ELDER'S MEETING
Sunday, August 8th
8:00 am
BOARD MEETING
Sunday, August 8th
after Morning Worship
Northern LCSC Men's Fellowship
6:30 pm on Monday, August 23rd
At Burnside Christian Church
Sign up to go by August 10th
CFCAC
VOLUNTEER DAY
Tuesday, August 24th
9:00 am - 1:30 pm
Worship Planning Meeting
Sunday, August 29th
6:00 PM
SERMON RECORDINGS: You can find our Morning Worship Service videos on our Facebook page or our YouTube channel, but did you know you can listen to just the audio of the sermon if you prefer? If you would like to listen to just the audio of a sermon you can find them at the bottom of our page at: First Christian Church of Camp Point, Illinois (fcccamppoint.org)
August 2021 Calendar and Schedule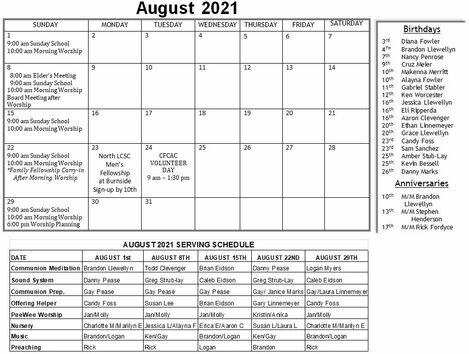 Our address is: 210 S Ohio St, Camp Point, IL 62320, USA