The Gospel Harbinger
September 2021 Volume 51 Number 09
Rick's 'Ritin's
Fall is Coming!
I know Fall does not officially begin for a few more weeks, but the weather the past few days reminds us how wonderful Fall can be. (The weather last week reminded us how brutal Summer can be.) When I was a kid, Labor Day was the "unofficial" ending of summer. That is the weekend the town pool was closed and school began a day or two later. Now, with school starting in the middle of August and pools closing shortly afterward, it is difficult to find an "unofficial" end of summer. But for me, Labor Day Weekend is still as good a time as any. What will the Fall bring us?
New Class
We are starting a new children's class on September 5. It is for children in grades 1 – 3. Marilyn Eidson will be teaching the class. They will still be part of the opening song time in the PeeWee Worship room, and then go off to their class for Sunday school. This age will still join with the others for Children's church.
A Wild Experience September 12
I don't know what else to call this event that is coming to be with us on September 12 during the morning worship service. I can guarantee you have never seen anything like it before, and may not ever see anything like it again. But if you are there to experience it, it is something you will be glad to tell your children and grandchildren that you were there. Even better yet, bring your children and grandchildren, your neighbors and friends, your in-laws and outlaws with you and experience it together. (By the way, I recently read a question: what is the difference between in-laws and outlaws? Answer at the end of the article.)
Deacon Strong, October 12
Saint Louis Christian College is partnering with e2:EffectiveElders for a day of "equipping and empowering men and women for service." There is no cost for this seminar, but registrations must be received by September 17. Let me know if you are interested and I will make sure you get registered.
Survey Results
A couple of weeks ago Danny and I sat outside Dollar General asking people a few questions, trying to get a feel for the attitudes and needs of the community. One question we asked was, "Why do you think most people who don't go to church don't go?" The most common response was – too busy. A second question we asked was, "What do you see as the greatest needs of this community?" Interestingly, the most common response was – more activities for the youth. Now, here's my dilemma: how is the church supposed to increase the number of activities for youth when people's schedules are already too busy? I do know that Logan is gearing up for a new year of youth studies and activities, but with his new schedule at the prison (he is a Corrections Officer, not an inmate, for those who were concerned), it will be impossible to have our youth meetings on Sunday nights. As the schedule solidifies, you will be notified of meeting dates for the youth meetings. If you know any youth who are looking for more activities, please let them know about our youth group.
Thanks for reading,
Rick
Elder's Meeting
Sunday, September 12th at 8:00 am
Board Meeting
Sunday, September 12th after Morning Worship Service
LaMoine Christian Camp Fellowship
Monday, September 13th, 6:30 pm at Denver Christian Church
Everyone is invited!
The van will leave the church at 6:00 pm
CFCAC Volunteer Day
Saturday, September 18th from 9:00 am - Noon
Southern Gospel Community Picnic
The Isaacs, the newest members of the Grand Ole Opry and one of Southern Gospel Music's top groups along with their live band, will be performing on Saturday, September 18th, 2021, at 6:00 pm at the Baily Park shelter house. Feel free to bring your lawn chairs or set in the provided seating in the shelter house. Everyone is invited and a free will love offering will be collected. Sandwiches and other concessions will be available starting at 4:00pm at the new shelter house with lots of picnic tables available. Please come early to share some great food and fellowship with the community.
Church Cleaning Days
Keep your calendar open for September 24 and 25. It has been a while since the church building has experienced a Fall Cleaning Day. Well, those days have arrived (or will arrive on September 24 and 25). We will have several projects identified with appropriate supplies (but feel free to bring you own if you are more comfortable with them). If you are unable to make either of those days, then pick a project and do it at your convenience before September 24. Weather permitting, we will be working both outside and inside the building. If it is raining, then we will focus our efforts inside the building. Projects may include such jobs as cleaning, dusting, moving, rearranging, painting, light bulb replacing, weeding, window washing, and a host of other options. We will order pizza on Saturday and enjoy a lunch together. Come and go as you are able.
Family Fellowship Carry-In Dinner
Sunday, September 26th after Morning Worship Service.
Worship Planning Meeting
Sunday, September 26th at 6:00 pm
Church Directory
It has been about 15 years since the last church directory was made. It seems it is time to make a new one. A lot has changed in the past 15 years, not the least of which is how some of you in the last directory looked 15 years ago.
Appointments to have your pictures can be made for October 1, 2, or 3. Each family (individual) will receive a free digital image. Opportunities will be available to order additional photos and products at 50% off the normal rate. For those of you who like to make family photo Christmas cards, this is a great opportunity. Who knows, this may be the year to give mugs with your picture on them as Christmas presents. The goal is to have all products finished by Thanksgiving. Some of you may need to begin now practicing smiling for the camera.
More information about how to make an appointment coming soon.
September 2021 Calendar andSchedule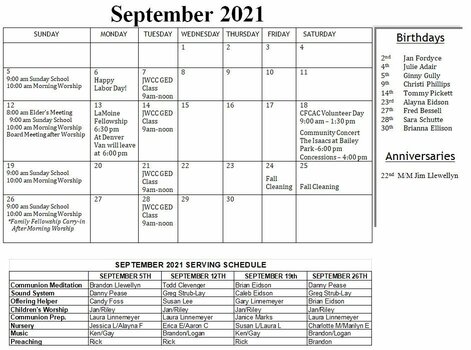 Our address is: 210 S Ohio St, Camp Point, IL 62320, USA